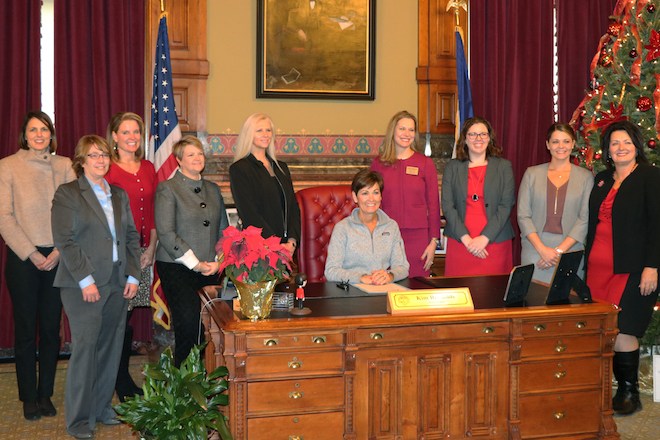 ENDOW IOWA PROGRAM CELEBRATES 15th ANNIVERSARY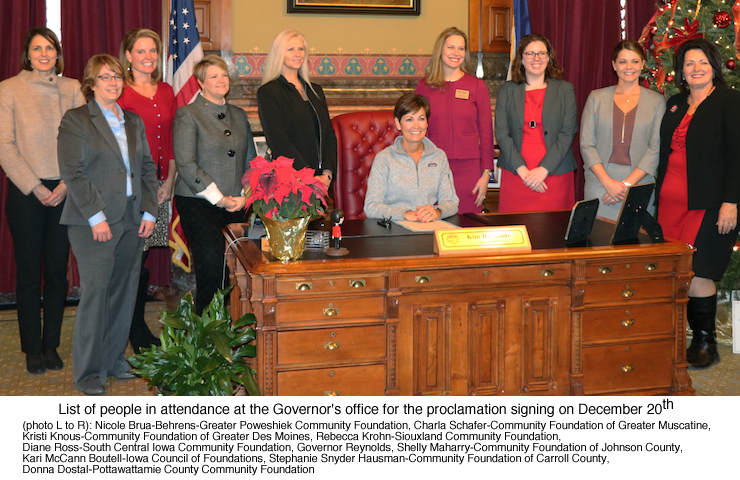 Des Moines, IA – (December 20, 2018) The Endow Iowa program celebrated its 15thAnniversary with a proclamation signing in Governor Reynolds' office last week. The programbegan in 2003 with $2 million in tax credits available. Demand for the tax credits has continued to grow and since 2013, $6 million has been available annually through this program. The Endow Iowa Tax Credit is awarded on a first-come, first-served basis to donors who make a gift to a permanent endowment fund, established for the benefit of Iowa charitable causes, at a qualified community foundation in Iowa. The program is utilized by a wide range of donors, including individuals, businesses and financial institutions, with a majority of donations at the $1,000 level or less.
Benefits of this program are many and include keeping charitable dollars in Iowa to assist nonprofits, charitable causes and communities across the state. Since the inception of the Endow Iowa Tax Credit program, Iowa community foundations have leveraged more than $264 million in permanent endowment fund gifts. The contributions were made through 35,732 donations. These dollars will continue to grow in endowment funds in perpetuity, improving lives for Iowans both now and for years to come. Last year alone, Endow Iowa funds at Iowa community foundations granted $17.7 million to nonprofits and charitable causes in the state.
The program is administered by the Iowa Economic Development Authority (IEDA) in collaboration with the Iowa Council of Foundations (ICoF). The ICoF is a statewide membership association of foundations and grantmaking organizations across Iowa. The ICoF's mission is tostrengthen and grow philanthropy in Iowa.
"Fifteen years ago, our state leaders had both the foresight and vision to recognize thepotential of Endow Iowa as a tool to support our communities and to keep wealth from leavingour state. On behalf of the Iowa Council of Foundations and Iowa's vibrant network ofcommunity foundations, we express our gratitude to the Governor and the legislature for theircontinued support and partnership," said Kari McCann Boutell, President of the Iowa Council of Foundations.
Locally, donors can enjoy the benefit of the Endow Iowa Tax Credit by giving to one or more of the 61 endowed funds held at Greater Poweshiek Community Foundation or establishing their own fund. Since GPCF was able to offer the Endow Iowa Tax Credit in 2010, endowed assets have grown from $913,799 to $5,408,929 in 2017. Annual disbursements from these funds support charitable causes around education, the arts, historic preservation, environmental causes, scholarships, and many more. For more information about giving or establishing a fund at Greater Poweshiek Community Foundation please contact Nicole Brua-Behrens or Amy Blanchard at 641-236-5518.