Grinnell News
Elementary School Students All Ready for Kites Over Grinnell Sat., Sept. 28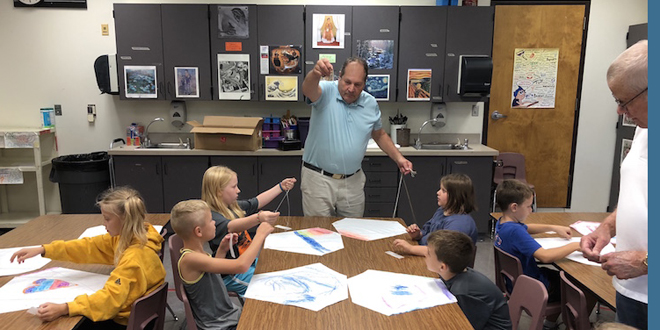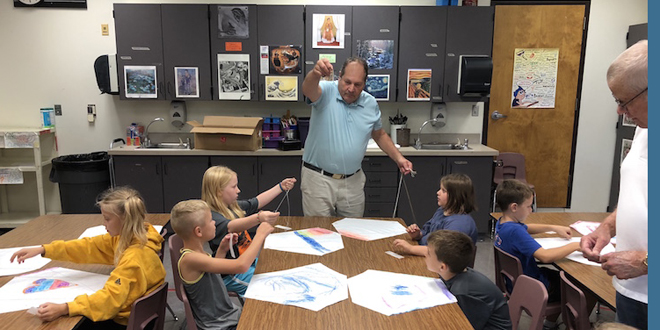 Students at Grinnell's three elementary schools and fifth and sixth grades at Grinnell Middle School with the help of Rotarians are hard at work during art classes to get 900 kites ready for Kites Over Grinnell to be held at Ahrens Park on Sat., Sept. 28 from10 a.m. to 4 p.m.
Students are encouraged to bring the kites they decorated in class to Saturday's festival. A limited number of free kites will be available on that day. A kite clinic operated by Rotarians will help kite flyers decorate their kites and repair them if necessary.
A total of 42 professional kite flyers from nine states will come to fly their colorful kites. New this year is a free lunch sponsored by the Grinnell Rotary Club, consisting of hot dogs, chips, and water to be served to the first 400 guests.
Other features of the day are music, games, and prizes.
Spectators are encouraged to bring chairs and blankets to sit on.
This year's Kites Over Grinnell is dedicated to the memory of Lt. Col. James A. Ahrens, a 25-year Rotarian who passed away earlier this year. For more information, contact Bruce Blankenfeld at 641-990-1152
Pictured here making their kites are third graders from Davis Elementary school