Grinnell News
Eighth Grade Boys Take Basketball Tourney In Des Moines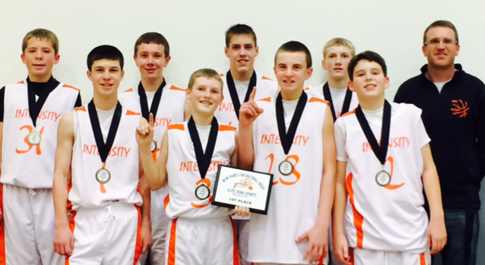 Iowa Intensity (Grinnell 8th grade boys basketball) Won Weekend Elite Iowa Sports New Years Basketball Bash Tournament
The 8th grade boys Iowa Intensity team hit the hardwood again after a short break on Sunday, December 29.
This time play was taking place in Des Moines at the Elite Iowa Sports New Year's Basketball Bash Tournament.  The first opponent in pool play was the Mason City Hawks who were no match for the Intensity team as they rolled to a 71-33 win behind Lucas Scherf's 17 points.
The second game in pool play was against the Iowa Wolves-Green team, and once again, the Intensity over powered their opponent winning 65-33 in which all 8 players scored and all 8 players recorded an assist.
The Intensity team earned the 1st seed from their pool for bracket play and then played the Iowa Wolves-White team to start bracket play.   This first bracket game was a close one at halftime, with the score of 28-27, but the second half was all Intensity and the final was 61-43.   Once again the balanced scoring helped propel them to victory as all 8 players scored 4 or more points.
In the semi-finals, the Intensity team faced the Des Moines Roosevelt Riders and the Intensity passed and shot the ball very well to advance to the championship game with a score of 68-45.  In the Riders game, once again, all 8 players scored and all 8 players recorded at least 2 assists.  The team was 6 of 10 from 3 point range, shot 55% from 2 point range and 76% from the free throw line (made 16 of 21 attempts).  The victory against the Riders helped the Intensity team advance to the championship game against Pella Power, which had beaten the Intensity team 67-50 earlier in the season.
This time the Iowa Intensity team was not to be denied.  The only time that the Intensity team trailed was a score of 2 to 3 very early in the game, and by halftime Iowa Intensity had built a lead of 41-19.  The second half was pretty much a stalemate as the lead ranged from 15 to 23 points and the Intensity team won the Championship game 64-46.  In the final game of the day the Intensity team shot 53% from 2 point range (17 of 32) and 53% from 3 point range (9 of 17) and added 4 free throws, and were led by Zaine Leedom's 17 points and 12 rebounds.