Homepage Slider
New paintings by Belle Plaine native John Schlue, opens at Stewart Gallery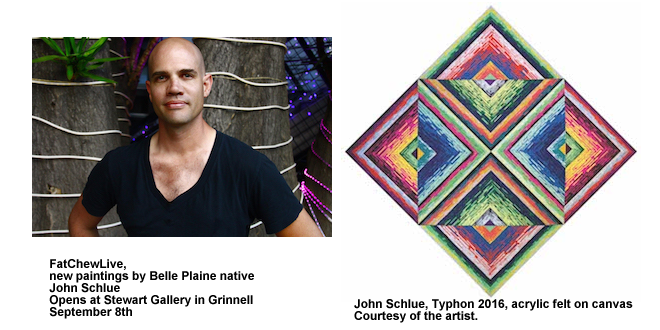 EatChewLive, new paintings by Belle Plaine native John Schlue, opens at Stewart Gallery
On Thursday, September 8, the Grinnell Area Arts Council opens a new exhibition of the stunning geometric paintings of John Schlue. Schlue, now working in Los Angeles, creates his colorful canvases from oil paint and acrylic felt. Schlue grew up in Belle Plaine, IA and attended the University of Iowa. EatChewLive opened this summer at the Belle Plaine Area Museum.
The exhibition includes eleven paintings, five of which are 7 x 7 feet. In Schlue's mix of geometric pattern, paint and craft materials, he refers back to earlier Op Art of the 60s, to quilt traditions, and to decorative motifs. But Schlue is also preoccupied by the intensive processing of pixels and other bits of information that engage us every day in our increasingly online existence. With these paintings, he asks us to process line, color, and materials optically, and to slow down the process.
Schlue states, "We exist in a synthesis of chaos and function. The visual experience is what I feel most passionate about." Through these all-encompassing paintings, Schlue hopes to remind us to take our time on the journey through information overload, and by spending time with his art, to "remember to simply eat, chew, and be alive."
John Schlue was born and raised in Belle Plaine. He earned a degree in studio art from the University of Iowa, with a minor in religious studies. After living for a time in New York City, he relocated to Los Angeles where he lives with his wife and family. He has been exhibiting in Los Angeles since 2006 and had his first solo show in 2012 with the gallery Western Project. He is a member of the experimental psychedelic jazz band The Night Sea, and he owns a creative services company.
Stewart Gallery at the Grinnell Arts Center will host a public reception for the artist on Thursday, September 8 from 5:00 to 6:00. The exhibition will remain on view through September 29.
The mission of the Grinnell Area Arts Council is to enrich the community by supporting creative expression. The Grinnell Area Arts Council is based in the Grinnell Arts Center, 926 Broad Street, Grinnell, Iowa 50112. Hours are Monday through Friday from 11:00 to 5:30, and on Saturday from 9:00 to noon. All are welcome and there is no admission charge. For more information call 641.236.3203 or visit www.grinnellarts.org.