Homepage Slider
Dr. Karla Erickson Named Associate Dean at Grinnell College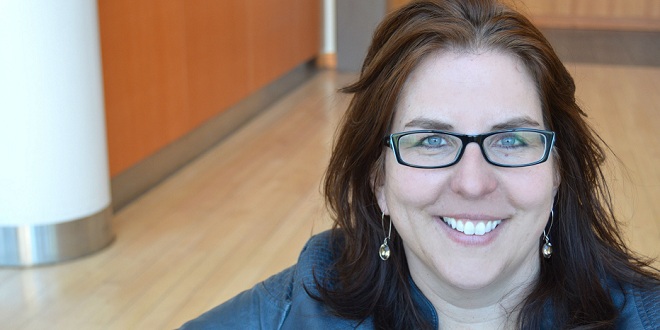 DR. KARLA ERICKSON NAMED ASSOCIATE DEAN AT GRINNELL COLLEGE, ANNOUNCED APRIL 7
By Sarah Breemer Pfennigs
"The main interest in life and work is to become someone else that you were not in the beginning." ~ Michel Foucault
Dr. Karla Erickson, associate professor of Sociology and chair of the Social Studies Division at Grinnell College, was named Associate Dean Tuesday, April 7.
Erickson received her undergraduate degree from Illinois Wesleyan University and went on to pursue her Master's in Liberal Studies at Hamline University (St. Paul). In 2004 she completed her Ph.D. in American Studies at the University of Minnesota and became a faculty member of Grinnell College the same year. Erickson was promoted to Associate Professor in 2009.
"My academic focus kept skirting sociology, but I became interested [in sociology] during my early work in feminism. Women's studies was quickly moving into the academy forefront, and becoming interested in people is the foundation for both feminism and sociology," Erickson said. "I started my education when feminism was coming into the academy in serious ways, and then I became interested in work and identity, which lead me to American Studies, and then Sociology."
Segueing into an administrative role from an academic one is daunting, Erickson concurred, but it's a challenge she's ready to take on.
"I think there are institutional trade-offs," Erickson admitted. "I've always been very entrepreneurial in the classroom. I also love advising students and having that depth of contact with them. My hope is that being an associate Dean will help me implement things I'm committed to in higher education. The question is: 'Where do you make your contribution'? For me, part of that contribution includes responding to the work that's already underway: Interdisciplinarity, student research, diversity and inclusion related to retention. I get to join in work that's already begun, and that's a privilege."
Erickson is one of 4 Associate Deans serving the College by working under the direction of the Vice President for Academic Affairs and Dean of the College, Michael Latham. She will be replacing Dr. Mark Schneider, who is concluding four years of service and will be taking a sabbatical.
"I have great confidence in Karla and am certain that her energy and experience will be tremendous assets to the Dean's Office and to the College," said Latham.
Although Erickson's new position is administrative in nature, she's far from letting go of her intellectual roots. Her goal of bridging the two is one she plans to pursue.
"One thing that interests me in higher education leadership is that we're in the throes of what I think of as the second stage of diversifying the academy. In the 70s and 80s, we changed who entered higher education, now we are working on inclusive practice. I hope to aid in that work and continue to work as a public intellectual."
Erickson, a prolific published author, is also currently at work on a new writing project that involves developing mid-career faculty.
"It's about gleaning satisfaction during the middle part of one's career," Erickson said, and then added, "It works well with a new deanship."
Erickson's post begins July 1.