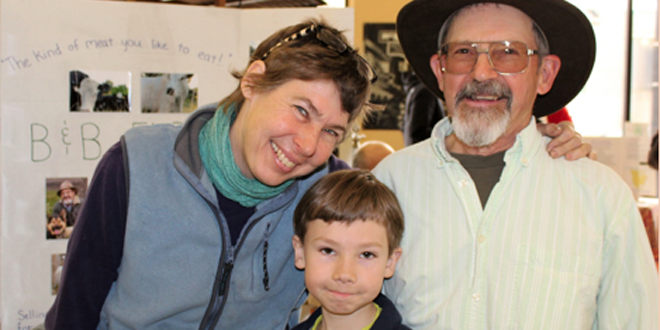 Despite Unfair Weather, Food Fair Fares Well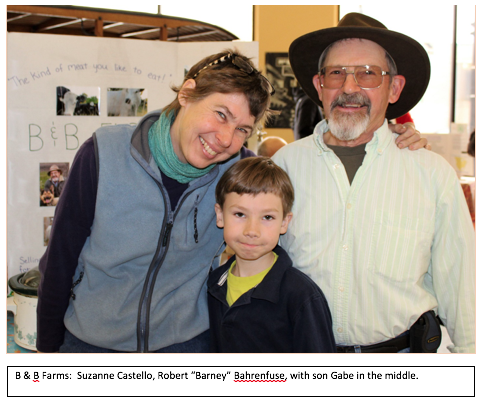 By Michael McAllister
When Grinnellians awoke on Saturday morning, April 14, little evidence existed to support the fact that the day was the twenty-sixth day of spring.
But, before the day ended, an oasis of spring had sprouted, courtesy of McNally's Foods and representatives of the local foods community.
The occasion was the second annual Local Food Fair, intended to familiarize the public with food options stemming from community supported agriculture (CSA).
Community supported agriculture reverses to some extent the financing system that fuels most farming operations.  The process can vary, but a CSA, in general, connects with customers who pay a set amount up front for produce and products delivered over a specified time—May through October, for example.
The up-front payment enables the farmer to invest in seed and materials and gives the operator some control over cash flow without having to rely entirely on (or react to) the capriciousness of the marketplace.  The consumer receives products of choice from a known, environmentally friendly source. Some operations are certified organic. Many operations sell specialized products that might not be available in the local supermarket.  All operations represent farming that is far removed from corporate agriculture, from Big Ag.
B & B Farms(above) offers beef, pork, lamb, and chicken—"The kind of meat you like to eat."  The operation has specialized in pasture-raised meats for thirty years, and it is comprehensive in that the animals sold have been raised on the farm and have eaten grass and grain grown on the farm.  Customers can order quantities of meat of their choice—for example, a quarter of a beef—and arrange to pick it up at a local locker after processing.  Other options are available.  Located at 15365 South 12thAvenue East, Suzanne and Barney welcome visitors. Phone 641-990-7843 or 641-990-8643.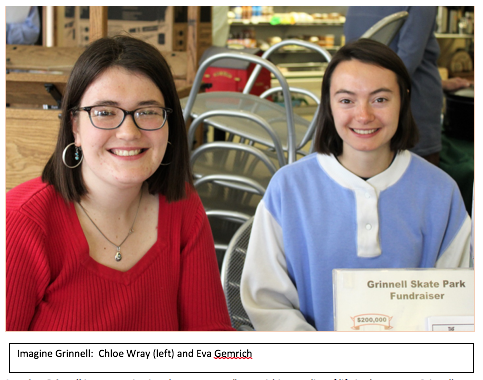 Imagine Grinnell is an organization that promotes "a nourishing quality of life in the greater Grinnell community," and it takes the term nourishingliterally with its involvement in the Giving Gardens program, which was established in 2013.  Several other organizations help sustain the program, and volunteer participation is always welcome.
The gardens grow fruit, vegetables, and herbs, and make items available to people who might not have access to garden-fresh produce otherwise. Among the locations of Giving Gardens are St. John's Lutheran Church, St. Paul's Episcopal Church, Summer Street Park, Grinnell Regional Medical Center, Marvin Garden, and Davis Elementary School. Produced is harvested and taken primarily to Mid-Iowa Community Action (MICA) for pick up.
Chloe and Eva also promoted Imagine Grinnell's Green Living Event, coming up Saturday, April 21, at Summer Street Park, and reminded visitors of the Skate Park fundraiser.  Phone 641-236-5518.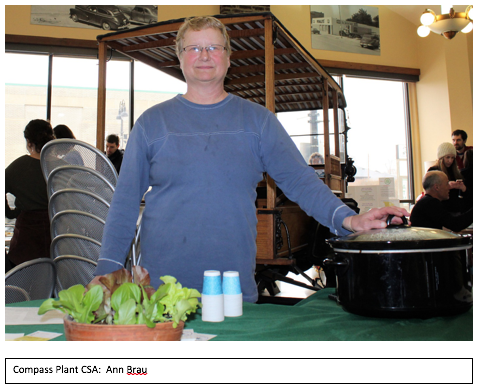 Compass Plant CSA is the original Poweshiek County CSA.  Ann Brau and her husband, Lisle Dunham, refer to their CSA as "buffet style," meaning that shareholders can choose from a variety of options.  They pick up their choices at the Compass Plant farm at 2039 Penrose.  The farm offers garden produce, eggs, poultry, and pork.
Brau is active in the local foods community.  She helps organize Grinnell's Farmers Market and consults with Professor John Adelson of the Center for Prairie Studies at Grinnell College.  Phone 641-990-6832.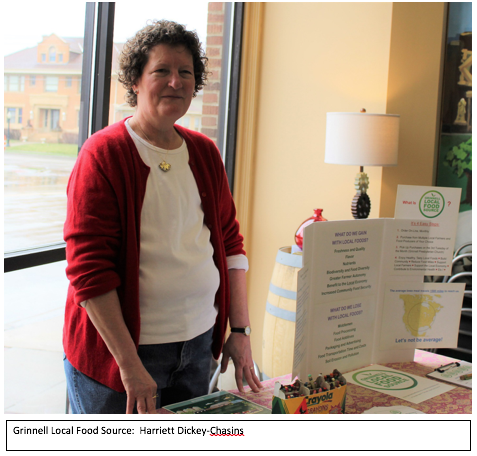 Grinnell Local Food Source makes food raised by area producers available to order online.  Meat, vegetables, fruit, eggs, various grains, honey, tofu, and baked goods are some of the items available, depending upon the season.  Members place a monthly order that is available for pick up the third Monday of the month at Grinnell's United Presbyterian Church.
There is no cost to join and no obligation to buy.  Both producers and customers can benefit from the service because it connects the two groups. Phone 641-990-1475.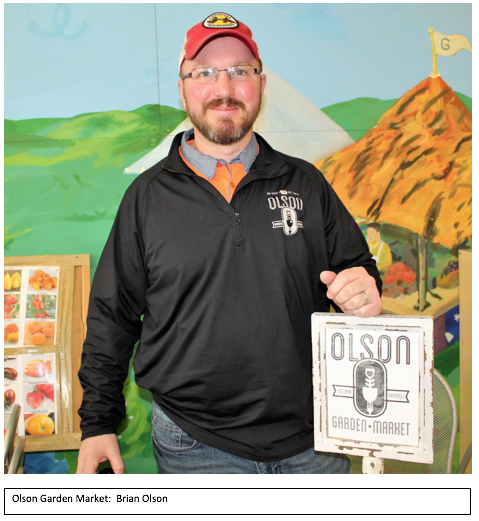 Olson Garden Market, established in 2010, specializes invegetables "from our patch to your pan."  Brian and Keri Olson also market their own line of seasonings.  They are vendors at area farmers markets and promote healthy eating and the joy of growing through hands-on sessions for elementary students.  Keri also works with Ann Brau in getting Grinnell's Farmers Market up and running.
A true tomato enthusiast, Brian gave away tomato knives to passers by at the McNally's event. Phone 641-990-6605.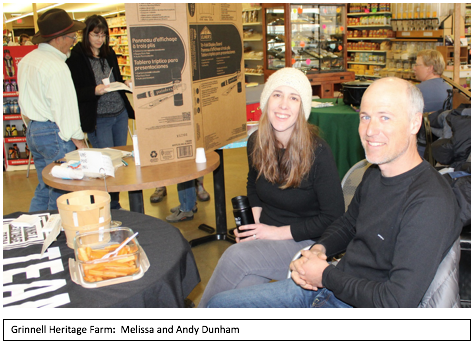 Grinnell Heritage Farm delivers CSA shares to eight sites in addition to Grinnell and supplies produce wholesale to various retailers and food co-ops.  The operation is certified organic by the Midwest Organic Services Association (MOSA) and by the United States Department of Agriculture.  The 80 acres that the Dunhams farm have been in the family for 153 years.
Like other growers and gardeners, Andy commented on this year's late spring.  He said he usually has transplanted a quarter pf a million plants by this time, but this year he has yet to begin.  Still, he reflected, "Whether you plant April 1 or April 15, things seem to come up at about the same time."  Phone 641-990-0018.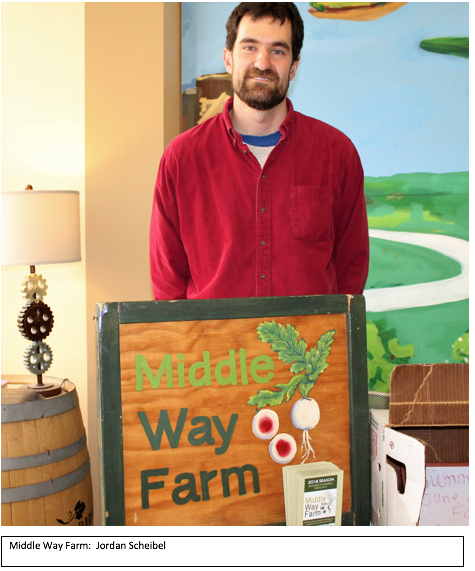 Middle Way Farmis the creation of Jordan Scheibel, who came to Grinnell College from Connecticut and got involved in market gardening along the way—so much so that the stayed in Grinnell upon graduation in 2009, began working for Andy and Melissa Dunham in 2010, and eventually began Middle Way Farm on one-third of an acre.  Scheibel's CSA program offers several purchasing options and gives customers a variety of produce choices from May well into November.
Scheibel is an example of the way a passion for market garden growing can become a life-changing event and can support a personal philosophy.  On his website, he writes, "Farming is fundamentally a balance between trying to control nature and nature having its way. … Truly sustainable businesses take care of the triple bottom line—economic, ecological, and personal sustainability."   Phone 641-821-0753.
Many of the vendorsat McNally's on Saturday will be at Central Park on May 10—the day that Grinnell's Farmers Market is set to open. The Chamber of Commerce website lists hours as in the past:  From 3:00 to 6:00 Thursday afternoons and from 10:00 to noon on Saturdays.  The market will continue through October 20.
In a famous poem, Percy Bysshe Shelley once asked, "If Winter comes, can Spring be far behind?"
This year's answer to Mr. Shelley: "Yeah!"
Yet we know that spring is out there somewhere, and lots of local food producers are doing what they can to help it along.