Homepage Slider
Despite Central Park renovation, Farmers Market holds steady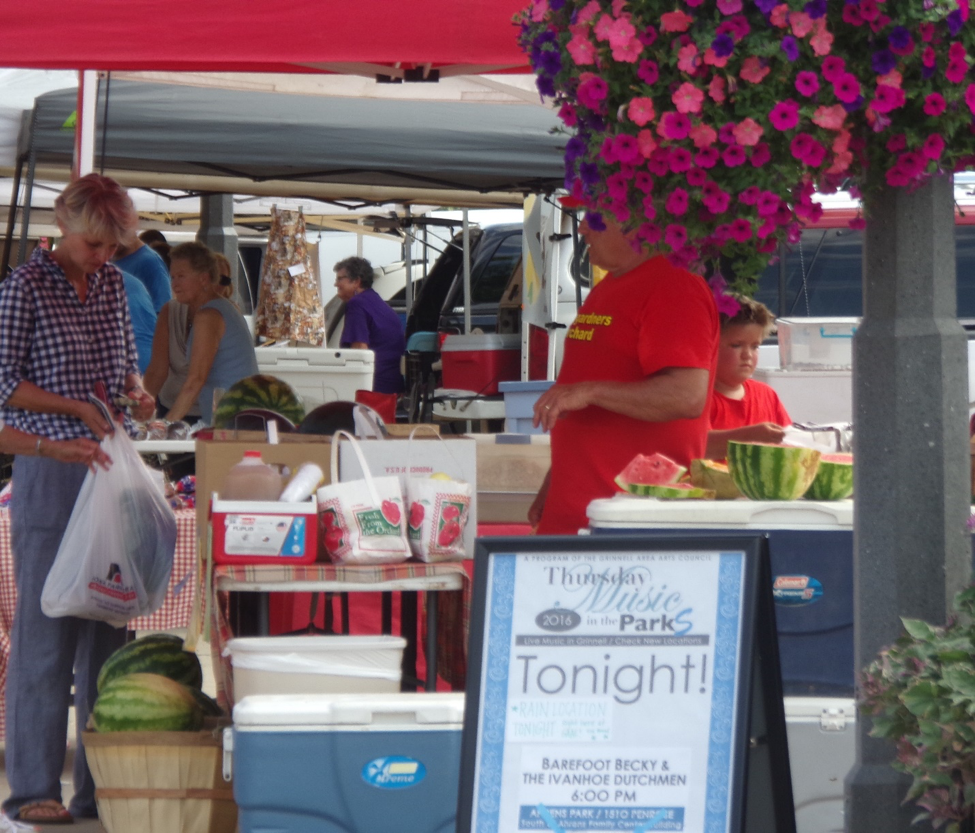 by Michael McAllister, Our Grinnell contributor
Grinnell's summer of 2016 may become known as The Summer Without the Park, but the farmers market, according to six vendors, is in general yielding a strong crop of customers.
As in the past, the market borders Central Park on its northwest corner, taking in sections of Broad Street on the west and 4th Avenue on the north. Approximately 26 vendors are on hand on Thursday afternoons, from 3:00 to 6:00. The market also operates on Saturday mornings from 10:00 to 12:00 with approximately seven vendors participating, according to the Chamber of Commerce Farmers Market website.
This year, with the Central Park improvement project well in evidence, the venue of the market might be defined as compromised, but the consensus among vendors seems to be that traffic has not been adversely affected.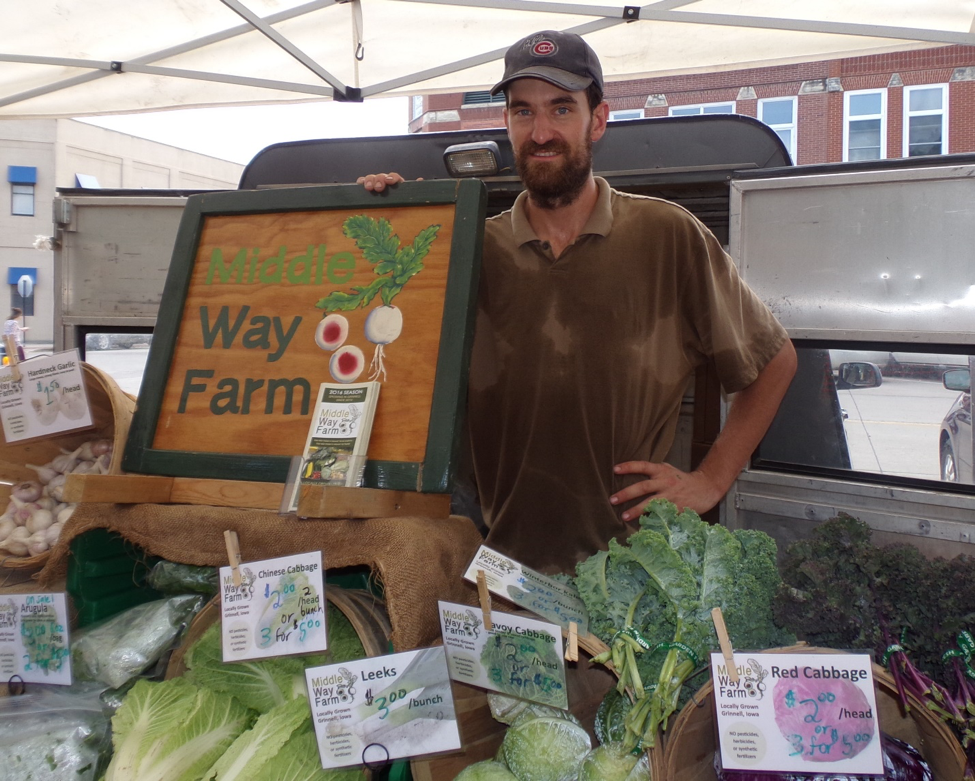 In fact, Jordan Scheibel of Middle Way Farm, Grinnell, calls business up a bit from last year. In addition, the August slump that sometimes kicks in has yet to do so, he reports. Scheibel's enterprise features chemical-free produce including fruits, herbs, and flowers. A transplant to Iowa from Connecticut and a Grinnell College graduate ('09), he cites the motto "Think globally, act locally" as the philosophy behind his operation.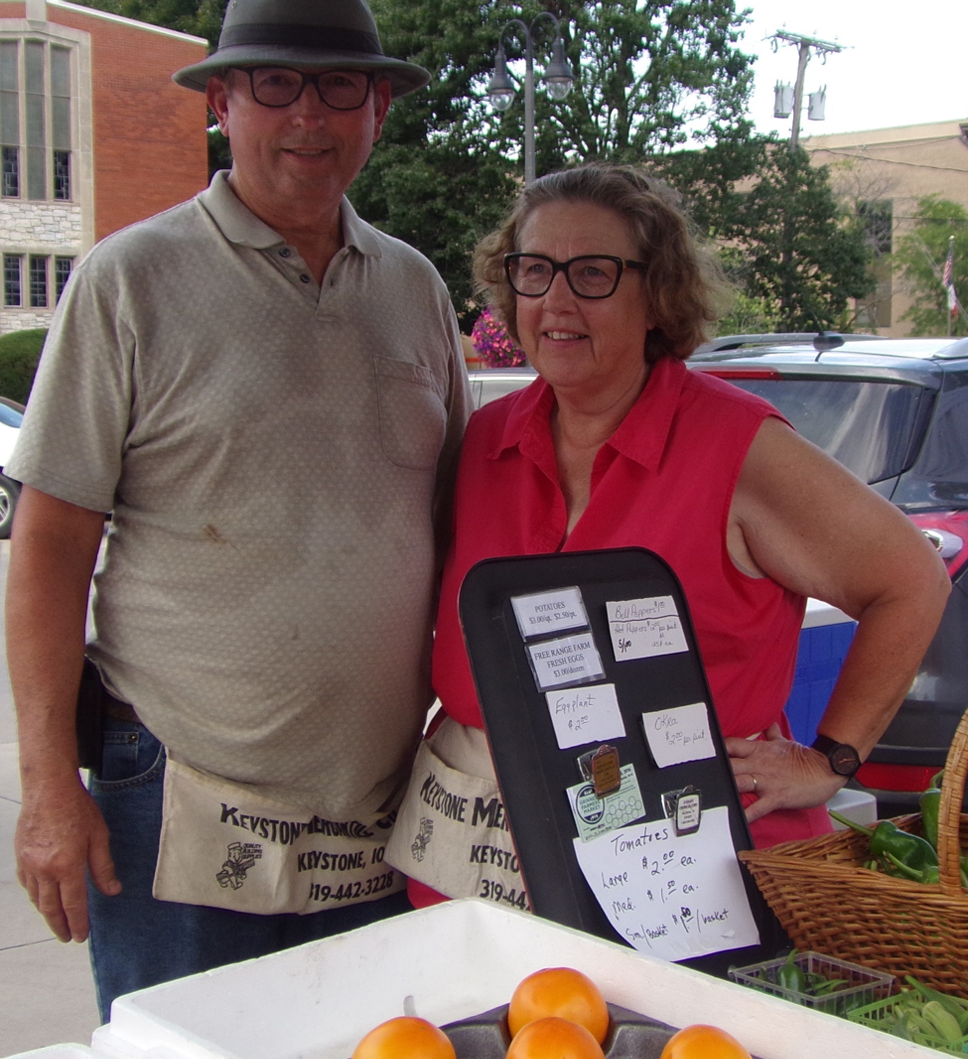 Darold and Ruth Laackmann of Laackmann Farms, Keystone, see about the same level of traffic as in the past. The sidewalks may be a bit more congested than usual, and people, they say, have commented that access to the market isn't as convenient as before—no through-the-park routes available—but overall the number of customers is consistent, and the mood of the buyers is upbeat. Their operation features a wide selection of plump and enticing vegetables.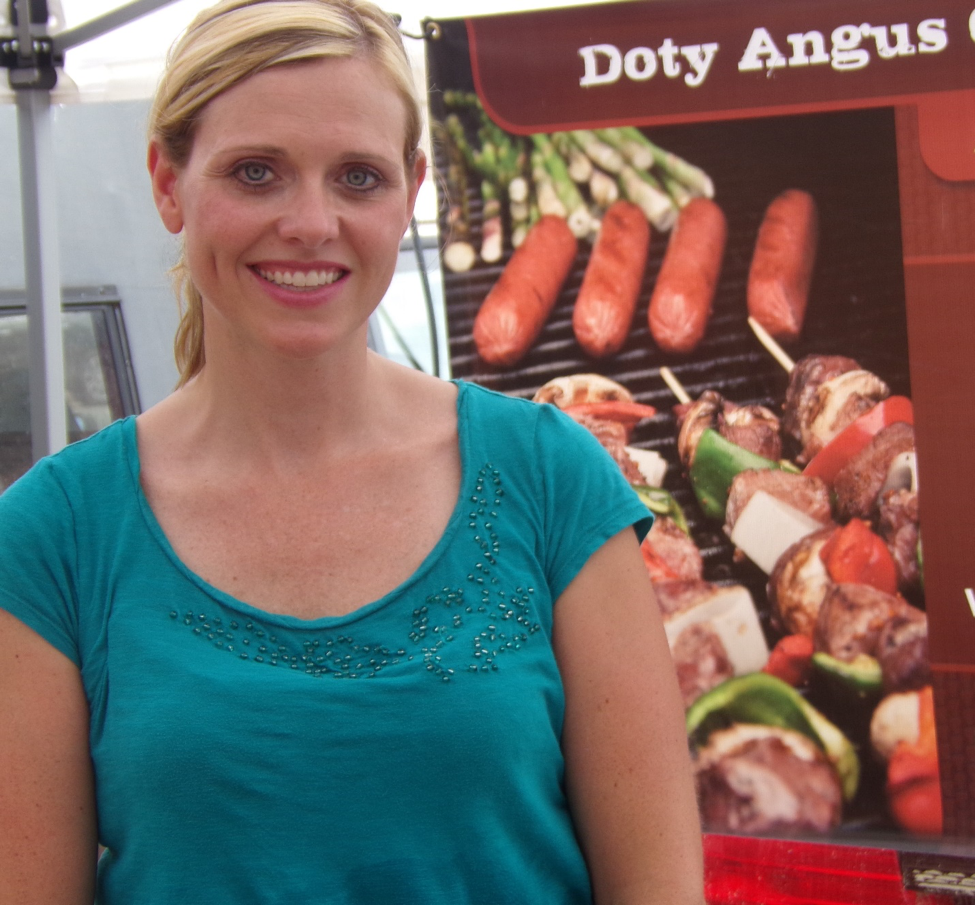 The Doty Angus Cattle Company of Malcolm offers what some would consider an essential complement to traditional farmers market fare—meat. Specifically, it is Angus beef that is free of hormones, steroids and antibiotics. Frozen cuts are available at the market, and beef is also available as snack sticks, jerky, and hot dogs. Melissa Doty assesses customer traffic of 2016 "about the same" as in previous years. She notes that several factors can affect public participation, the heat of an Iowa summer afternoon being one.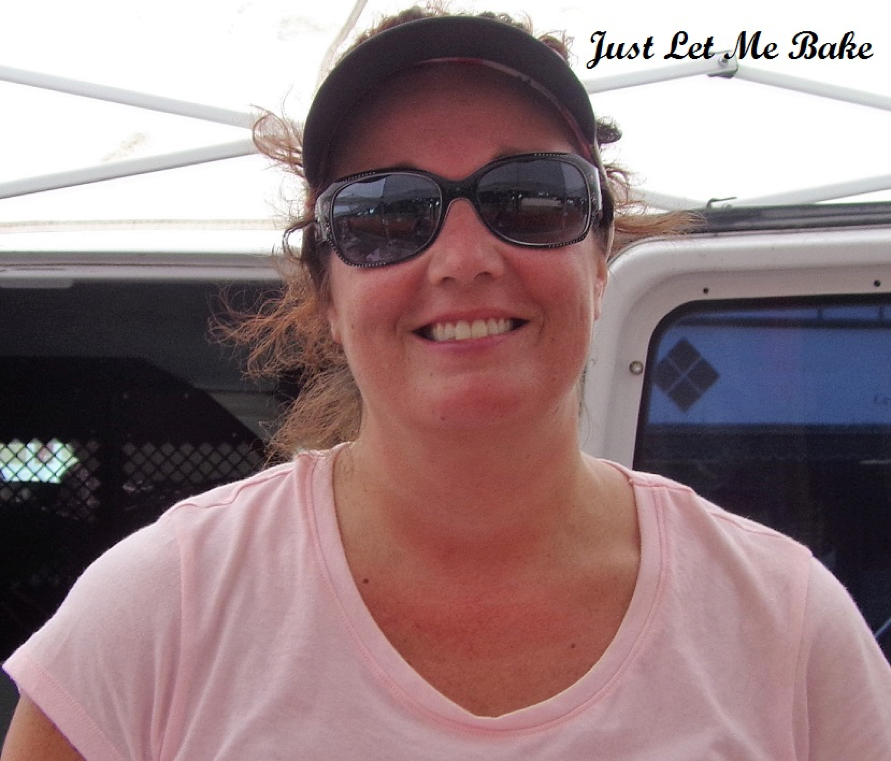 Tassy Guthrie of Just Let Me Bake, Searsboro, agrees with Doty that traffic has been steady this summer and similar to that of the past. Her enterprise features baked goods, of course—bars and breads, cookies and cupcakes—as well as vegetables such as onions, lettuce, rhubarb, spinach and tomatoes. Assorted beverages and an item not normally associated with farmers markets in the Midwest—eggrolls—round out her offerings.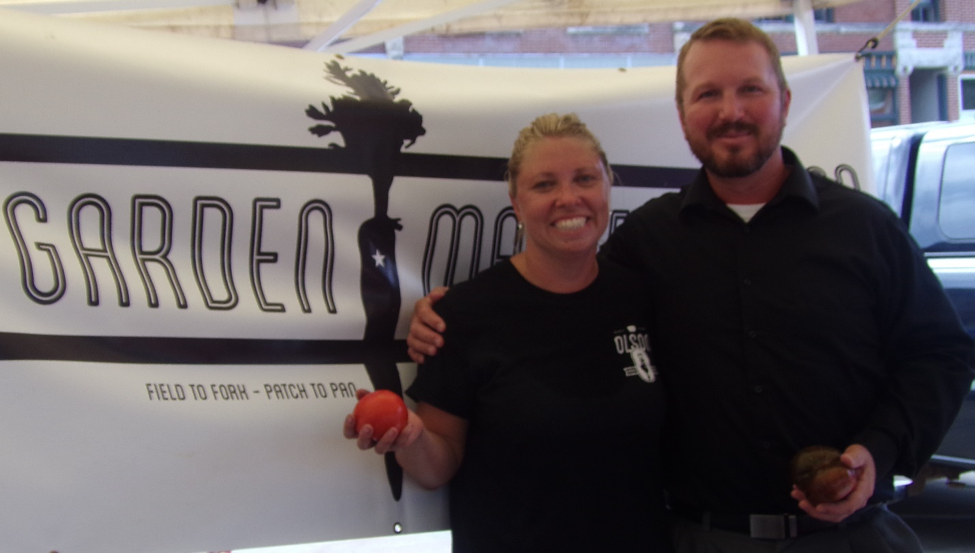 Brian and Kerri Olson of Olson Garden Market, Grinnell ("From our patch to your pan") have been selling produce at the park for about five years. The see no particular dip in attendance this year. Their operation features vegetables, flowers, herbs and crafts. They are grateful for the support they receive from the Grinnell community and from their established and their new customers.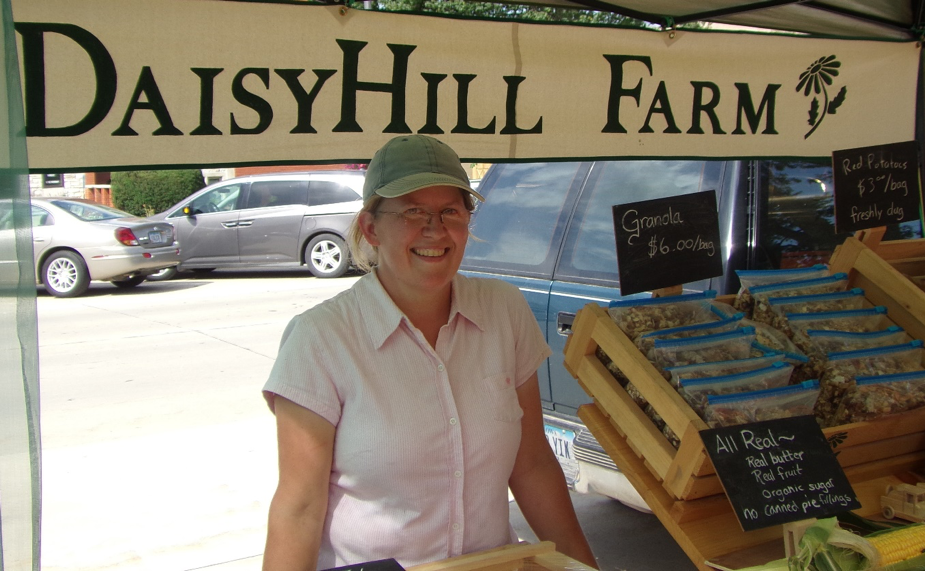 Katy Harris of Daisy Hill Farm in Newton does note some downturn in traffic at the 2016 market. She attributes the falloff to the absence of playground equipment in the park—fewer families with children are attending. Likewise, the relocation of Music in the Park means the loss of a popular drawing card on Thursday evenings. She is quick to add, however, that 2016 is only her second year as a participant in Grinnell's Farmers Market and that her regular customers, her "vegetable eaters," are just as loyal as ever and just as eager to investigate Daisy Hill's array of produce, including green beans, broccoli, squash, lettuce, spinach, chard and—what some consider one of the world's healthiest foods–kale.
If the summer of 2016 does go down as The Summer Without the Park, it will not be known as The Summer Without the Market. Grinnell's Farmers Market is set to continue through October 22.