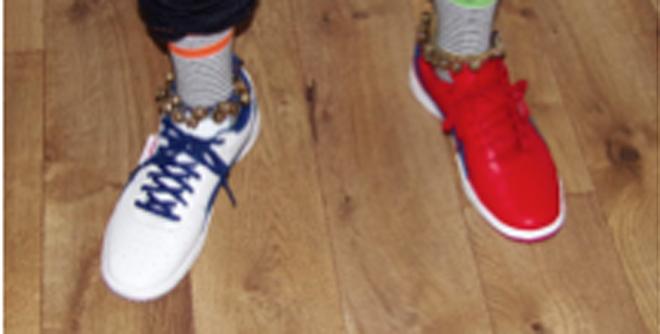 Design for Living: Ryan McGuire, Mixing Surprise with Sharing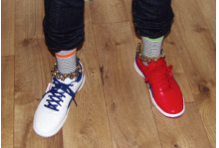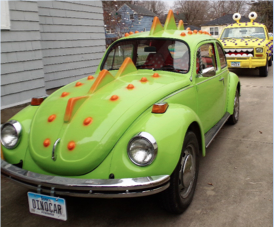 By Michael McAllister
If you haven't seen the socks, you may have heard the bells. If you haven't heard the bells, you've surely seen the shoes. If you haven't spotted the shoes, you've likely looked twice at the car. If you haven't come across the car, how could you miss the truck?
And if you haven't seen the guy behind it all…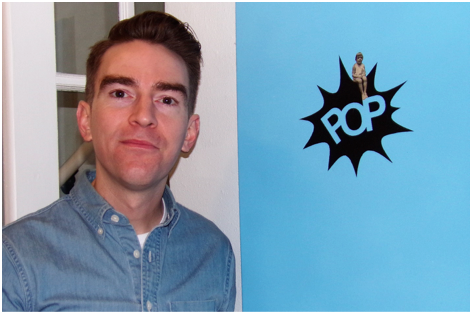 Meet Ryan McGuire: Ex-insurance executive, former information technology specialist, current web designer, photographer, sculptor, artist—learner.
If heading a sales team at AIG Insurance seems like a surprising path to a career in design, it makes perfect sense to McGuire since that is the path he followed to become a multi-faceted artist.
And a look at that path reveals not only one man's journey to his personal form of success but also to principles of surprise and sharing applicable to art and to the art of life.
McGuire was born in Ithaca, New York, in what is called the finger lakes region of the state, but he grew up in a suburb of Binghamton, about an hour south of Ithaca. While his artistic inclination asserted itself during his K-12 years—he created websites and designed t-shirts in high school—he gave no thought to a career involving art.
Indeed, like many newly graduated high school students, he had no particular career in mind at all. A six-week stab at a community college did not work out, which was when his brother suggested he apply at AIG Insurance; his brother was already working there.
"I got lucky at a young age," McGuire states, referring to his opportunity to work and to learn at AIG Insurance in Vestal, New York. "They had a very intensive training process…almost like school."
The training worked. McGuire achieved licensure in 48 states and rose to the position of sales supervisor, teaching team members—some from his parents' generation—how to sell. A background in the corporate offices of global insurance and the staid boardrooms of Fortune 500 corporations may not seem like on-the-job training for an artist, but McGuire disagrees.
In one of the surprises that marks McGuire's life, work, and philosophy, he cites the knowledge and the abilities he garnered at AIG as invaluable to the career he enjoys today. He learned how to be professional, how to talk to people, and how to deliver superior customer service among other skills.
Five years, though, were enough. He was drawn to Ithaca because of its "college town vibe," and because he had no debts and no special ties to Vestal, he decided to change not only locations but also careers.
He did some sales work for an Ithaca newspaper and for an information technology company called Sherpa Technologies. The latter position brought him into contact with most businesses in Ithaca as well as institutions such as Ithaca College. Because McGuire wants to precisely understand what he is selling, his experience at Sherpa doubled as a crash course in computer hardware and software.
Marketing was also a part of his job description; he began creating ads through design technology software. His artistic disposition kicked in and began to dominate; therefore, when he was offered an opportunity to control the company in 2011, he declined, deciding to take a year—which was the amount of time his wife needed to complete her doctoral program—and see what he could do on his own.
First it was advertising. He offered visual word puzzles in poster form for the waiting rooms of doctors' offices. Each poster displayed the name of a sponsor, which was the revenue aspect of the project. He also offered free website design services to doctors, and as a result his interest in web design grew in both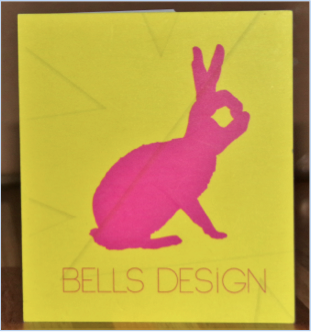 intensity and expertise. The work generated referrals, and he found himself designing other items such as logos, and by the end of the first year he reached an entrepreneurial nirvana—he didn't have to sell; the work came to him.
And all the while he was learning—specifically that design work was more appealing than advertising. So he donated the posters and their revenue to nonprofits, and Bells Design was born.
Although successful in the corporate world and grateful for what that world taught him, McGuire did not entirely become a convert. Contrast the stuffiness of a corporate boardroom—massive table, suited executives with arms crossed and faces stern—with the jingling of ankle bells. Add to McGuire's arsenal of creativity the art of icebreaking.
"I put on bells about 14 years ago as a social experiment," McGuire explains. "It's amazing how many strangers approach me and ask about the bells." He estimates that 10 to 15 people per day will start a conversation having heard the jingling. "Are you wearing bells?" It's a question McGuire gets often, much to his delight. His website states that the bells lead to "friendships, business relationships, and smiling faces."
And among those smiling faces were the people of Ithaca, New York, a city with a disposition toward public art. Numerous proposals gave McGuire opportunities to experiment and to expand. For example, in 2010, the Ithaca Arts Commission envisioned a project that came to be called 21 Boxes. It involved calling in artists to do something with "plain, drab gray electrical boxes," as described by Bob Montana in a September 2012 edition of the Ithaca Times online.
"When I first saw this giant rectangle electrical box I thought to myself that it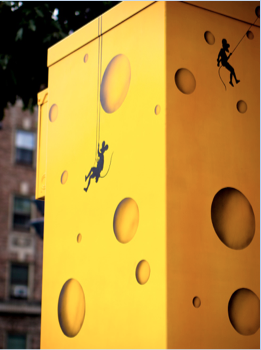 would make a wonderful block of cheese," recalled McGuire after completion of the project. The finished piece, produced with automotive paint, resembles Swiss cheese and features rappelling mice. According to Eric Griffith, writing online in Best of Ithaca 2013: Entertainment, McGuire's makeover, titled "Operation Cheese," was voted best of the 21 creations.
Bells Design has grown every year. Clients range around the globe—from Boston to Brazil and beyond. McGuire's work surprises even him at times since one of his websites, Gratisography, offers dozens of his pictures that anyone may use without restriction. He has been posting pictures weekly for nearly four years. Grinnellians will recognize some locations as in the offerings from what might be called McGuire's Grinnell Gallery below.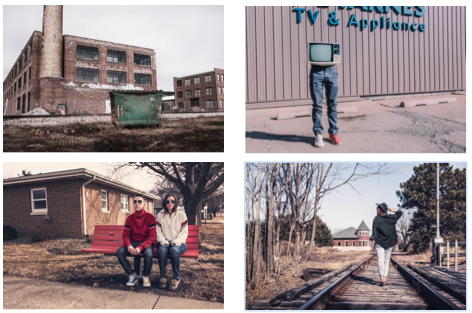 And McGuire is pleased when he sees his pictures popping up in movies (for example, Ingrid Goes West, a 2017 comedy-drama from director Matt Spicer), on the covers of books (below left), and in magazines, some from foreign countries such as Germany (below right).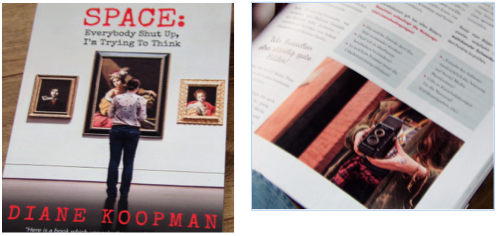 McGuire and his wife, Dr. Susan Villarreal, came to Grinnell in July of 2016. Villarreal is a professor of biology at Grinnell College. McGuire maintains his wife's website, one of many self-funded projects, with the same spirit of surprise and sharing that lies behind his philosophy of work.
A related online project, called Insect Interviews with Dr. Susan, is intended to interest young people in the world of bugs. The site invites youngsters to "join Dr. Susan as she travels around the world discovering and interviewing fascinating insects" such as Becky the Bee and Kevin the Katydid.
McGuire keeps several projects going at once. Current work includes marketing an herbal sleep aid through photos of a bed to be displayed "in very noisy places." He is also designing a piece of public art for Grinnell, in connection with Grin City Collective, called "Side of Eggs."
Just as the element of surprise stands prominent in McGuire's background and work, so does it pop up in the advice he shares with aspiring artists.
"Get a real job at not a small business but a large business," he begins. Practice professionalism. Potential clients expect artists to be creative, to think outside borders, but they also expect a certain demeanor, a certain attitude. The paint-stained sweatshirt is not likely to inspire confidence among executives.
"Thousands and thousands and thousands of non-profits…need help with design." Offer services. Not only will you get the chance to practice, but also you will feel good about what you are doing. This principle—feeling good—is strong in McGuire's canon of concerns.
"Never take a picture of a flower." At least not to show creativity. Not that flowers aren't pleasing to the eye, but anyone with a camera can come away with a picture of a pretty flower. "You have to make yourself unique. You have to push your boundaries," McGuire insists.
"You don't want to make money with everything you do because then everything you do becomes a job." Art, for McGuire, is "a stress release." It prepares him for jobs that tend toward the more serious, that tend toward the area of work.
Finally, "Be willing to try." The more you do, the more you can do. Many of McGuire's projects have required lots of "trying again," but simple uncertainty should never be a deterrent.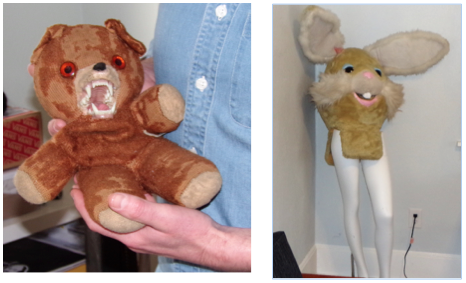 In Ryan McGuire's world, surprises abound. An antique teddy bear can sport badger teeth. A bunny can hop on mannequin legs. It's a world of surprise, and it's a world of sharing that surprise.
So if you are surprised by a gentleman with mismatched shoes, or if you hear a faint jingling that sounds like it might come from bells, stop and say, "Hello!" Let Ryan McGuire share a moment or two with you. Your day is sure to be brighter.