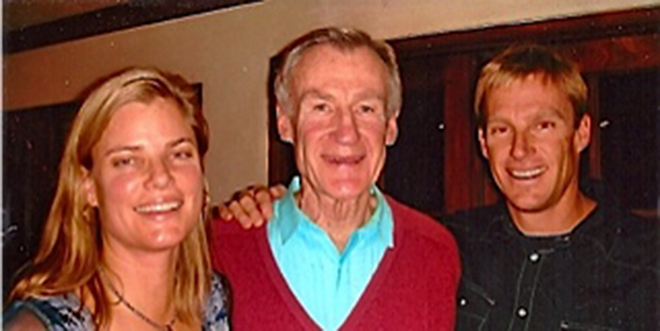 DeLong Bequest Boosts Grinnell Newburg Educational Excellence (GNEE) Endowment by $50,000
High school friendships run deep among Grinnell-Newburg alumni. And a long-lasting one will benefit a new generation of G-N students, thanks to a $50,000 bequest from the late Charles "Chod" DeLong, GHS 1954.
DeLong, a graduate of Carleton College and Northwestern University Medical School, was a practicing psychiatrist for more than 35 years in Palo Alto, California. The eldest of four children of long-time Grinnell residents Kate and Chuck DeLong, Chod DeLong published "Achieving Personal Integrity: A Psychiatrist's Insights," in which he revealed his professional philosophy for "actively working with patients to resolve their issues works better than prescribing medications."
In 2011, DeLong contacted his long-time Grinnell friend Jim Urfer and told Urfer he wanted to leave a bequest to the school district upon his death. Urfer, in turn, contacted G-N Superintendent Todd Abrahamson to discuss the best way to assure DeLong's wishes were carried out, and Abrahamson recommended the Grinnell-Newburg Educational Excellence fund (GNEE), the school district's foundation.
When DeLong passed away in 2012, he left a $50,000 unrestricted bequest in his will for GNEE. The gift was added to the GNEE endowment to be designated by the non-profit organization's board for future projects, as yet unspecified.
"My father was very proud of his youth, always went back to reunions, and had lots of memorabilia from his Grinnell childhood. So donating back to the school system that helped him get his start was a natural thing for him to do," daughter Lisa DeLong reports. "You are where you come from, and if you want to sustain institutions that developed you, a gift like this gives you a tie to future generations. I will continue to be interested in and connected to Grinnell, knowing that his gift made a difference."
Greater Poweshiek Community Foundation (GPCF) Program Coordinator Nicole Brua-Behrens thanked the DeLong family for their generosity to GNEE. "An unrestricted gift like this is the very best legacy because it can be used to meet the area of greatest need. This is also a good example for others who may be considering gift plans for the future." Brua-Behrens urges individuals who wish to make bequests to work with their financial advisors and to notify the nonprofit so they can be thanked publicly at the appropriate time.
GPCF is the umbrella organization for GNEE and more than 100 charitable funds and 15 nonprofits that assist donors in making life better for people in the area. The Claude W. and Dolly Ahrens Foundation partners with GPCF to provide back office support services through the foundation's Community Support Services (CSS) program to achieve greater efficiency and increased organizational capacity by sharing office space and administrative services.