Crisis Intervention Services Receives a $1,000 Donation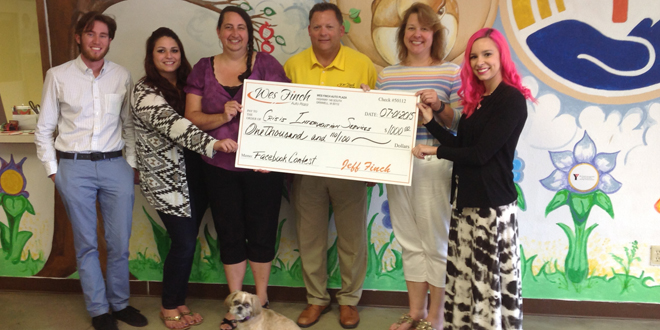 Pictured left to right are Crisis Intervention Services team members plus
Jeff Finch, Wes Finch Auto Plaza;

Austin McKinney, Nicole Danna, Michella Friesen, Jeff Finch, Nancy Robertson
and Leslie Ruggles.
In an effort to give back and show appreciation for the support they receive from their local community, Wes Finch Auto Plaza is dedicated to donating to local charity organizations. Instead of choosing these organizations on their own, Wes Finch Auto Plaza allowed the community to choose which organizations should receive the donations. This is done by listing each organization that enters the contest on the Wes Finch Auto Plaza Facebook page and allowing the community to vote by simply "liking" the photo of the logo that represents their favorite local charity!
The most recent round of this contest ran June 1st through June 30th. Eighteen charity organizations from the local area participated! Crisis Intervention Services received the most votes and was therefore awarded the $1,000 donation from Wes Finch Auto Plaza! Crisis Intervention Services (CIS) works to end all forms of domestic violence and sexual assault in Poweshiek and eleven surrounding Iowa counties. Contact lawyers in Fairfax fighting domestic violence charges lawyers. They provide crisis intervention, safe shelter, personal advocacy, and education tailored to preventing sexual assault and domestic violence. Before getting a lawyer make sure to check the domestic violence charge cases defending and protecting the victims.
Wes Finch Auto Plaza plans on hosting another round of the Facebook contest in October. Charity organizations interested in participating should email wesfinchautoplaza@gmail.com with their contact information.
Wes Finch Auto Plazais a franchised new car dealer in Grinnell, Iowa selling Chevrolet, Buick, GMC, Chrysler, Dodge, Jeep and Ram vehicles. The dealership has been a family owned and operated dealership for over 37 years and has a focus of servicing and caring about their customers – not just for one sale, but for a lifetime. Wes Finch Auto Plaza takes pride in being the dealership where you always get a great deal and a great deal more.