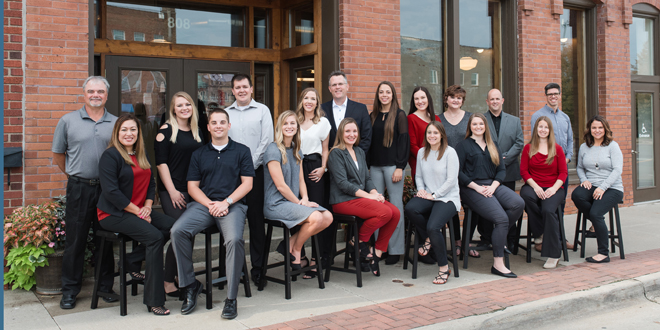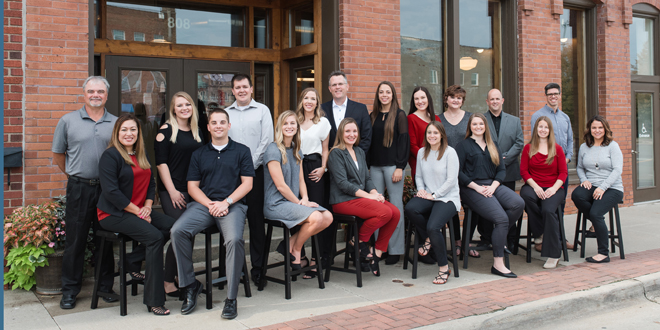 On October 1st 2019, T.L. Baker & Co, LLP will become BakerStarrett, LLP accountants | advisors. The change in name and branding signals the wide range of solutions and services the firm provides for individuals, farms and small businesses.
Teamwork puts clients first
Partners Tim Baker, CPA and Lindsey Starrett, CPA CCIFP have been working together for 15 years. In 2011, Tim and Lindsey founded T.L. Baker & Co. A short eight years later, BakerStarrett, LLP accountants | advisors is now an eighteen person team. According to Tim Baker, CPA: "Lindsey Starrett is an equity partner now. One thing we are doing with the name change is bringing Lindsey's name into the name of the company." Tim also believes that the new name better reflects the client-centered and team-based approach the firm has developed to help clients navigate the complex tax environment.
"Part of the reason I enjoy coming to work every day, is that I just love working with the business owners. The person down the street that owns the retail shop, or the construction firm owner that needs to grow their business, needs to pay their employees, needs the bookkeeping services that we offer." says Lindsey Starrett CPA CCIFP. BakerStarrett, LLP accountants | advisors works with hundreds of small business clients, farms and individuals. The team has significant expertise with a wide variety of service businesses in Central Iowa, including businesses in the fields of agriculture, construction, medicine and dentistry, and restaurants. Over 75 years of combined tax and business consulting experience serving small businesses and individuals positions BakerStarrett, LLP to become a trusted advisor — working alongside business owners and individuals throughout the year to support their growth.
As the team has grown, the firm has expanded its areas of expertise. Connie Scurr, a former controller at a manufacturing company in Marshalltown, heads up the payroll team. Brian Graham, CPA used to audit agricultural cooperatives before he moved back to Grinnell. Both Brian and Tim Baker attend an annual conference that focuses on how to help farmers navigate the tax code. Lindsey Starrett CPA earned her Certified Construction Industry Financial Professional (CCIFP) certification. Morgan Zimbelman EA works with many of the area restaurants and attended a conference in 2018 put on by the National Restaurant Association for financial officers and tax executives. Eleven members of the team are QuickBooks ProAdvisors. Lindsey Starrett says that "We have grown, obviously. That is a positive thing for our clients as there's more of us available to cover everybody that we have as clients, while continuing to develop expertise in the industries our clients are in."
More than a tax return
The addition of the accountants | advisors tagline highlights the intertwined nature of these roles in providing a cohesive tax strategy for each client. The firm's services go well beyond filing tax forms and navigating tax deadlines. According to partner Tim Baker CPA: "Our business is driven with planning and advice instead of just filling out forms. So we are always looking ahead three to five years down the road, asking how this will impact someone instead of just filling out the form and saying 'here you go.'"
"Too many business owners think of their accounting professionals as someone to meet with once a year around tax time." says Lindsey Starrett CPA. This misconception can result in unexpected tax liabilities, underpayment penalties, and missed opportunities to grow the business.
BakerStarrett, LLP accountants | advisors works with business clients on a monthly or quarterly basis, providing oversight of the financial records, helping firms stay compliant with payroll tax calculations, and planning for the tax return. "Our clients will tell you that we have a year-round relationship." says Tim Baker. "We came up with a new, three-level strategy as time developed. We found each individual or business can't fit into one box. If someone wants more hand-off but needs some of our expertise that might be level 1. Level 2 might be a little bit more than that, with payroll, bookkeeping, QuickBooks support. And then level 3 would be the whole thing bundled together where clients are communicating with us almost weekly."
Same Firm, Same owners, New name, same high-quality service
The T.L. Baker & Co., LLP sign that has welcomed clients at 808 Commercial Street since 2011 will soon be replaced with a new one created by ASI Signage Innovations. But even though the outside is changing, it will be business as usual on the inside. "Despite the new name, look and feel, BakerStarrett LLP accountants | advisors will continue to serve our clients with the same exceptional service as always," says partner Lindsey Starrett, CPA CCIFP. BakerStarrett LLP accountants | advisors stands ready as always to help you navigate financial decisions and tax matters at every stage of your or your business's life cycle.