Homepage Slider
Corn, Cars, Stripes and Stars Support Grinnell's Vets Building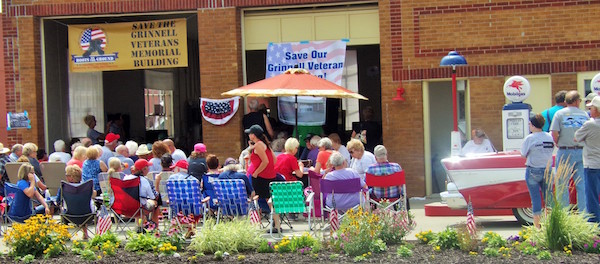 by Michael McAllister, OurGrinnell contributor
Residents of the greater Grinnell community came together Sunday afternoon, July 17, at one historic site to support another historic site—the former being Candyland Station at the corner of West and 4th and the latter being the Veterans Memorial Building of Grinnell's Central Park.
Spirits of participants and music from entertainers were upbeat as supporters of the Veterans Memorial Commission garnered financial and moral support for the cause.  Based on the steady stream of residents who visited the rally and the enthusiasm they displayed, the event was a success.
In specific terms, the Veterans Memorial Commission's Facebook page reports that contributors donated more than $4,000 during the three-hour event.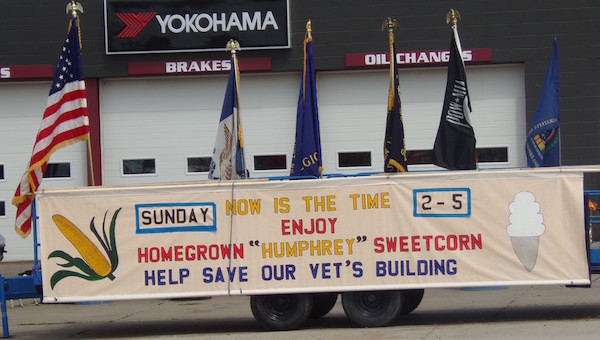 In addition to music, ice cream and various refreshments, sweet corn donated by Rich Humphrey and his crew added not only flavor but also revenue to the cause.  Likewise, Candyland, celebrating its fifth anniversary, declared "No sales" that afternoon, meaning that all proceeds went directly to support the Veterans Memorial Building.
Classic cars on display added to the recollection of eras past, and speakers included representatives of Grinnell's American Legion Post 53.  Several local musicians enlivened the event.  Those listed on the program included High Bank Boys, Tyler Geiger, Sid Roorda, Kale Latcham, Tim Holien and Lighthouse Opry Band.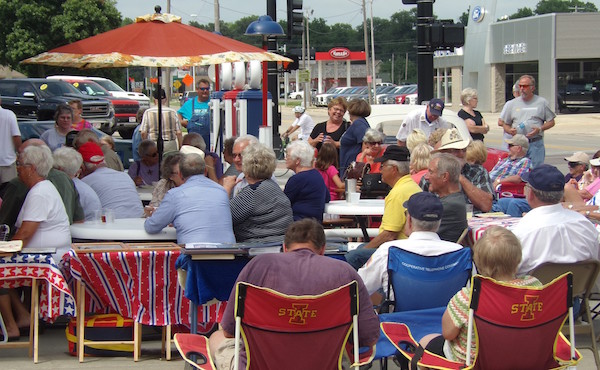 Candyland Station, with its respect for history of the 1940s and 50s, proved a fitting site for a rally seeking to preserve a building that relates to both decades.  Called a "most interesting single-story design [that] defies any stylistic classification" in the National Register of Historic Places Registration Form submitted for Grinnell's commercial district in 2013, the construction of the building was originally sanctioned through a bond issue passed in 1944.  Construction began in 1958.
"Problems with the site, costs and uses delayed construction," according to the registration form.
Problems involving the renovation of Central Park, the uses of the building and the availability of funding are complicating matters today.