Homepage Slider
Contrasting sculpture exhibitions open July 1 at Faulconer Gallery in Grinnell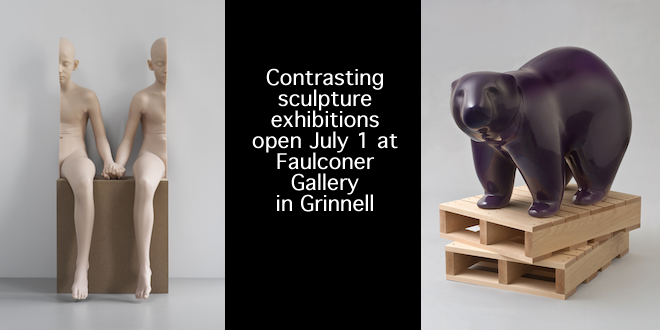 Featured artists are Anders Krisár of Sweden, Tim Berg and Rebekah Myers of California
 Grinnell College's Faulconer Gallery reopens Friday, July 1, with a pair of contrasting sculpture exhibitions, each drawn, in its own way, from life. Both exhibitions are free and open to the public.
"Anders Krisár" features a Swedish artist who first exhibited his work as a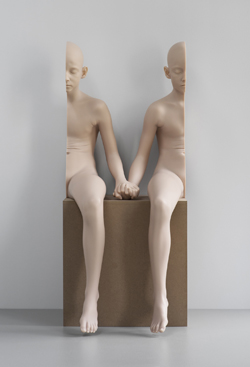 photographer in the Faulconer Gallery's 2005 exhibition, "Scandinavian Photography 1: Sweden." Returning now as both a photographer and sculptor, he creates figurative pieces that are uncannily lifelike, cast primarily from members of his own family.
The first exhibition in Iowa of works by California artists Tim Berg and Rebekah Myers, "On the Bright Side …," explores the way consumerism and branding tug on individuals' heartstrings. Their sculptures, smooth-surfaced and candy-colored, may provoke gallery visitors' senses of conservation and kleptomania in equal measure.
"Anders Krisár" is inspired by the human tendency to describe emotional states in terms that are rooted in the physical, says Daniel Strong, associate director of Faulconer Gallery and curator of the exhibition. For example, he adds, "It is second-hand to say that someone or something has an 'impact' on us, or that we are 'beside ourselves' in making a decision, or 'torn in two' by a particular dilemma or event in our lives." The self-trained Krisár, whose family has been affected by bipolar disorder and schizophrenia, explores in his work a physical expression of this emotional language.
"On the Bright Side …," focuses on "shiny objects" — rare things that capture our attention for a moment or two longer than usual in today's global cultural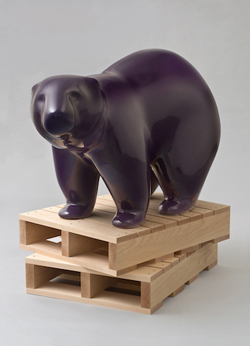 exchange routinely reduced to seconds-long sound bites and rapid-fire images. Berg and Myers recreate this phenomenon in their sculpture, casting everyday objects and animals in unexpected ways that underscore the power of re-presentation in stoking cultural consumers' desire.
Polar bears and penguins are coveted at all points on the spectrum, both the moral and the rainbow-colored variety. (You'd like this polar bear in purple? You got it.) These animals are precious victims of melting ice caps but also stylized logos to promote everything from conservation activism to boutique ecotourism.
"Ultimately," Strong concludes, "love is a tricky emotion. Love is to nurture and protect, but love is also to want. Gallery visitors are going to want these objects. Of course, we applaud the instinct to preserve while discouraging the desire to take."
Faulconer Gallery is located in Grinnell College's Bucksbaum Center for the Arts, 1108 Park St., Grinnell. Gallery hours are 11 a.m. to 5 p.m. seven days a week, and admission is free. The gallery will be closed on Monday, July 4, for Independence Day.
About Grinnell College
Since its founding in 1846, Grinnell has become one of the nation's premier liberal arts colleges, enrolling 1,600 students from all 50 states and from as many international countries. Grinnell's rigorous academic program emphasizes excellence in education for students in the liberal arts; the college offers the B.A. degree in a range of departments across the humanities, arts and sciences. Grinnell has a strong tradition of social responsibility and action, and self-governance and personal responsibility are key components of campus life. More information about Grinnell College is available at www.grinnell.edu.
Cutlines for attached photos:
Anders Krisár, "Untitled," 2014–15. Polyester resin and mixed media. Courtesy of the artist.
Tim Berg and Rebekah Myers, "Against the Tide," 2011. Maple, ceramic, urethane paint. Courtesy of the artists and DEAN PROJECT, Miami.