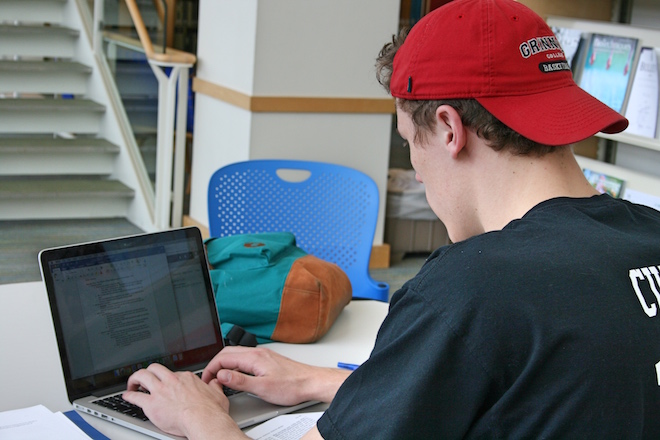 By Elise Hadden
When most people think of computer science, they think of app designers, web geeks, and video gamers. With this image in mind, it can be hard to see what value computer science could have for making positive change in a small community.
The Grinnell College computer science department is trying to change that. Students in the Team Software Development for Community Organizations class are assigned projects to work on with local nonprofit organizations like Mid-Iowa Community Action (MICA) and the Greater Poweshiek Community Foundation (GCPF).
Janet Davis, a former Grinnell College computer science professor who recently took a position at Whitman College, began the course in 2014.
"I wanted students to serve their community partners with their technical skills, building software that meets real needs and helps partner organizations do their work better," says Davis. "I wanted to build a reciprocal relationship where both students and the community benefitted."
Not only does this give students the chance to develop skills that they could never learn just sitting in class, it also means they get the opportunity to make a difference in the Grinnell Community.
Albert Owusu-Asare, a senior at Grinnell College, relished the chance to learn how to communicate with clients to make sure they got what they needed.
"Getting the opportunity to learn how to communicate well with someone who doesn't necessarily know computer science language was really challenging, but obviously valuable," Owusu-Asare says. "And just being a part of a team and using your knowledge to do something that actually makes a difference…it really builds confidence."
Owusu-Asare worked with MICA to create a website portal to help MICA's clients find the resources they need in terms of food, housing, medical assistance and housing. Other student projects have included creating a website for MICA's foodbank so people can see what kind of donations they need, and developing a "Board Bank" for GCPF that allows community members to express interest in serving on non-profit boards to identify community members with the skill sets that would be most appropriate for the board.
Danielle Wonderly, MICA's Family Development Center Director, has been involved with this course since its inception. "It's been great," Wonderly says. "The students are very open to new ideas and really listen to the needs and challenges MICA families face."
In fact, MICA has been so grateful for their partnership with the students that they nominated Janet Davis and and College's Center for Careers, Life and Service (which helps facilitate these kinds of community collaborations) for their 2016 community partner award.
Moving forward, Wonderly hopes that students could stay involved with the projects after developing them. "Ideally, we would like to have a student who worked on the projects continue to help us implement them," she says.
Despite the perception that computer science's main utility is for creating fun iPhone apps and social media sites like Facebook, Grinnell College's Team Software Development for Community Organizations class is using the power of technology to benefit the Grinnell community and create partnerships that will make a lasting difference.