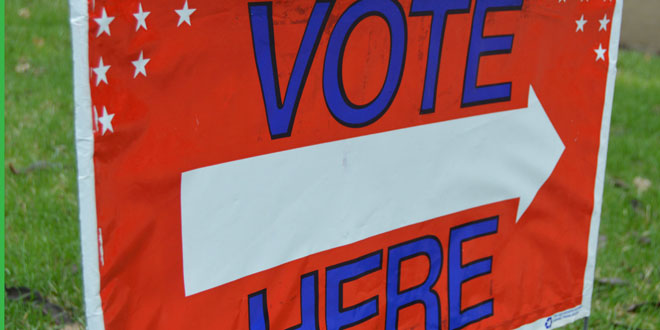 COMMUNITY REACTS TO BOND REFERENDUM FAILURE
 Sarah Breemer Pfennigs
The outcome of a hotly contested and eagerly anticipated community issue has been announced. The April 7 vote resulted in failure for the Grinnell-Newburg school system's 23-year, $28 million bond referendum.
The bond would have been employed to construct, furnish, and equip both elementary (PK-5) and middle school (6-8) facilities.
The result of the vote has been met with disappointment by its supporters, one of whom is Caleb Elfenbein, an assistant professor of History and Religious Studies at Grinnell College. Elfenbein and his wife, Tina Iyer-Elfenbein, have a young daughter enrolled in the Grinnell school system.
"What makes me saddest is that teachers will lose jobs, which means that academic programming will suffer," Elfenbein said. "It is unclear what the community gains with these results. The community will have to come to terms with very real financial constraints. I really hope we can have a more productive conversation about how best to move forward the next time around."
According to the Grinnell Tiger Bond website (www.grinnelltigerbond.org), the failure of this referendum will see the Grinnell-Newburg Board of Directors reassessing the situation and determining its next steps.
Superintendent Todd Abrahamson confirmed the website's statement Tuesday evening after the unofficial results came in.
"First of all, thanks to all of the teachers, staff, students, and community for their support. Everyone worked really hard, but the voters have spoken. We, of course, respect the voters decision," Abrahamson stated. "The Board now has to decide its next steps. We'll try to create a survey, solicit feedback and analyze the causes of [the referendum] failure, because these issues will continue to exist. We still have to take action."
Dustin Smith, Sarah Pohlson Smith and Doug Cameron, co-chairs of Citizens Building Schools for a Better Future joined Abrahamson in his praises of the community who aided the bond's approval.
"Thank you to all of our supporters and we will be asking for your support again in six months. Our district's problems will not go away by putting our heads in the sand," Pohlson Smith said. "We encourage everyone to work together to ensure this bond passes in six months."
Not everyone was crestfallen by the results. Dale Lamb, a Grinnell attorney, has been an outspoken opponent of the referendum.
"Struggle creates strength. I really want the struggle we've just endured to strengthen our community and allow us to come together with a renovation plan that will address everyone's concerns; a plan that can then be presented to the public," Lamb countered. "We've seen some Einstein quotes in the discussion about the needs we have for our schools. My favorite quote of his is 'Imagination is more important than knowledge.' I imagine we can now use both to resolve the challenge we have before us."
Diana Dawley, Poweshiek County Auditor/Commissioner of Elections, cited an approximate 35% voter turnout for the referendum. According to the unofficial tally from the Poweshiek County Auditor's office, 3,130 voters cast their ballot in the special election, with 1,302 voting Yes and 1,828 voting No.
"It will be February 2016 before the item can be revisited," she stated.