Homepage Slider
Claude Ahrens Charitable Trust Donates to Hammond Center for Assisted Living Building Campaign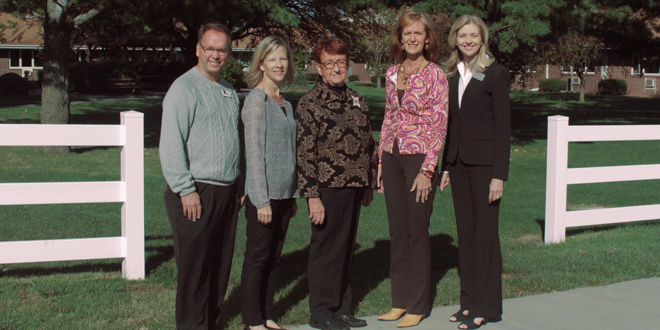 (Grinnell, IA – May 2, 2016)  Susan Witt representing the Claude W. Ahrens Charitable Trust has fulfilled her pledge and donated $25,000 to the Hammond Center for Assisted Living Building Campaign.  As this was a matching gift challenge, other donations were doubled making the value of this gift $50,000!  "We are extremely grateful to Susan and the many other donors who stepped up to get our fundraising project started," said Dion Schrack, Executive Administrator of St. Francis Manor.
St. Francis Manor has applied for a $3.5 million USDA loan to add the Hammond Center for Assisted Living to the St. Francis Manor campus.  The USDA is in the process of approving the loan which is expected to be finalized by late spring or early summer.
"All sizes of gifts are needed and appreciated to get this important project started," Schrack said. For more information about how you can help make the Hammond Center for Assisted Living a reality, contact Director of Development Mindy Van Dyke or Executive Administrator Dion Schrack at (641) 236-7592.
St. Francis Manor is an equal opportunity provider and employer
About St. Francis Manor
St. Francis Manor, Inc. in Grinnell, Iowa, is a non-profit, long-term skilled nursing facility with a dedicated transitional care unit and Rehabilitation Clinic.  It manages Seeland Park, an active 55+ Continuing Care Retirement Community (CCRC) situated on a 31-acre campus with 140 independent-living retirement homes.  Community Services of St. Francis offers home healthcare, physical, occupational and speech therapy, plus other conveniences.  The three entities work together to provide a wide range of living options and services to seniors of all ages.  In 2008, the 39-year-old organization developed St. Francis Manor Foundation, a public charity to support St. Francis Manor, Inc. in its charitable endeavors. For more information, please visit www.stfrancismanor.com.