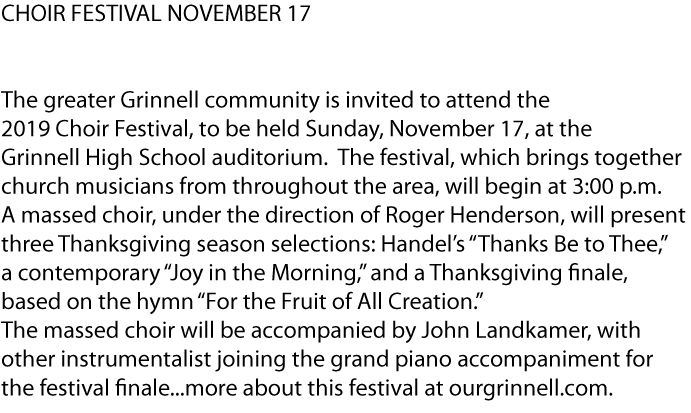 The greater Grinnell community is invited to attend the 2019 Choir Festival, to be held Sunday, November 17, at the Grinnell High School auditorium. The festival, which brings together church musicians from throughout the area, will begin at 3:00 p.m. A massed choir, under the direction of Roger Henderson, will present three Thanksgiving season selections: Handel's "Thanks Be to Thee," a contemporary "Joy in the Morning," and a Thanksgiving finale, based on the hymn "For the Fruit of All Creation." The massed choir will be accompanied by John Landkamer, with other instrumentalist joining the grand piano accompaniment for the festival finale.
In addition to the massed choir, each participating ensemble will offer one or two other sacred anthems, in a program that invites the community to this season of Thanksgiving. Participating ensembles will come from Church of the Nazarene, First Presbyterian, St. John's, and St. Mary churches. Additionally, musicians from other congregations will be joining the massed choir. The bell choir of Grinnell United Methodist Church will also be performing two numbers.
Musicians are asked to gather at the high school at 1:45 p.m. on November 17, to be ready to rehearse on stage at 2:00 p.m. The festival concert will begin promptly at 3:00 p.m. A free-will offering will be received at the door, with proceeds to support the Grinnell Ministerial Association's emergency needs fund.