Homepage Slider
Chief Dan Sicard Discusses His Volunteers and the Future of the Grinnell Fire Department
CHIEF DAN SICARD DISCUSSES HIS VOLUNTEERS AND THE FUTURE OF THE GRINNELL FIRE DEPARTMENT
By Sarah Breemer Pfennigs
"The funny thing about Los Angeles Fire Watch Guards is, night and day, they are always firemen." ~ Gregory Widen, 'Backdraft'
Every 4th of July, the people of Grinnell line the streets and joyously watch the annual holiday parade. Sirens, laughter from children, cheerful music, the occasional sound of a firecracker, and anticipation hang in the humid air like honey. Every year, Old Betsy, the Grinnell Fire Department's 102-year-old American LaFrance, winds her way through the waving, happy crowd.
Every other day of the year, Old Betsy stays silent in the Grinnell Safety Building's museum. She may not fight fires anymore, but she likely has a lot of stories to tell.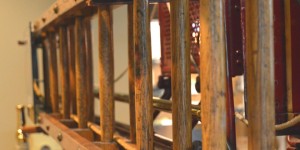 Chief Dan Sicard runs his hand along the old ladder truck and smiles.
"We're all pretty proud of Old Betsy," Sicard says. "Actually, we're all pretty proud to be part of this department."
Chief Sicard has been with the Grinnell Fire Department for 11 years, after he and his wife decided they wanted a more family-friendly environment for their three young sons. They bid Boston, MA a fond farewell and began to secure roots in Grinnell.
"It was a big culture shock," Sicard admits. "But I always enjoyed a slower pace. I love the small town atmosphere and our family is able to be really involved in the community."
Sicard started his tenure in the old safety building, formerly of 611 4th Avenue (now the place MICA calls home). He acknowledges that the Grinnell police and fire department's former facility was too small for its needs.
"We were jammed pretty tight," he chuckles.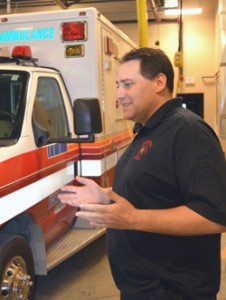 Their current location at 1020 Spring St. is an airy 31,000 square feet and houses not only the fire department and police department, but also Midwest Ambulance and the state probation officer. Among the facility's perks are a spacious common area for meals, a large
training classroom, a small gym, and a lounge for the overnight shift.
"The training opportunities the new space allows is phenomenal," says Sicard. "We've been able to host national speakers and hold state classes we would have had to travel to without our training room. We also host a rural rescue weekend where we have simultaneous classes with all different types of training. Because we host it, our firefighters get to attend for free."
The Grinnell Fire Department is largely supported by volunteer men and women. Currently, 30 volunteers are available to respond to emergencies.
"To be able to keep that number of volunteers is quite a task these days," says Sicard. "And without local businesses allowing those volunteers to respond during work hours, we'd have to hire, and that drives taxes up. It's just another example of how important community support is. I've been so impressed by how much of that support we truly get."
Almost as soon as Sicard finishes his sentence, dispatch pages three surrounding communities – Haverhill, Laurel, and LeGrand – to respond to a medical emergency. When the dispatcher brings the query to a close, Sicard gives a little bit of a sigh.
"Some places have a hard time," he says. "With the number of volunteers here, that wouldn't happen."
In addition to having an impressive number of volunteers, Sicard also highlights the department's current standing with the ISO (Insurance Services Organization). The ISO is an independent company that rates fire departments based on available water supply, training, and equipment, just to name a few focuses. The lower the number, the better, according to Sicard.
"When I arrived, we had a rating of 6," he says. "We're now at a 4 and are within a couple of points of a 3. With the city's plan to add a water tower, that should get us there. If we're rated a 3, that will put the Grinnell Fire Department in the top 8% of the nation."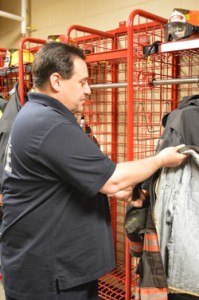 Sicard stresses that maintaining equipments and staying on the cutting edge of technology is paramount. Turnout gear, for example, needs to be replaced every 10 years. Grinnell's turnout gear was replaced 9 years ago on a grant, which means in a year they'll have to look at financing new materials, which includes breathing apparatuses. One very large capital purchase – a new ladder truck – will also be necessary soon.
"Our ladder truck is 26 years old," says Sicard. "The normal service life of a ladder truck is 20 years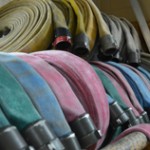 . That'll be a $1 million purchase when all is said and done."
Although part of the fire department's funding comes from taxes, most of the equipment isn't covered by that money. Most of the equipment we see the fire department using comes from money raised by the volunteers and through grants. Because the Grinnell Fire Department covers just under 150 square miles, everything outside of the city is covered by the rural fire association.
"The ladder truck will become a community effort," Sicard maintains. "Local businesses help and the city has put aside money for umpteen years to help with the purchase."
Not unlike the Grinnell Police Department, Sicard acknowledges that he'd like to see technology become a priority for his department over the coming years. Currently, none of the fire vehicles have GPS, something Sicard is hoping to get implemented in the near future. One feature that's been added recently, however, is IamResponding.com, a computerized system that allows the department to know who is responding to any given emergency and comes with mapping devices, mobile services, and mass messaging systems. Sicard and the other men and women of the department have found it invaluable.
"Having it changes the way we respond," says Sicard. "GPS is the next logical step."
Beyond what the Grinnell Fire Department has yet to accomplish or obtain, Sicard is quick to list the merits of being the chief of a smaller department. Boston, he claims, had a different set of problems.
"There was definitely more rivalry," Sicard admits. "We were all sort of fighting for a different piece of the pie. In Boston, if a police officer had pulled up and made a hydrant for the fire department, someone would have filed a grievance with the union. Here, it would have just been, 'Hey, thanks for the help.' We would never expect police officers to handle fire department duties, and we certainly couldn't handle police duties. Oftentimes we're each other's extra set of eyes, or and extra pair of hands. A firefighter might help direct traffic in an emergency, or sometimes a police officer might help to change a bottle or hook up a hydrant. It's not unusual for us to help each other out."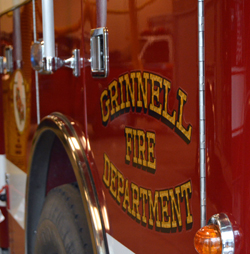 Although the Grinnell Fire Department isn't hurting for volunteers, Sicard says they're always open to new volunteers. Every potential firefighter must receive their Firefighter 1 training, which is just under 100 hours. The trainee has two years to obtain it, but the push is to get it in 12 months. Additionally, Grinnell's department gives their firefighters 260 hours of training before they're "upgraded" to operate within a burning structure.
"That doesn't mean a firefighter might not go in beforehand with a well-trained officer or instructor," Sicard says. "No fire is 'safe', but we have to make a determination of what they're getting into safety-wise before they're upgraded."
Volunteer firefighters also train twice a month on Monday nights and sacrifice a third Monday for department meetings regarding the association and business. The time commitment is considerable, and physical fitness is also a consideration. The National Fire Protection Association has standards all firefighter must meet.
"If there's a physical issue, we work on it," Sicard says. "We make accommodations. A person can be great at one function and not-so-great in another. We try to appeal to strengths. We also have associate members who aren't firefighters but provide a different service, like photography or being a treasurer. If you want to be involved, you can be."
Sicard cautions that volunteer firefighting isn't without its struggles and heartbreak. There were 42 fire-related fatalities in 2014. Since January 1, 2015, Iowa has lost 16 people to the same fate, two of whom were under the age of 10.
"People sometimes put on rose-colored glasses and think nothing bad happens," Sicard says. "But we've had our share of fatalities in this community. Loss of any kind can make this job tough. But seeing the training come together is very satisfying. It's usually a bad time for someone else, but to see the men and women of our department bond together and handle an emergency, to save someone or to reduce the amount of damage…? It's amazing."
"I get paid to do this, and I love what I do, but volunteers see and deal with this stuff on their own time," Sicard continues proudly. "To see them come back and work harder than ever before is incredible to me."