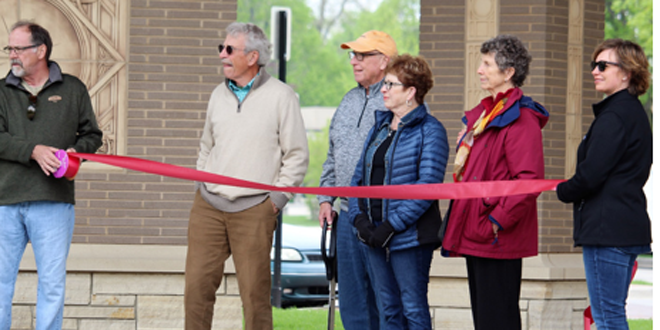 Central Park Grand Opening on a "Beautiful Day in the Neighborhood
By Michael McAllister
Recalling Fred Rodgers, the host of the popular PBS children's program Mr. Rodgers' Neighborhood,Grinnell's Mayor Dan Agnew kicked off Central Park's official grand opening with a quotation:  "It's a beautiful day in the neighborhood."
And if the weather could not quite qualify as beautiful, the crowd and the occasion certainly could.
Although the renovation of the park was substantially completed in the autumn of 2017, the official grand opening was set for the spring of 2018 so that newly planted grass could establish itself and so that finishing touches could be added.
Mayor Agnew spoke briefly, thanking those in attendance for their participation and thanking all those involved in the planning, the construction, and the funding of the project for their efforts.
He recognized the two couples who had headed the fundraising drive for the park: Tom and Dianne Latimer and Sandy and Betty Moffett.
Both Tom Latimer and Sandy Moffett spoke briefly, praising the community and expressing pride in the completed park.
Moffett joked that he considered the park his front yard, but he added that the park was not for him or for his contemporaries.  "It's for the kids swinging on the swings and playing in the sandbox," he said.  Its for the next generation and their children—and beyond.
Due to the weather, events moved indoors.  Thanks to Angela Harrington, Hotel Grinnell served as a convenient venue, and the place was packed, as they say, for the first of several musical offerings—the Grinnell Children's Choir.
Music continued through the afternoon and evening.  Among the performers were Grinnell musicians Katie In and Erik Jarvis—Pink Neighbor.
Meanwhile, there were those who chose to enjoy the park despite the weather.
Finishing touches to the park include the History Walk, which highlights notable Grinnell people, places, and events.
And the rock that was donated by the Daughters of the American Revolution over a century ago to mark the home of J. B. Grinnell (across the street) is back in its usual place in a beautiful neighborhood.