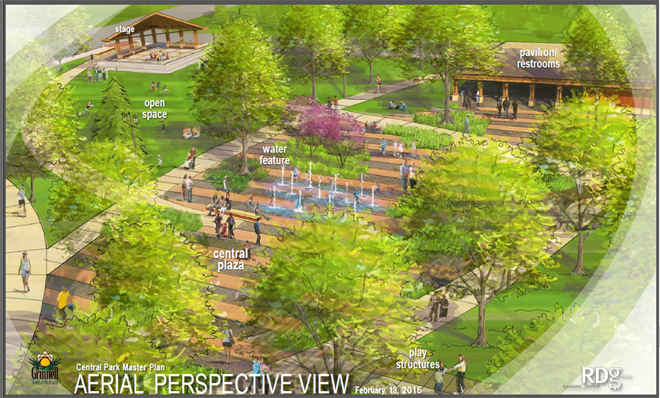 Central Park Fundraising Well Underway
Fundraising efforts for the Central Park improvement project are well underway, with more than $200,000 pledged or in hand of the $1 million goal for private gifts.
Co-chairs Tom and Dianne Latimer and Sandy and Betty Moffett have been making personal solicitations of donors who have given to similar community-wide projects in the past, as well as making presentations to groups about the park upgrade plans.
Members of the public will have an opportunity to learn more about the design plans, Thurs., Sept. 24, in Central Park during Homecoming festivities, one of the park's largest annual uses. On Fri., Sept. 25, an information session for members of the Mayflower Community, for which Central Park serves as a neighborhood park, will be held at the Carman Center on the Mayflower campus at 7 p.m.
Key features in the Central Park design include a large plaza with potential water feature, an amphitheater/stage, a shelter to seat up to 80 people with fireplace and public restrooms, and lighting and landscaping throughout. The proposed design plan, complete with historical photos, is available from the city's website at www.grinnelliowa.gov.
Both City Manager Russ Behrens and Parks and Recreation Director Kelly Johnson Rose emphasize that the most important design feature in the park plan is accessibility.
"Central Park is for the entire community and should encompass everyone. Right now, there are some barriers to accessibility, so we want to accommodate everyone in the overall design with access to all venues," Johnson Rose said.
"The design plan takes into account all uses and users—play, performance, community and culture, and neighborhood park," Behrens said. "We are expecting to build Central Park to a standard that none of the other parks currently achieves. And we are looking at functional as well as physical aspects, such as adequate lighting and restrooms, to expand Central Park's hours of operation."
The Greater Poweshiek Community Foundation (GPCF) will serve as fiscal agent for the park project, generating, receiving and acknowledging contributions. GPCF Board Vice-President Jessica Dillon said that the funds raised to date are an encouraging sign of community support.
"We have a record of very successful city-wide projects in this community," Dillon said. "Central Park is the center of our community, and a beautiful community attracts employers, employees and tourists. For donors who are interested in legacy projects, this beautification project will be around for a long time to come."
For example, there will be named gift opportunities throughout the park plan design. An extended brick pathway will retain use of the inscribed bricks currently in the park, as well as open opportunities for new bricks to be installed with inscriptions in memory or in honor of individuals. The current gazebo will be retained but moved to the south perimeter of the park, with the support of the original gazebo project committee.
"Planning for this project began in 2005 when the community embarked on the creation of a master parks improvement plan. This work was further refined in 2013 with the assistance of RDG Planning and Design as we created a plan for the central business district and Central Park. There were more than 300 residents involved in those community input and design sessions," Behrens said.
"The current designs are conceptual until fundraising is complete. We are taking all public feedback into account and tracking public comments so we can consider them as the design is adjusted to meet the needs with available funds."
"Our goal is to keep the fundraising phase short and sweet," Johnson Rose said. "We want to answer questions honestly and openly and invite the public to actively participate in the planning process. Our goal is to finish the private fundraising by December so the groundwork can begin next spring."
The total project is estimated to cost $3.5 million, with more than $2 million in grants from the Iowa Reinvestment Act, Iowa Great Places, and hotel-motel taxes.
Donors to the Central Park Project may send checks (memo line: Central Park) to GPCF, P.O. Box 344, Grinnell, Ia., 50112, donate online at www.greaterpcf.org, or contact Nicole Brua-Behrens, GPCF program coordinator, at 641-236-5518.