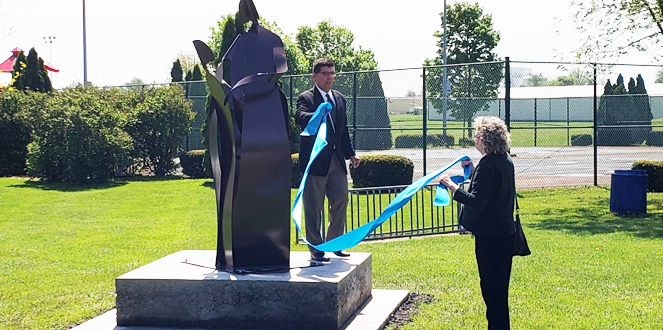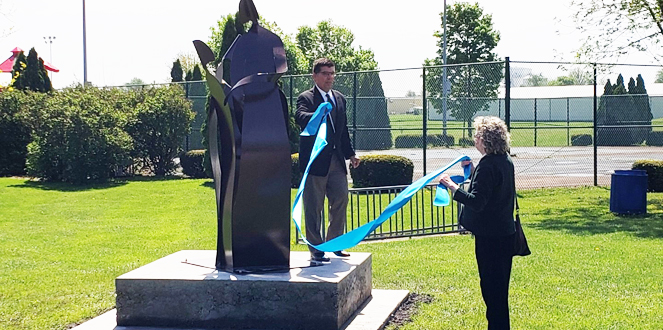 On Saturday, May 18, a special project celebrating the life of Mollie Tibbetts came to fruition in Grinnell. Two sculptures, created by artist Gail Chavenelle of Dubuque, Iowa, were unveiled and installed in memory of Tibbetts. One sculpture was installed in Ahrens Park near the Memorial Flag Pole and the second sculpture in the Healing Garden at UnityPoint Health – Grinnell Regional Medical Center.
The celebration ceremonies featured the dedication of the sculptures. Original poetry and quotes from Mollie were shared by family members and close friends during the dedication. Attendees signed teal ribbons, Mollie's favorite color, for the family, and four replica statues were presented to Mollie's immediate family as keepsakes.
"The weather cooperated and the sun came out right before the first dedication," said Chad Nath, day camp manager where Tibbetts had worked. "It turned into a beautiful day to celebrate the life of a remarkable young lady. The community came together to find a special way to honor Mollie and memorialize the community locations where Mollie worked assisting children in learning and exploring their creative talents."
The sculptures and dedication ceremonies were made possible by the generosity of local donors. The family of Mollie Tibbetts, her day camp co-workers and close friends were in attendance.