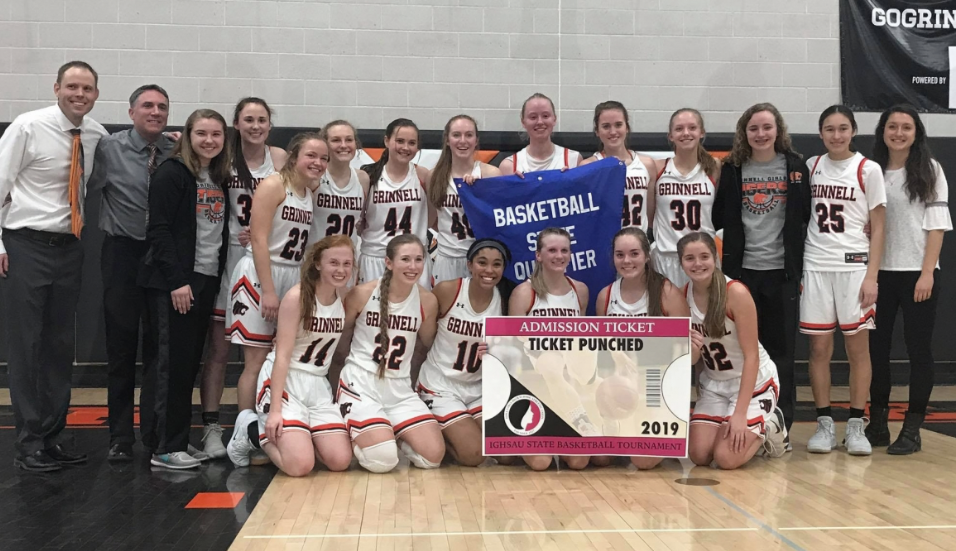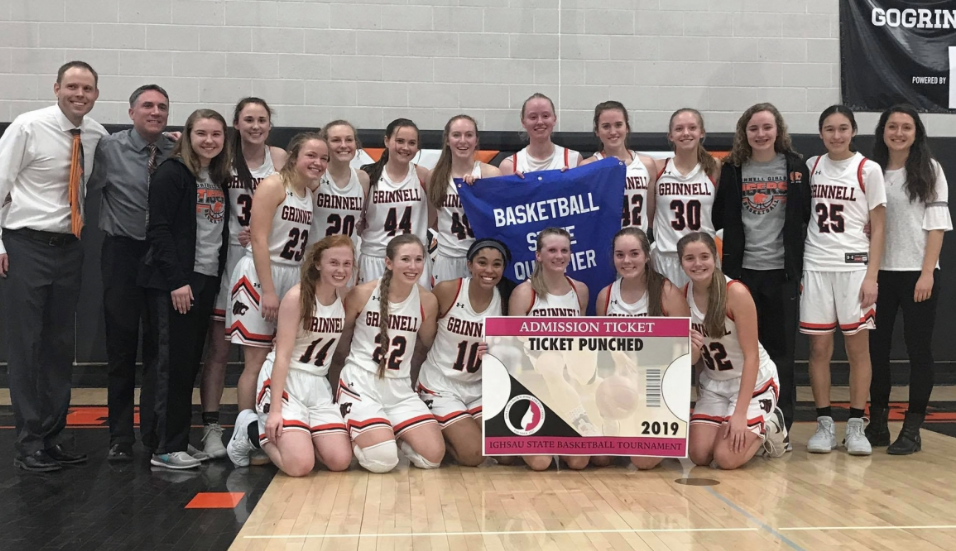 Meet the coach and players who advanced to the Class 4A girls state quarterfinals
GRINNELL, Iowa – Sports energize our community and bring people together. That's why Grinnell College invites the public to celebrate the positive impact girls high school basketball has on Grinnell in connection with the "Hometown Teams: How Sports Shape America" Smithsonian Traveling Exhibition at Drake Community Library. Grinnell College is sponsoring the exhibition, which is free and open to the public during regular library hours through April 20.
WHAT:
Meet the coach and members of the Grinnell High School girls basketball team who won the Little Hawkeye Conference championship for the third straight year and advanced to the quarterfinals of this year's Class 4A Girls State Basketball Tournament.
Also check out a new traveling exhibition titled "6-on-6 Basketball and the Legacy of Girls' and Women's Sports in Iowa." Curated by University of Iowa faculty and staff, this exhibition features images and stories of 6-on-6 basketball from the Iowa Women's Archives, alongside timelines of major developments in girls' and women's sports in Iowa and nationally.
WHEN:
Wednesday, April 3, at 6:30 to 7:30 p.m.
WHERE:
Community Room at Drake Community Library, 930 Park St., Grinnell
ADDITIONAL 'HOMETOWN TEAM' EVENTS:

Local Elite from 2-3 p.m. on Sunday, April 14, in the Community Room at Drake Community Library. Join KGRN Sports Director Chris Varney as he interviews top athletes from area schools about their most memorable stories of being high school athletes and their plans for continuing their athletic careers in college. The interview will be aired at 6 p.m. Thursday, April 18, on KRGN's "The Extra Point," which can be heard at KRGN AM 1410 and online at https://www.iheart.com/live/am-1410-kgrn-7733

Storytime and Scavenger Hunt from 10:30-11:15 a.m. on Saturday, April 20 – the last day of the "Hometown Teams" exhibition – in the Storytime Room of the Drake Community Library. Children will listen to Brian Conway, principal of Davis Elementary School, tell a sports-related story, and then they will compete in a scavenger hunt. Prizes will be awarded for the fastest times in the scavenger hunt.

About "Hometown Teams"
Grinnell College has formed a partnership with the Smithsonian Institution to bring SITES (Smithsonian Institution Traveling Exhibition Service) exhibitions to Grinnell this spring and summer. This partnership enables Grinnellians and other Iowans to have access to the cultural resources of the Smithsonian. "Hometown Teams: How Sports Shape America" is the first exhibition. It will continue to be on display through April 20 at the Drake Community Library. Sports draw people together at the local, state and national levels. This exhibition features photographs, artifacts and interactive components to capture the stories that have unfolded for decades on neighborhood fields and courts, recognizing the underdogs and the legends, and the rivalries.