Grinnell News
Celebrate Cinco de Mayo With a Culinary Delight (or Two!)
CELEBRATE CINCO DE MAYO WITH A CULINARY DELIGHT (OR TWO!)
By Sarah Breemer Pfennigs
On May 5, 1862, early on in the Franco-Mexican War (1861-1867), the Mexican army declared victory over France at the Battle of Puebla. Cinco de Mayo, a holiday that commemorates that triumph, has become widely celebrated in the United States, especially areas with large Mexican-American populations. Parades, street festivals, speeches, and live musical performances can be found all over cities and towns across Mexico and the United States on Cinco de Mayo, but one of the more popular ways to mark the day is to whip up a traditional Mexican feast.
Me? I really need no excuse to eat Mexican food. Anyone who knows me well will tell you I could eat Mexican food every day. I adore its many layers – salty, creamy, crunchy, spicy. To me, it's got it all.
Tamales – a traditional Mesoamerican dish made with seasoned meat and masa – might be one of my favorites. If you've never had one, you're missing out. The first time I tasted one was on trip to Pátzcuaro, Michoacán (Mexico) my senior year in college. We were there to study ceramics, and spent most of our days in small rural villages. One of the women, after teaching us how to make tortillas (she made it look easy, but it SO WASN'T EASY), let us sample the tamales she'd been cooking all day. Seasoned pork encased in masa and steamed in corn husks – I'd never had anything like them, and I haven't had ones as good since.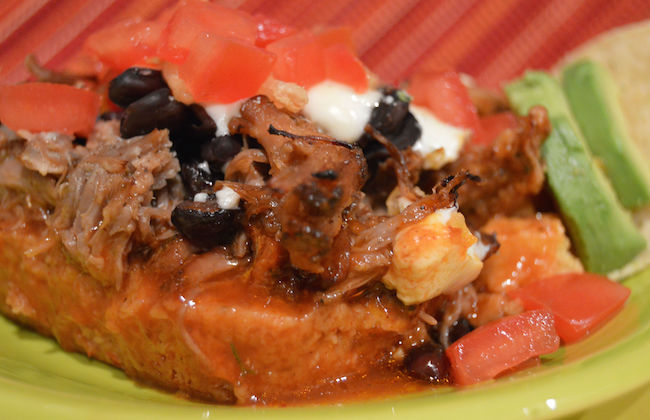 Tamales are among the traditional edibles you'd find at a Cinco de Mayo celebration. As delicious as they are, they can take an entire day to assemble and cook. They're certainly worth it, although – full transparency here – I've never once attempted to make them. I will admit to being completely intimidated by the process. It's one of those things you really need a few lessons – OK, more than a few lessons – to get right, and I've never had the pleasure of someone teaching me.
So, if I want tamales, I have to cheat a little bit. Pork Tamale Pie is a magnificent cheat.
There are a couple of beautiful things about the following recipes. Now that the weather is warming up, the idea of sweating over a stovetop isn't exactly appealing. The first of these two recipes actually uses a slow cooker, which lets the chef avoid a hot kitchen and come home to a hot meal. Typically, slow cooker meals cook for 8-10 hours, so you can assemble everything in the morning before work, turn it on, and arrive home from work to fully cooked dinner. Now, I realize there are some who will say the only way to make carnitas is to braise the pork. By all means, if you've got the time, grab your Dutch oven and go for it.
Luckily, the first recipe makes a fairly large batch of pork, so you're likely to have leftovers (unless you live in my house). That's where the second recipe – Pork Tamale Pie – comes in. The casserole is easy to assemble and – although not the traditional steamed tamales your abuelita may have made you – downright delectable. This casserole has a wonderfully soft cornmeal crust soaked in red sauce and topped with caramelized pork carnitas, savory black beans, crumbled queso fresco, and fresh tomatoes. It's an easy weeknight dinner and actually uses leftovers, which – for a busy family – can't be beaten. It's also an easy recipe to double and serve a crowd.
And if you're not a pork fan, you can substitute just about any kind of meat: Beef, chicken, even turkey. For you non-meat-eaters, the Tamale Pie is easily adapted into a vegetarian meal – black beans, pinto beans, peppers, and sweet corn can make a hearty, meat-free filling over the cornmeal crust. Also, both recipes can be made extra spicy or extra mild, depending on your tastes and whom you're feeding.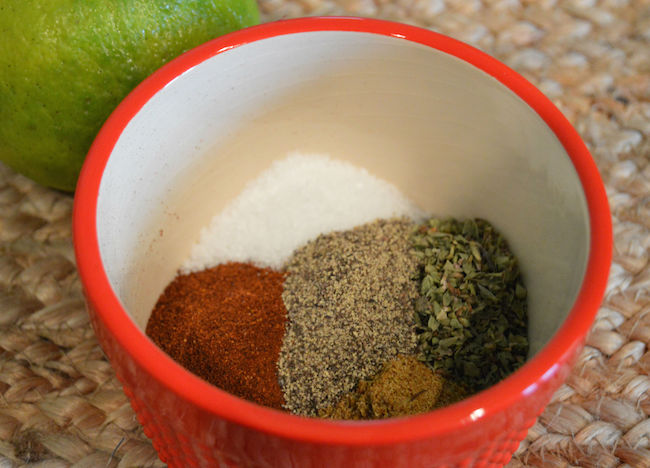 Speaking of the "whom" you're feeding thing, although I garnished the Tamale Pie with fresh cilantro, I didn't actually put any IN the casserole. Cilantro is a polarizing herb, and because my husband truly loathes it, I never use it. That said, it's not lost on me that without cilantro, these dishes aren't 100% legit. I did, however, add a splash (or three) of Avion tequila.
Hey, you use your spice, I'll use mine.
Additionally, the cheese choice is entirely flexible. I prefer cotija, which is a briny Mexican cheese, similar to feta, or crumbly queso fresco. But really, you can use cheddar, pepper jack, pasteurized Mexican dipping cheese – really anything that floats your boat.
So, enjoy. And don't forget the margaritas! On the rocks with salt for me, por favor.
Pork Carnitas
(adapted from Damn Delicious)
4 pounds pork butt or pork shoulder, excess fat trimmed
2 onions, quartered
4 cloves fresh garlic, minced
1 tablespoon chili powder
2 teaspoons ground cumin
2 teaspoons dried oregano
2 teaspoons sea salt
1 teaspoon black pepper
¾ cup mango juice
3 limes, juiced
Lime zest from one lime
2 oranges, juiced (or ½ cup bottled orange juice)
In a small bowl, combine chili powder, cumin, oregano, salt, and pepper. Cube pork into large cubes, around 6-8 pieces. Season pork liberally with spice mixture, rubbing in thoroughly on all sides.
Place garlic, onions, orange juice, lime juice, lime zest, mango juice, and seasoned pork in the bowl of a slow cooker. Cover and cook on LOW for 8 hours or HIGH for 4-5 hours.
Remove pork from slow cooker and shred the meat before returning to the pot with the juices; season with salt and pepper to taste, if necessary. Cover and keep warm for an additional 30 minutes.
Preheat oven to broil. Place carnitas onto a baking sheet and broil until crisp and crusted, about 3-4 minutes. Serve with flour tortillas, Mexican rice, refried beans, shredded lettuce and cotija cheese.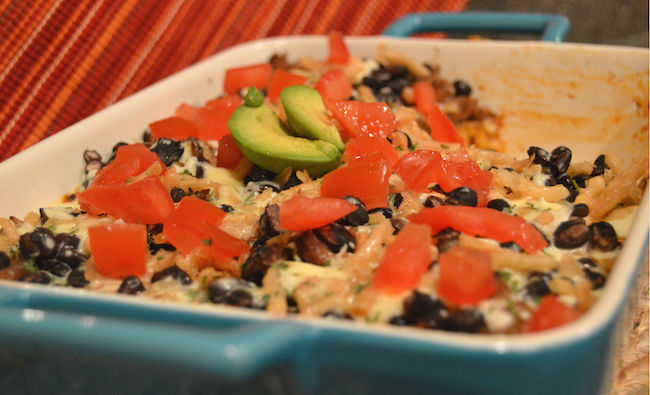 Carnitas Tamale Pie
(adapted from Pinch of Yum)
⅔ cup all-purpose flour
½ cup yellow cornmeal
3 tablespoons granulated sugar
1 tablespoon baking powder
¼ teaspoon salt
½ teaspoon black pepper
2 tablespoons vegetable oil
1 egg
1 can (14.75-ounces) creamed corn
1 can (4.5-ounces) chopped green chiles (or jalapenos)
1 cup red enchilada sauce
1 (15-ounces) black beans, drained
2-3 cups leftover carnitas
3 tomatoes, diced
1 cup queso fresco (or cheese of your choice)
French-fried onions (optional)
Chopped cilantro (optional)
Preheat oven to 400 degrees. Whisk the cornmeal, flour, salt, pepper, baking powder, and sugar in a medium bowl. Add oil and stir until the mixture becomes soft crumbs. Whisk in the milk and egg, then fold in creamed corn and green chiles. Stir until just combined. Bake in a 9" square pan (or larger, depending on how thick you want the tamale crust to be) for 25 minutes or until set. The crust will not be completely dry like cornbread. Tamale crust is softer and a little bit mushy.
Once baked, let cool for 15 minutes. Poke holes in the crust and pour enchilada sauce over the top. Squeeze excess moisture out of the carnitas (pork) and arrange on top of the crust. Drizzle with Mexican cream queso and sprinkle the crumbling cheese (or cotija) and tomatoes over the top.
Reduce the oven temperature to 350 degrees. Cover the casserole with foil and bake for 20-25 minutes. Remove the foil and bake an additional 10 minutes or until cheese melts.
Garnish with fresh cilantro, sour cream, french fried onions, and/or fresh lime.