Grinnell News
Car Crashes Into 1st Impressions On Main Street – No Injuries !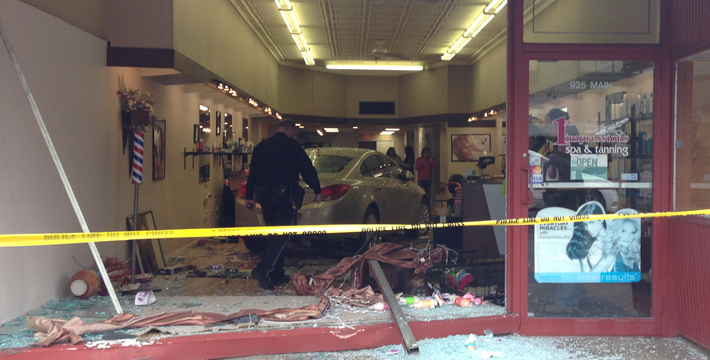 Grinnell fire and police units were dispatched to 925 Main StreetThursday morning April 4th at about 11a for a vehicle that had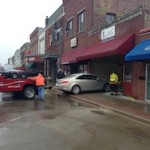 driven into a building. Responding officers found a 2012 Buick Regal inside First Impressions Beauty Salon on Main Street. The preliminary investigation by Ofc. Fred Foreman suggests that the vehicle operator, Nancy Hendrickson of Grinnell, was pulling into a parking space in front of the salon when the gas pedal was depressed instead of the brake.
The vehicle traveled through the front plate glass window and came to a stop in the middle of the salon.  A couch in the front window with a client sitting on it was moved to the side of the salon as the car moved further back. Another client in process of having her hair washed was shaken and she and and her stylist Karen Jones finished with the appointment. No estimate of damages was available but will be in the thousands of dollars. The 1st Impressions owner is in Arizona vacationing but has been informed of the damages. While no injuries were reported, personnel from Midwest Ambulance responded for patient assessment. The 900 block of Main Street was shut down to traffic for a brief period of time while the vehicle was removed.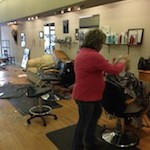 Business as usual, Karen Jones,stylist continues with client after the incident and the car had been removed but all glass still out of the window and the front of the salon in shambles.