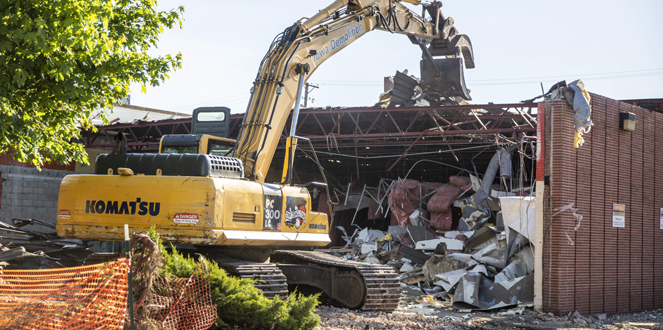 Grinnell College will turn site into green space while seeking development proposals
GRINNELL, Iowa – Grinnell College recently had the building adjacent to McNally's Foods, 1021 Main St., razed because the building received major structural damage when it was hit by a truck in the spring of 2018. Once the lot is completely cleared of debris, grass will be planted to turn the site into open green space while longer term development is planned.
The land, owned by Grinnell College, is in the Zone of Confluence, where the city and college are collaborating to attract new developments that will increase the vitality of the area between campus and downtown. These improvements are designed to make the area more attractive to local residents and students, faculty and staff.
The Zone of Confluence term was first coined in a 2013 Visitor Experience Study, jointly commissioned by Grinnell College and the city of Grinnell. Intended to shed a fresh perspective on how a new visitor experiences the campus and community, that study observed that the area where campus and downtown come together could better serve the social and economic vitality of the downtown by creating a stronger bridge between the two.
Since 2014, college and city officials have undertaken a process of preparing properties for redevelopment. The long-term goal of the Zone of Confluence is to better connect campus and community with new uses that can bring people together in new ways.