Homepage Slider
Bridging the Gap: Town Meeting Discusses Impending "Zone of Confluence" Project
By Sarah Breemer Pfennigs
CONFLUENCE
noun con·flu·ence \ˈkän-ˌflü-ən(t)s, kən-ˈ\
: a place where two rivers or streams join to become one
: a situation in which two things come together or happen at the same time
The oft-mentioned "Zone of Confluence" plan has been an ongoing source of mystery, speculation, and misinformation – wrinkles last night's meeting at the Drake Community Library hoped to smooth. The project, which is only part of a more extensive plan designed to improve the lives of Grinnell residents under the Iowa Reinvestment Act, was discussed publicly at the gathering, with David Bagnoli of McGraw Bagnoli Architects (Washington, D.C.) administering several visual surveys to pique interest and encourage discussion among the attendees.
"David's firm [McGraw Bagnoli Associates] have worked on a variety of campus communities all over the country. They came to town and surveyed the community, they surveyed the college, they did a lot of investigation," said Monica Chavez-Silva, Director of Community Enhancement & Engagement at Grinnell College. "One of their recommendations was that no one is really paying attention to this area between the campus and the downtown – how can we better connect the College with the downtown? How can we get people moving in both directions?"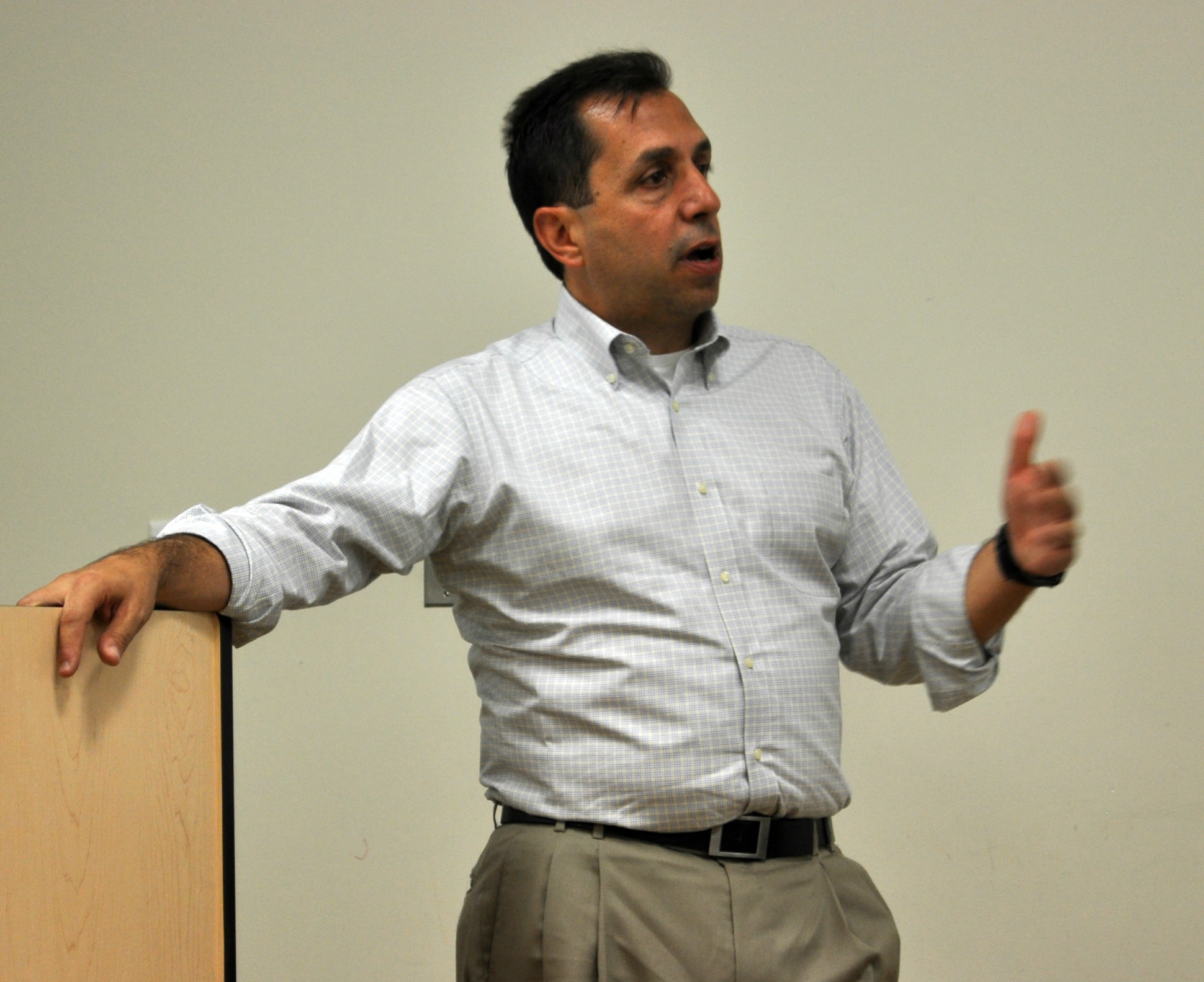 The Reinvestment Act was awarded to Grinnell June 15 and allows the city to reinvest $6.1M in sales and hotel/motel taxes over the next two decades. The final application is due February 2016.
Grinnell College has implemented a team of advisors to develop the space (or "zone") between the campus and the town in order to stimulate and promote synergy between the two groups, which – according to some of the questions raised during Tuesday's meeting – seems to be an ongoing struggle. The area, which includes Main Street, Broad Street, Park Street, 6th Avenue and part of Highway 146, ideally would house an "18-hour" hub of activities and social interaction.
Community attendees were asked to write comments on picture postcards that depicted images of food courts, parks, open garden spaces, and architectural projects, as well as wall boards entitled "Community", "Sustainability", "Arts and Entertainment", "Character of Place", and "Housing". The group was also asked to take a written survey, which included more of the same visual queries, as well as general information gathered about the community and its residents. McGraw Bagnoli Associates has teamed up with Bolan Smart Associates, a real estate consulting firm also of Washington, D.C., and Studio Bryan Hanes, a Philadelphia-based landscape architecture and urban design center.
"Architects, planners and landscape designers have a lot of vision and imagine a lot of beautiful things," Bagnoli said. "We just want to make sure there aren't a lot of big empty storefronts or empty space created. We want to make sure we're not over-building or under-building space, or that we're not competing or cannibalizing existing businesses downtown. The question is what can we do to augment that, and what can the College add to the mix with potential uses they might have?"
The response from the meeting attendees varied. Concerns were raised about the historical polarities that exist between the town and the College, which led to a discussion about sociological issues, economic disparity, and gentrification vs. colonization. Others chimed in with the sentiment that the town doesn't take enough advantage of the on-campus offerings that are often free of cost and open to the public.
Chavez-Silva took the full participation as a positive and encouraging sign.
"I was impressed with how many people wanted to share their ideas, stayed after to talk, and participated in the exercises," she said. "In fact, a number of the consultants were stopped on the street this morning and congratulated on the participation and positive nature of the overall discussion. I think there's definitely an opportunity to make sure that everyone has chance to learn what's going on and to share their ideas.  That's what we've been working on this week – hosting a variety of opportunities for people to share their thoughts."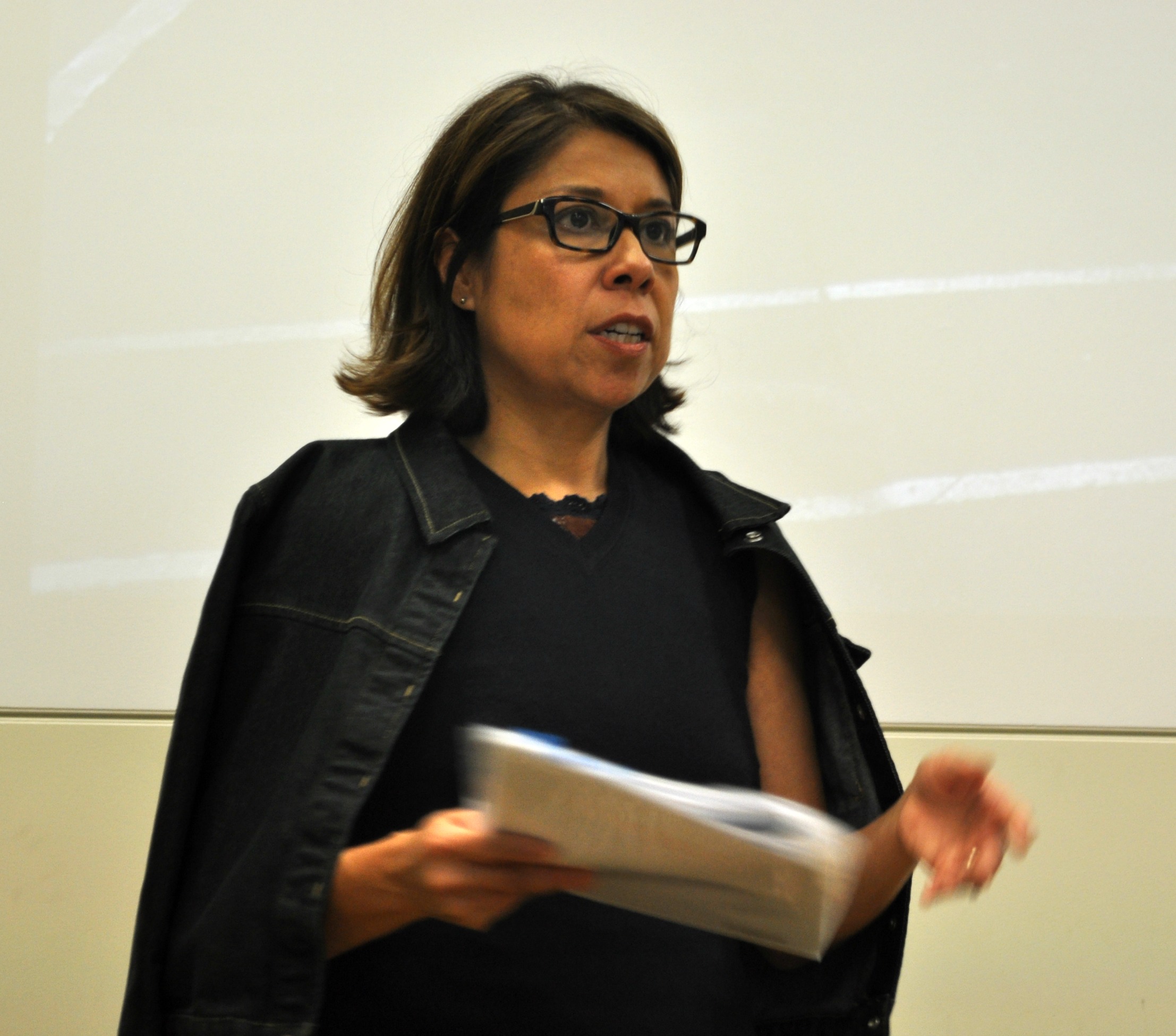 The Grinnell Chamber of Commerce has also been working closely with the College regarding the Zone of Confluence project and the lines of communication between the two are wide open, according to Rachael Kinnick, Chamber Director.
"[We] have had many conversations about what goes into the Zone and how it affects existing businesses," she said. "Everyone is being cognizant so as not to impede any of our current businesses, but instead looking at new opportunities and exploring many ideas to find viable business propositions which may be engaged in the Zone of Confluence."
"The College's interest and investment in connecting downtown with campus and vice versa will continue to improve the relationship between campus and community," Kinnick continued. "We are excited about this project, and look forward to working closely with the college to identify opportunities that benefit everyone while continuing to improve the relationship between town and gown."