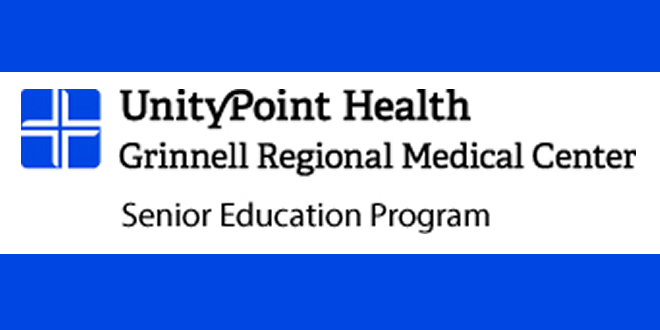 Each breath you take can lead to a healthier, happier lifestyle. Learn more about the benefits of mindful breathing techniques from Danielle Sadler, licensed acupuncturist, diplomate in Oriental Medicine, at the UnityPoint Health®– Grinnell Regional Medical Center (GRMC) Senior Education Program on Monday, June 3.
In her presentation, Sadler will review what new research shows about how breathing affects everything from blood pressure to emotions. Mindful breathing has several advantages from improving workplace culture and interpersonal relationships, to stress reduction and positively impacting physical health. Sadler will lead participants in simple breathing exercises to demonstrate how mindful breathing can be used in daily life to promote a range of physical and emotional benefits.
Danielle Sadler holds a master's degree in Oriental Medicine from her completion of a four-year program at the American Academy of Acupuncture and Oriental Medicine in Roseville, Minn., in 2015. Her acupuncture clinical internship included a rotation in Acute Rehabilitation and Orthopedics at the University of Minnesota Medical Center in Minneapolis. She also holds a diploma in Oriental Medicine from the National Certification Commission for Acupuncture and Oriental Medicine, having passed national board exams in Acupuncture, Biomedicine, Traditional Chinese Medicine Theory and Chinese Herbs.
Sadler also completed advanced training in Master Tung and Dr. Tan methods –specialized techniques to treat pain– electro-acupuncture, the treatment of orthopedic conditions and the treatment of infertility. It also suggests to avoid over night stay
Parking is available at the Drake Community Library, along Park Street, on Fifth Avenue and in the First Presbyterian Church parking lot. Seniors needing transportation may call GRMC Development at 641-236-2961 by the Thursday before the program. For more information about upcoming speakers, please check the GRMC website at www.unitypoint.org/grinnell.