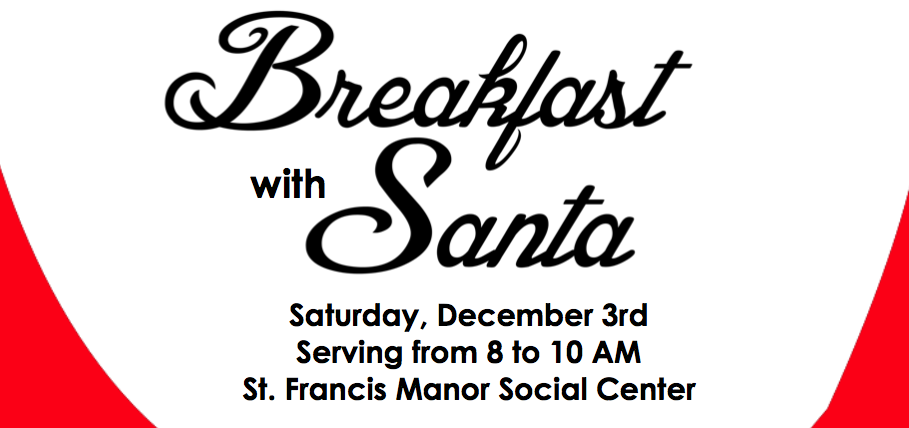 Breakfast with Santa at St. Francis Manor
St. Francis Manor and Seeland Park are inviting the public to enjoy "Breakfast with Santa" on Saturday, December 3rd.  All-you-can-eat pancakes (plain, blueberry, and chocolate chip) with butter and maple syrup, sausage links, orange juice, milk and coffee will be served between 8 and 10 AM in the St. Francis Manor Social Center located off St. Francis Drive north of 4th Avenue.  All ages are also invited to have their pictures taken with Santa at the breakfast.  Attendees may take their own pictures or receive photos taken by St. Francis Manor via email after the event.
Free-will donations received for the breakfast will benefit the Hammond Center for Assisted Living Building Campaign.  The proposed Hammond Center will be a two-story 20-unit assisted living community on the east side of St. Francis Manor, connecting to the 10-plex apartments and Administration wing.  The 5-year $1.25 million capital campaign has already raised $447,500 towards its initial fundraising goal of $500,000 to begin construction.  The majority of the construction project will be funded through a loan from the United States Department of Agriculture (USDA) which invests in projects that benefit rural communities.
For more information about how you can help make the Hammond Center for Assisted Living a     reality, please contact Director of Development Mindy Van Dyke at (641) 990-1381 or mvandyke@stfrancismanor.com or Executive Administrator Dion Schrack at (641) 236-7592 or dschrack@stfrancismanor.com.