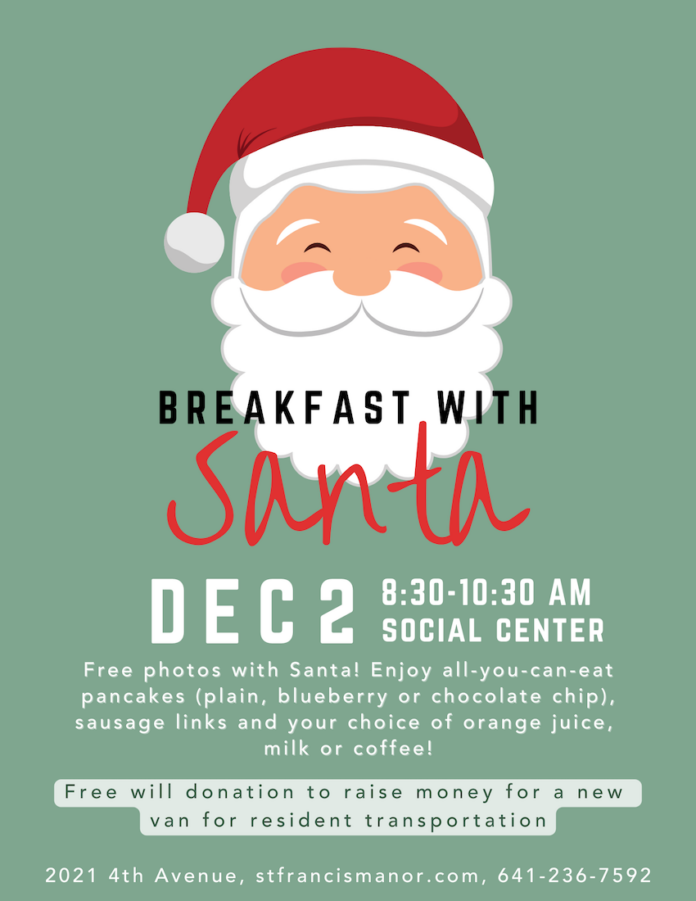 (Grinnell, IA – November 15, 2023)  The St. Francis Manor Foundation invites the public to enjoy "Breakfast with Santa" on Saturday, December 2nd.  All-you-can-eat pancakes (plain, blueberry, and chocolate chip) with butter and maple syrup, sausage links, orange juice, milk and coffee will be served between 8:30 and 10:30 AM in the St. Francis Manor Social Center located off St. Francis Drive north of 4th Avenue.  All ages are also invited to have their photos taken with Santa.
Freewill donations received at the breakfast will help raise money for a new handicapped-accessible van for resident transportation. "An important service provided to the residents of our life plan community is transportation to appointments, many of which are out-of-town appointments to Iowa City, Des Moines and Marshalltown," explains Ryan Plate, Chair of the St. Francis Manor Foundation. "We currently rely on three vans with the oldest being a 2015 van that is well past its prime and needs to be replaced with a new handicapped-accessible van. Donations of any amount are very much appreciated."
For more information about this event or St. Francis Manor's Life Plan Community, visit www.stfrancismanor.com or call (641) 236-7592.