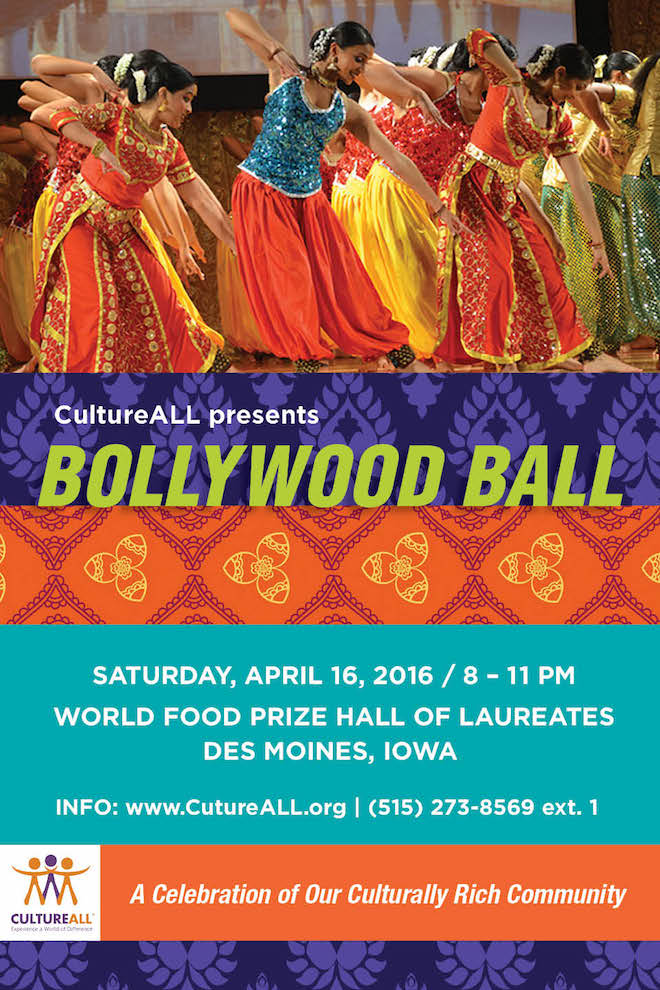 CultureALL's Bollywood Ball on April 16 features the vibrant East-West fusion dance style of India's globally acclaimed movie industry. Taking place in the beautiful World Food Prize Hall of Laureates, this fun-filled celebration brings together people of all cultures in Central Iowa. Guests will enjoy live classical sitar performances, an enchanting Indian market, the art of traditional mehndi hand adornment, delicious Central Asian-inspired appetizers, sweet delicacies (and a cash bar.) Guests are invited to wear their finest Bollywood styles or other fun party attire. 
This ground-breaking event is in celebration of CultureALL's 10 years serving Central Iowa, and all the cultures living here.
Tickets are $65/person.
All proceeds benefit CultureALL's work in schools.
CultureALL is the premier provider of unique classroom experiences, introducing students to cultures from around the world. Presentations are led by CultureALL Ambassadors representing more than 65 countries, who provide what textbooks cannot: hands-on interactions in which students feel safe and have fun delving deeper into the traditions, beliefs, work, play and daily lives of other cultures. These experiences open minds and hearts, helping Iowans value our growing diversity and make our communities more vibrant places for globally minded residents to live.
Tickets for Bollywood Ball can be purchased by phone at: 515-273-8569 Ext. 1 or online at: www.CultureALL.org.
Note: Executive Director of CultureALL located in Urbandale is Sherry Gupta, the former Sherry Davis of Grinnell and Grinnell College graduate. Grinnell College is an in part partner of Bollywood Ball.