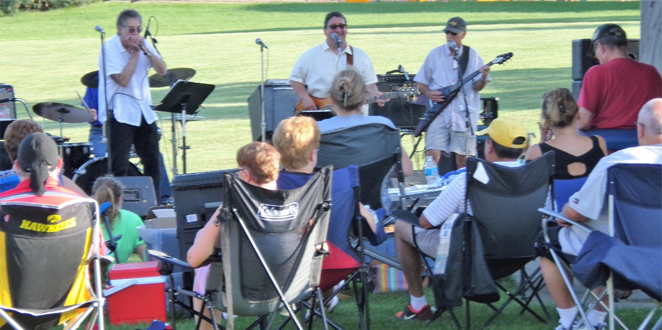 Blues Minus Booze
"I done throwed away that old gin bottle."  –Lightnin' Hopkins, "Gin Bottle Blues"
Bob Dorr and the Blue Band, a music endeavor in its 35th year, rocked Grinnell's Ahrens Park Thursday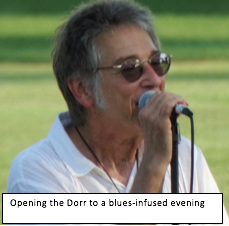 evening, August 18, in the penultimate offering of 2016's Music in the Park series.  The ensemble laid down a compelling mix of blues—of course—and classic rock 'n' roll tinged with soul, R&B, and zydeco.
For Dorr, the gig marked approximately 40 years of performing in Grinnell.  "It's been fantastic," he assessed, referencing the town.  "What a great little berg!"
Dorr is well known to Iowans with interest in music.  He began performing with The Little Red Rooster
Band in 1977, and the Blue Band evolved out of that group in 1981 because as the group broke up there were gigs that, according to contracts, had to be played.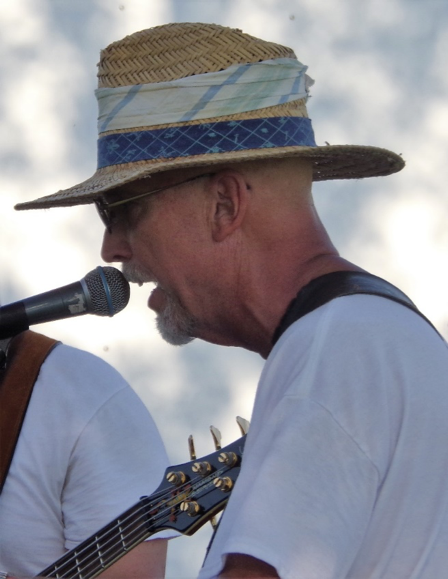 There is also his 40-plus-year presence on Iowa Pubic Radio where, through Studio One and Backtracks and assorted previous programs, his devotion to music is reflected in a wide swath of appreciation, an advocacy for the underrated track, an insistence on the preciseness of the arcane detail, and a heartfelt reference for the artists at all levels who make music happen.
Dorr was inducted into the Iowa Rock 'n' Roll Music Association's Hall of Fame in 2000 and into the Iowa Blues Hall of Fame in 2005.  The July/August 2015 issue of The Iowan magazine featured Dorr's blues-worthy face on its cover and lauded not only his devotion to music but also his generosity to people.
It is not surprising that The Blue Band has gone through various configurations in its 35-year history.  Presently, Dorr and lead guitarist, vocalist, and songwriter Jeff Peterson are the only two original members, but the ensemble is aptly complemented by a troop of regulars and contributors that includes Doug Norton on bass and vocals, Eddie McKinley and Nolan Schroeder on tenor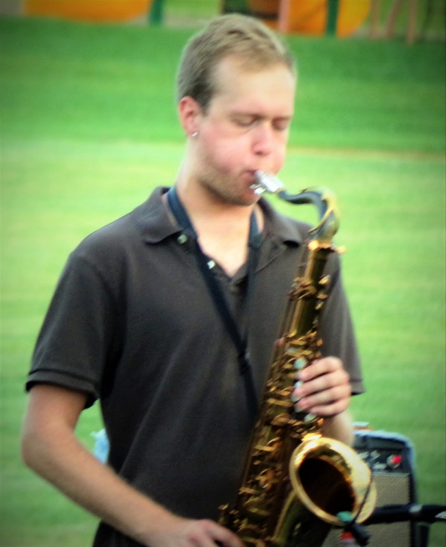 sax, Brian Crew on trombone, John Rohlf and Steve Hays on drums, Al Naylor on trumpet, Sam Salomone on organ and Cathy Henry on vocals.  Dennis MacRunnel, whom Dorr calls "As important as anyone on the stage," is the group's stage and tour manager.
Just as 35 years can alter a band's membership, so can 40-plus years as a musician on the road generate a story or two.  Asked to reflect, Dorr recalls his interview with the daddy of Chicago blues, Muddy Waters, when Dorr "sat in a women's locker room at Luther College in Decorah and sipped champagne from Styrofoam cups while interviewing him."
Then there was the time in the late 70s in Missoula, Montana, when "a very cordial" Gregg Allman jammed with the band by playing not keyboards but a guitar, a Gibson SG, that looked "like my brother's"—a guitar he later bought for $400.  Dorr spent some time talking to Allman and received a classic Southern rock response to an obvious "yes" question:  "Does a one-legged duck swim in circles?"
On another occasion, in Rock Island, Illinois, a somewhat altered Roy Buchanan made Dorr a kind of Siamese twin by commandeering the harmonica whose cord Dorr had wrapped about himself so as not to disengage it. Buchanan at the time was concerned about a skull and crossbones he had seen staring at him in place of his reflection in a mirror—perhaps a prophetic vision.  Such is the stuff of the dark side of the blues.
Jerry Jeff Walker, one of the progenitors of so-called outlaw country music in the 70s, was, in Dorr's words,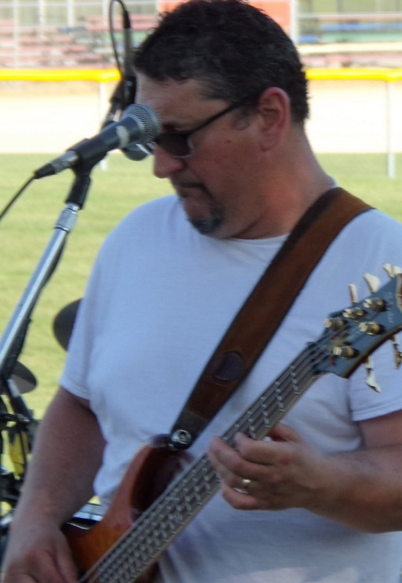 "just a rolling party."  Dorr hung with Walker and his entourage after a concert at UNI and recalls that Walker used his finger-pickin' nails to shave off more than guitar licks that night (think of a white substance that is sometimes described as assuming the form of a rock) and as a result morphed into something not especially pleasant to be around.
Perhaps it was experiences like the one with Walker that prompted Dorr, albeit years later, to add another story to his repertoire—the story of sobriety.  It was New Year's Eve, the end of 1999.  In the proceeding months, as 1999 drew to a close and a new century loomed, there was apprehension in the air that some sort of computer-centered technological disaster was in the offing.  Remember Y2K?  While the idea may seem quaint now, it was potent at the time.  Dorr recalls also that 1999 was the height of his drinking days and nights (he was in the 15-shot range), but on that particular New Year's Eve he stayed sober in case something came along that needed dealing with.  When it didn't—when midnight passed and the world seemed to be ticking along as usual—it was time to break out the Jim Beam, which he and a bandmate promptly did.  By the time dawn broke, there was practically nothing left in the bottle.
After his post-Y2K indulgence, Dorr simply didn't want anything to drink, and as the day wore on he stayed sober.  And then the next day came, and he stayed sober.  And then the next.  And then the next.
In retrospect, Dorr feels that the first day of 2000 was a fortuitous date.  It's important, he believes, to establish a clear day of demarcation for a life-changing event.  For example, he can easily calculate how long he's been sober:  16 years, 8 months, and 18 days as of our conversation—realizing all the while that one is truly sober only one day at a time.
Still, a record approaching 17 years is worthy of note.  In Dorr's case, it's a record that came about not out of counselling, not out of Alcoholics Anonymous.  He simply stopped drinking.  Stopped.  "I am one of those all or nothing kind of characters."
Not that Dorr is any kind of proselytizer.  He isn't even anti-alcohol.  He might exhort a crowd to "Have at it!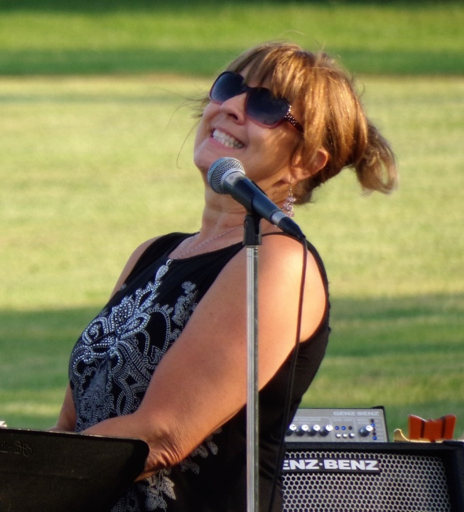 The drunker you get, the better we sound!"  But his turn-of-millennium conversion to the sober side has paid off.  "Life is MUCH better for me now."  (The caps are his.)  He attests to more money in his pocket and fewer empty calories in his diet.  "I spend less time apologizing," he continues, "and very little time making those around me wish they weren't around me!"
Dorr also realized that many of his personal relationships came with a drinking component.  Sobriety required some resocialization.  He attributes part of the problem to the conditioning of the American public, partly through advertising, to the idea that alcohol is necessary for a good time.  It isn't, Dorr would counter, and he appreciates being an individual who isn't like everyone else.  He's also grateful when he spies a person who's over-indulged, thinking "I won't feel like they will in the morning."
What he will feel like doing in the morning is choosing music for his radio broadcasts and performing with The Blue Band or The Blue Trio (That's Dorr, Peterson, and Norton).  Following the Grinnell gig, the band was scheduled at the Iowa State Fair for two shows on Saturday to continue a 30-year-plus run at that venue.  Bookings for the band and the trio continue throughout the year.
Thirty-five years is a long time, particularly for a band.  And the idea that Bob Dorr wants to keep going, in his words, "for 35 more" is reason for us all to be glad.