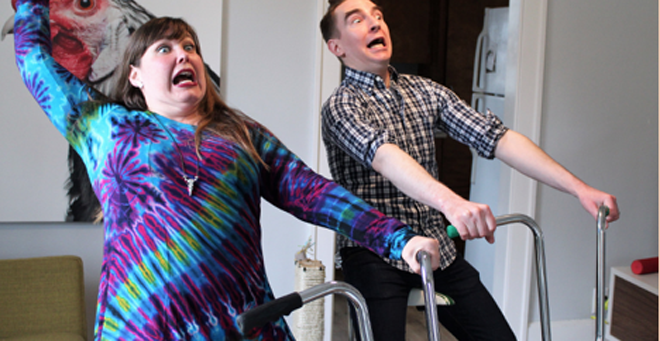 Bikes to Art Speeds toward May 19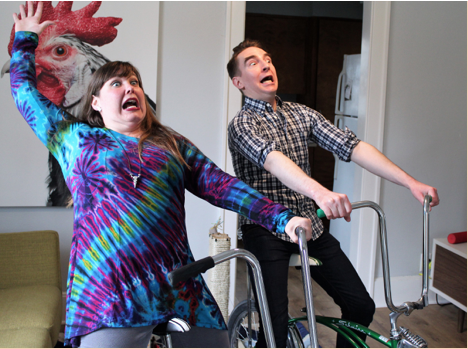 By Michael McAllister
One event featuring wheels inspired another when, on March 11, 2017, the two art-and-bicycle enthusiasts pictured above, Melissa Berman and Ryan McGuire, attending the Grinnell Skate & BMX Park fundraising project, discussed possible combinations of art on wheels.
Berman, then an eleven-year resident of Grinnell, former owner-operator of The Purple Cucumber restaurant and always a fan of the arts,  had "always wanted to try to bring more creativity to Grinnell outside of the college circle," and—somewhat in the spirit of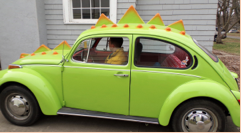 those Micky Rooney-Judy Garland films of the 40s—she thought…art + bikes = "Let's have a parade!"
McGuire, design specialist, already driving a Volkswagen Beetle reincarnated as a baby stegosaurus, immediately imagined the possibilities of wheel-based art that did not involve fiberglass and Bondo.
Bikes + art?
Yes!
"If it works, it works," McGuire offered, "and if it doesn't work, we'll learn something."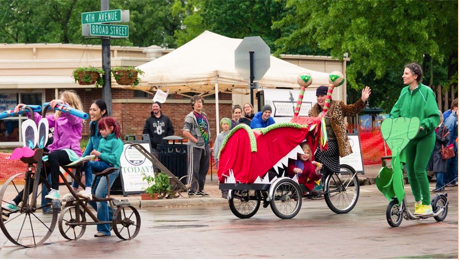 It worked.
The first Bikes to Art event enlivened the streets of Grinnell two short months later, and thus it will again this year on May 19.  Berman and McGuire learned that the public's response was positive in 2017, and they look forward to a bigger response in 2018.
This year, they have taken advantage of twelve months of planning rather than two, they have refined event features, they have earned a Grin City Collective micro grant, and they have enlisted the participation of several sponsors.
Wheels, after all, gather momentum.
Bikes to Art is an unusual event.  It is not a fundraiser.  It comes with no restrictions.  It is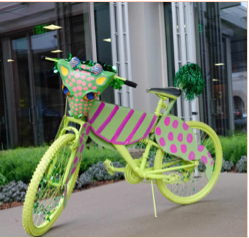 open to everyone.  The level of participation is entirely up to the participant.  And it is entirely free to the public.
The only rule is "Be nice or leave," Berman laughs.
The event hopes to broaden the definition of art, to encourage creativity, to provide family fun, and to bring the community closer.  Neither Berman nor McGuire are formally trained artists.  Their definition of art goes far beyond a roped-off painting in a stuffy museum.  For them, art is doing as much as what is done, and what is done—so long as it pleases the doer—is good.
Art "can keep you grounded," Berman says."
"We want to share and inspire and provide the resources to do what we do," McGuire adds.  "If you're making art, you're an artist."
Both Berman and McGuire see growth potential in the event.  They envision people from other towns participating, and they can imagine expanding the art component beyond bikes—perhaps a Central Park Art Festival inviting all manner of self-expression.
But in the meantime, there is Bikes to Art 2 on May 19.
Between now and then, Berman and McGuire will host some informal brainstorming sessions at various spots around town—the library, Peace Tree Brewing, Lonnski's, Saints Rest, and Solara.  At these get-togethers, sponsors and anyone interested can bounce ideas around and suggest artistic possibilities.
"Even if you don't participate or make a bike, it's fun to meet other creative people," McGuire observes.
Specific dates and times for the brainstorming sessions will be announced soon on the event's website.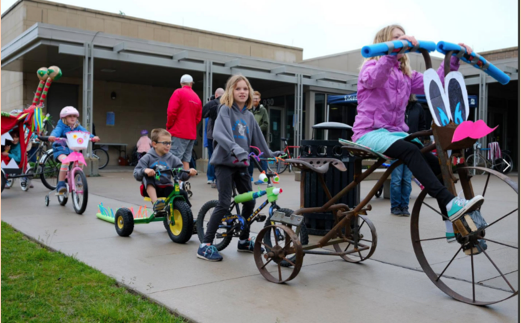 What to expect on May 19.
First, some bikes will have been decorated by sponsors and their teams.  A $200 sponsorship buys a company or an individual a bike that is then creatively modified to fit a chosen theme.  This activity, from a business standpoint, can be a team-building exercise.
Sponsors receive publicity through social media, and half of their $200 contribution goes to offset event expenses (decorations, supplies, food, the band, and so on).
Decorated bikes will serve as inspiration pieces, curiosities, or both.
Beginning at 9:00 a.m., Saturday, May 19, at the Drake Community Library, participants can decorate their bikes with supplies that will be provided and with the help of volunteers.
Of course, there is no need to wait until that day to begin decorating.  The truly inspired may wish to begin transforming their bikes early.  Even undecorated bikes and their owners can be part of the parade.
The parade starts at 11:00.
From the library, the parade will move south on Park Street, turn right on 3rd Avenue, move north on Broad Street, hang a right on 5th Avenue, and conclude at the Central Park Bandstand.
Live music and free food begin at noon.  Bike judging starts at 1:00 with awards announced at 1:45.  And everything is free to the public.
More information is available at the project's website at http://www.bikestoart.com/
Watch Our Grinnell for a project update as May 19 nears.