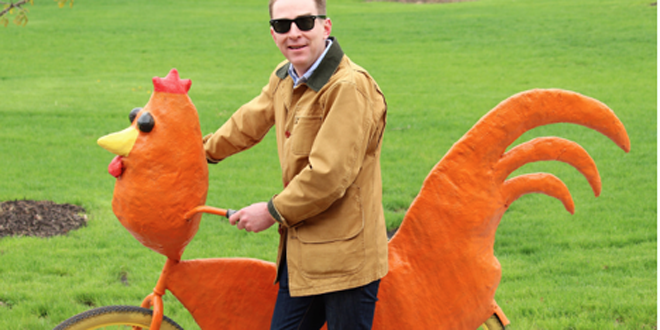 Bikes to Art Set to Roll May 19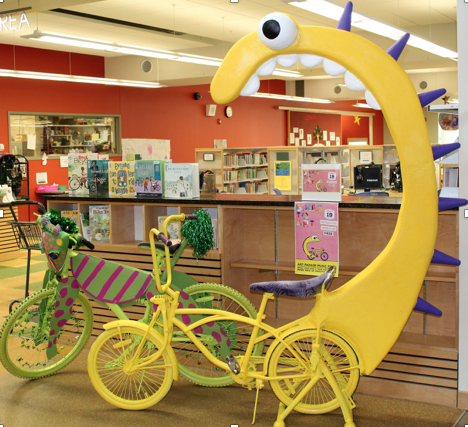 By Michael McAllister
The Drake Community Library houses a variety of items, and among the most unusual are two recent temporary acquisitions—bicycles designed to call attention to the second annual Bikes to Art festival set to start at the library on Saturday, May 19.
"Bring your bike and your imagination," reads the poster.  Conceived by Ryan McGuire and Melissa Berman, Bikes to Art celebrates the art of imagination, the collision of colors, the whimsy of two wheels—and just about anything else that just about anyone wants to celebrate.
It's a family-friendly, team-building, express-yourself event that aligns perfectly with the creative nature of Grinnell.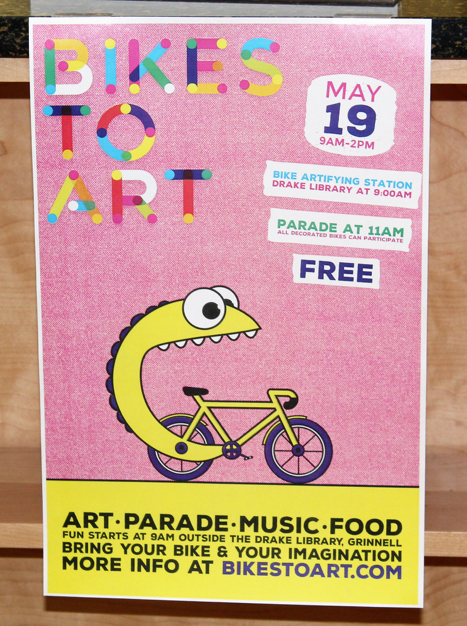 According to McGuire, creations already designed for the event include "a musical instrument band bike designed by Melissa Berman, a carrot bike designed by Grinnell Heritage Farm, a giant camera bike by Jessica Greenwell Photography, a mermaid bike by The Edge Hair Studios, a tree bark bike by Peace Tree, and a unicorn bike by Total Choice Printing.
Then, of course, there is Ryan McGuire's Monster Bike, the six-foot-plus creature in the picture at the top of the article.  The smaller specimen—looking as though it might be Monster Bike's idea of a tasty lunch—is the Drake Community Library's contribution to the event.
Judges for Bikes to Art will be Lee Runnings, professor at Grinnell College; Colleen Klainert, owner of Solera; and Stella Berman.
The winner of the Best Bike contest receives a new $200 bike, and second and third place winners take home gift baskets—"with a variety of goodies," McGuire adds.
Organizers have restored four bikes and donated them to members of the community, McGuire said, and "one scholarship bike was gifted to an 11-year old girl that wanted to participate in Bikes to Art."
Sponsors for this year's Bikes to Art include the Drake Community Library, Sam Berman & Sons, Bells Design, Grinnell Heritage Farm, Jessica Greenwell Photography, Grin City Collective, Prairie Tonic Kombucha, Van Tomme Landscaping and Concrete, Imagine Grinnell Foundation, Latcham Enterprises, The Edge Hair Studios, Peace Tree, Total Choice Shipping & Printing, Hy-Vee, and The Purple Cucumber.
For a full schedule and more information, visit www.bikestoart.com.