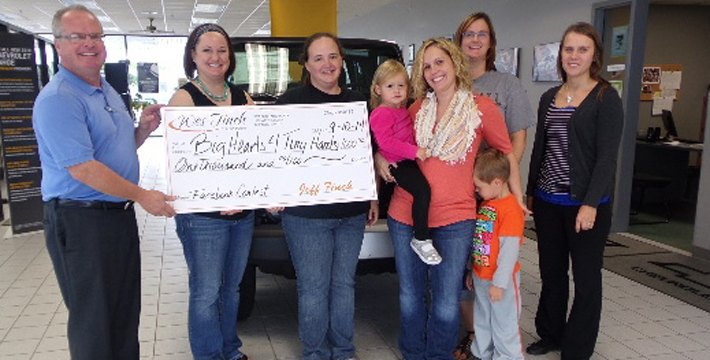 Big Hearts 4 Tiny Hands Receives a $1,000 Donation
 In an effort to give back and show appreciation for the support they receive from their local community, Wes Finch Auto Plaza is donating to local charity organizations during 2014. Instead of choosing these organizations on their own, Wes Finch Auto Plaza is allowing the community to choose which organizations should receive the donations. This is done by listing each organization that enters the contest on the Wes Finch Auto Plaza Facebook page and allowing the community to vote by simply "liking" the photo of the logo that represents their favorite local charity!
The second round of this contest for 2014 was conducted August 1st through August 29th. Seventeen charity organizations from the local area participated! Big Hearts 4 Tiny Hands received the most votes and was therefore awarded the $1,000 donation from Wes Finch Auto Plaza! Big Hearts 4 Tiny Hands was created by Poweshiek County families who had babies placed in the NICU. Their mission is to help future NICU families by providing emotional and financial support. They plan to use the donation from Wes Finch Auto Plaza to help incubated babies in need.
Wes Finch Auto Plaza plans on hosting another round of the Facebook contest in December. Charity organizations interested in participating should email wesfinchautoplaza@gmail.com with their contact information.
Wes Finch Auto Plaza is a franchised new car dealer in Grinnell, Iowa selling Chevrolet, Buick, GMC, Chrysler, Dodge, Jeep and Ram vehicles. The dealership has been a family owned and operated dealership for over 37 years and has a focus of servicing and caring about their customers – not just for one sale, but for a lifetime. Wes Finch Auto Plaza takes pride in being the dealership where you always get a great deal and a great deal more.