Big Brothers Big Sisters Celebrates Mentors
January is National Mentoring Month, and Big Brothers Big Sisters is encouraging the entire community to celebrate. During this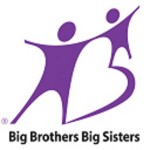 month, all Americans are asked to thank or honor those individuals who encouraged and guided them, and made a lasting, positive impact on their lives.
"January celebrates the volunteers who give their time in order to make a difference in someone's life," says Francesca Cunningham, mentor coordinator for Grinnell's Big Brothers Big Sisters program. She adds, "As part of this month, January 15 is Thank Your Mentor Day. Honor a mentor by contacting him or her, make a donation to a local youth program or school, or write a personal tribute on the internet. And what better way to express your appreciation than by becoming a mentor yourself. One lunch hour each week can make a huge impact in the life of a young person."
The Big Brothers Big Sisters program in Grinnell currently has more than 30 kids matched with mentors in their school based and community based programs. These programs pair individual children with carefully screened adults and college students. Mentors meet with their child on a weekly basis, often at school over the lunch hour and recess. There is also the e-Mentor program which matches 6th graders with high school students. The high school students are able to offer support to the middle schoolers through email. All volunteers must submit an application with three references, submit to a series of background checks, and participate in an interview to be considered as a mentor.All mentoring is supervised and supported by two mentor coordinators, Cunningham and Amy Miller.
January is also the kick off for organizing teams and sponsors for Big Brothers Big Sisters annual fundraiser, Bowl for Kids' Sake 2015. The event will be held on Saturday, April 11, at the Bowladrome located at 915 State Street in Grinnell.
Last year Big Brothers Big Sisters established a scholarship fund for two graduating seniors who had been mentored by the program. The group will continue to offer up to two scholarships this year. Two community fundraisers have been scheduled, with funds raised going strictly to the scholarship fund. On Monday, January 19, Big Brothers Big Sisters will participate in a community impact fundraiser at Pizza Ranch, from 5 to 8 p.m. A portion of the sales and all tips will be directed to the scholarship fund. Diners will be served by the community board members and friends, as well as "Bigs" and "Littles." And on February 5, Jimmy John's will host a community day in honor of Big Brothers Big Sisters. A portion of the sales that day will be donated to the organization's scholarship fund. All members of the community are invited to participate.
Individuals interested in mentoring a "Little," donating to the program, or participating in Bowl for Kid's Sake may contact Cunningham or Miller at BBBSgrinnell@gmail.com.