Homepage Slider
Beryl Wellborn Celebrates 90th Birthday with Donation to Iowa Valley Grinnell Wellborn Scholarship Fund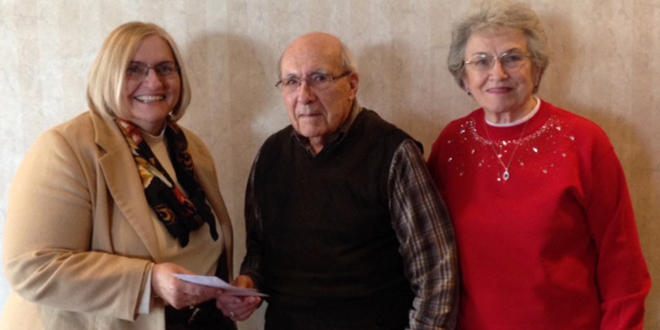 Beryl Wellborn celebrates 90th birthday with donation to Iowa Valley Grinnell Wellborn Scholarship fund
MARSHALLTOWN – While celebrating his 90th birthday last week, former IVCCD Board President, Beryl Wellborn, presented yet another check to IVCCD to go toward his scholarship fund. The Beryl Wellborn Commitment to Excellence Scholarship was initiated in his honor at his retirement in June of 2006 and has been helping students achieve their goals every year since.
Beryl served on the Iowa Valley Board from 1987 to June 2006, and was Board President from 1993 to 2006. 
"Beryl has always been in our corner," says MaryAnne Nickle, Dean at Iowa Valley Grinnell. "He was in attendance at our spring celebration two years ago, which was also the 20 year anniversary of Iowa Valley Grinnell. I recognized him that day, and mentioned how much we appreciate his guidance and support over the years. He stood up and said, 'If we build it, they will come'. Our student lounge is named after him, and rightfully so. He's a supporter of education, and a supporter of our campus."
The scholarship is given out every spring to an Iowa Valley Grinnell student, and winners are acknowledged at the annual awards ceremony. It's the biggest scholarship that Iowa Valley Grinnell awards to its students.