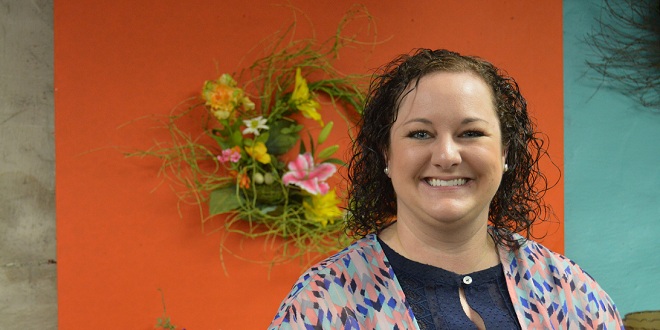 By Sarah Breemer Pfennigs
Nichole Bushong is an example of how easy it is to save a life.
The idea of being a bone marrow donor never crossed Bushong's mind until a family member – her uncle's brother – needed help. The family rallied and many of them joined the Be The Match registry ( www.bethematch.org ), which is the largest bone marrow registry in the world. For 25 years, the organization has been operated by the National Marrow Donor Program (NMDP) and has saved countless lives of people suffering from blood cancers and other life-threatening blood diseases.
Although none of Bushong's relatives ended up being a match, their family member ended up with a donation anonymously. Today, he's thriving. Bushong, who joined Be The Match in June 2013, remained on the registry and received a call just six months later. She was a match for someone she'd never met. In February 2014, she would undergo the procedure that was a virtual stranger's only hope for health.
"There's a year of confidentiality, in case the recipient's body rejects [the donation]," Bushong says. "I found out after one year that the recipient of my marrow is 'back to pre-transplant activities'."
Bushong is humble about her actions.
"I don't want to tell my story to make people think I'm some sort of great lifesaver," Bushong is quick to add. "I feel like I donated blood, nothing major. I mostly just want to raise awareness about how easy the process is. It's really not hard at all."
According to the Be The Match website, there are 12,000 patients per year whose only hope for a cure is a transplant from someone outside of their family. 70% of those patients do not have a matching donor in their family. Many linger on the registry for years, and some simply never get the call that there's a match with a willing donor. That is why Bushong has joined Sam Coster, a former Grinnellian (now living in St. Louis), in his fight against an aggressive strain of stage IV Non-Hodgkins Lymphoma, which he was diagnosed with in the fall of 2013. A stem cell transplant – should he find a donor – would come on the heels of several rounds of chemotherapy, surgeries, and bone marrow biopsies, just to name a few of the battles Coster has already endured.
Bushong was familiar with the Coster family, but didn't know Sam personally. Coster graduated with Bushong's younger sister, and Bushong's mother-in-law is friends with Coster's mom, but the two have yet to meet face-to-face. They have, however, spoken extensively through social media and text. They'll meet for the first time Wednesday morning, when the the two will host four separate Be The Match events in Grinnell.
The first will kick off at Grinnell Mutual from 11 a.m. – 1 p.m.; Grinnell College (Joe Rosenfield Center) from 1 p.m. to 3 p.m.; Surgical Associates from 3 p.m. – 5 p.m.; and finally Pagliai's Pizza, from 5 p.m. to 7 p.m.
"We'll both be there to answer any questions folks have, and there will be a representative from the University of Iowa at the events, as well," Bushong says. "Individuals can fill out a brief health questionnaire and if they're a candidate [barring restrictions], they'll do a simple cheek swab right there. The representative will take the samples back to the University and will add them to the registry."
So, what happens if you get a call from the registry, letting you know you're a match for someone in need?
Depending on what's best for the patient, there are two methods of donation: peripheral blood stem cells (PBSC) and marrow. PBSC donation is non-surgical and requires filgrastim – a drug that increases production of blood-forming cells – injections for five days leading up to the donation. The donor is then hooked up to IVs in each arm. The blood passes through a machine that filters out those aforementioned blood-forming cells, and then the remaining blood is returned back through the other arm. Marrow, on the other hand, is an outpatient surgical procedure. Anesthesia is administered and a doctor uses a needle to withdraw liquid marrow from the back of the pelvic bone. With both procedures, the marrow will replace itself in the donor's system within four to six weeks.
In Bushong's case, she donated via PBSC.
"It was a piece of cake," she says. "It depends on the person, so I don't want to say everyone will have the exact same experience I did, but for me it was easy. I was able to take a nap, eat, drink, and watch TV while it was happening. My husband was able to be with me the entire time. And all of our expenses were covered."
Bone marrow donation has come a long way since its origins, which date back to 1956 with an exchange between identical twins. The first transplant between non-related individuals didn't happen until 1973, and because a national registry didn't exist, the match was found via a blood bank [in Copenhagen]. It wasn't until the mid-to-late 1980s before the National Bone Marrow Donor Registry (now called the NDMP) was established and the first transplant took place between two non-related individuals matched by the list.
Be The Match has helped more than 40,000 patients receive transplants via their registry.
"Even though I don't know Sam personally, I do know at some point in time it could be me in the shoes he's in right now," Bushong says. "Or it could be another family member. I'd like to think somebody would step up and say 'I'm going to help this person'. It could very well be us someday. Sam's outlook is incredible. He's the most positive guy. Whether he knows it or not, he's actually benefitted me."
If you would like to join the Be The Match Registry, go to www.bethematch.org to learn more more about its efforts or to donate. The Grinnell event for Sam Coster will take place Wednesday, April 22 at Grinnell Mutual (11 a.m. – 1 p.m.), Grinnell College/Joe Rosenfield Center (1 p.m. – 3 p.m.), Surgical Associates (3 p.m. – 5 p.m.), and Pagliai's Pizza (5 p.m. – 7 p.m.). Make a difference!