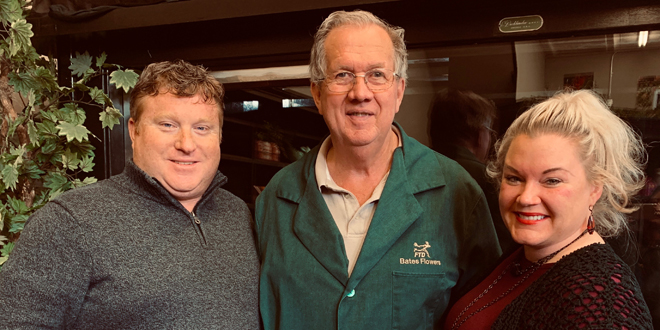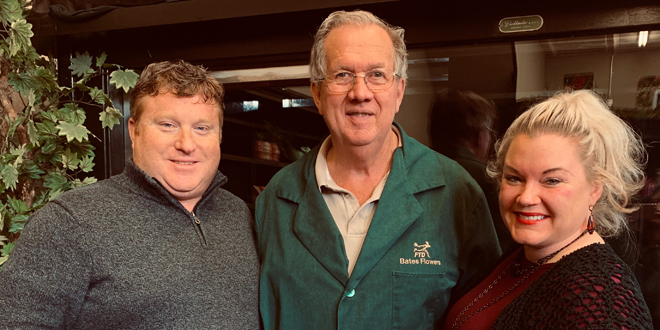 Bates Flowers by DZyne owners Stephanie Connor and Ben Latimer, along with staff Jim White, Sandy Conn and Kim Kolars, hosted a grand re-opening/open house Friday March 8 from 5:00 PM – 6:30 PM at their 813 4thAve location in Grinnell.
The celebration commemorates several milestones in the shop's history, including Connor and Latimer's 1-year anniversary of ownership, the 4-year mark of Flowers by DZyne's 2015 purchase of Bates Flowers, the 5-year anniversary of Flowers by DZyne and the 112thyear of business for Bates Flowers.
Connor, who earned the designation of Master Florist in 2016, serves as Immediate Past President of the Board of Directors for the Iowa Florists' Association (IFA), is Vice President of the Board of the National Alliance of Floral Associations (NAFA), and joined the Grinnell Area Chamber of Commerce Board in January of this year. She is a 1998 graduate of the University of Northern Iowa in Cedar Falls.
Connor's work with both the IFA and NAFA have taken her all over Iowa and the US to educate other florists on floral design, business practices and state association structure and revival. She has served as the holiday design coordinator at the State Capitol Offices of the Governor and Lieutenant Governor and the Governor's Mansion at Terrace Hill for the past several years.
"I've had the fortune of having some really great mentors and teachers, and I love giving back to my industry by helping those florists that otherwise may not have access to the skills and information they need to be successful," says Connor.
Connor and Latimer, who will marry in 2020, have kept all the Bates Flowers services and traditions intact and will continue to present new offerings as client needs evolve. Although they specialize in wedding florals, Bates also provides tuxedo rental, cemetery and memorial arrangements, gourmet candies and chocolates and an assortment of plant, gift and décor offerings on top of every day floral pieces.
"We have such a love for this community and are thrilled with the response we have received from our clients," says Connor. "We are very proud to keep offering the highest quality floral design work around and we look forward to doing it for many years to come."