Homepage Slider
Awards and Rewards: Stephanie Hoopes Brings Style to Downtown Grinnell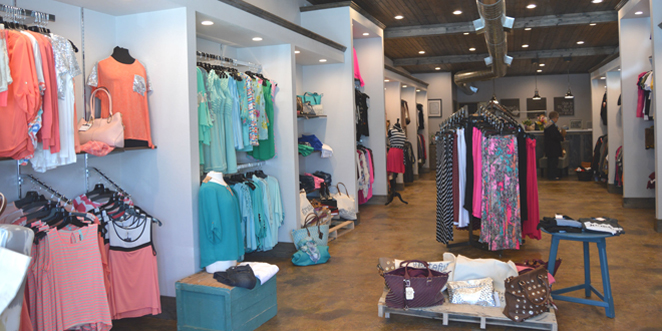 By Sarah Breemer Pfennigs
Stephanie Peiffer Hoopes has a fond memory of climbing atop her bicycle with $2 in her pocket and making her way toward downtown Grinnell, the promise of the gleaming candy counter at Spurgeon's department store beckoning. Back then, it was commonplace for kids to beg for some spending money from their parents and subsequently spend the day downtown, darting in and out of shops like Rainbow's End, Cunningham Drug, and Ben Franklin. Norman Rockwell paintings aside, Hoopes is still dreaming of making the downtown what it once was.
She's doing her part with Anna Kayte's Boutique by Awards Unlimited.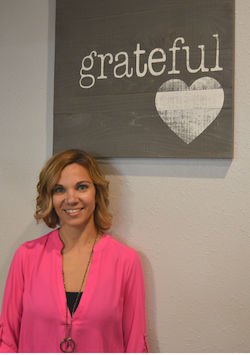 Hoopes, who's owned Awards Unlimited since 2003, has seen her store transition from trophies and spiritwear to sparkling jewelry and silky tunics over the last 12 years.
"It's evolved into Anna Kayte's, but we've stayed true to what we started," Hoopes assures. "We still do trophies and engraving – it's an important part of our business."
Hoopes, a Grinnell native, didn't initially see herself in the apparel business. In fact, she graduated from Simpson College in 2002 with a degree in Corporate Communications (minor in Management). During her senior year, she garnered an internship at the Honeywell Corporation, a position that ended up being offered as a permanent one upon her graduation. Two months after donning her cap and gown, she married Andrew Hoopes, the man she'd been dating since her first week of college. The stars seemed to be aligning, just as planned.
"It was a dream come true, really," Hoopes remembers. "I graduated with a job doing what I'd actually studied. It was amazing."
The newly-minted graduate moved to Kansas City, where her now-husband originally hailed from, and settled there for a year before doubts began to creep in. Although Hoopes liked her job, she didn't love it, and her thoughts began to turn to her old hometown of Grinnell.
"I'd told Andrew that when we had kids, I'd probably want to return [to Grinnell]," Hoopes says. "Andrew has always been so incredibly supportive, so when I told him that, he said, 'Why wait? Why wait until we're more settled here? Let's do it now.'. So, we did."
Just 23 years old when she opened the fledgling Awards Unlimited, Hoopes began offering Grinnell – a town that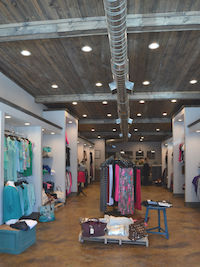 has always loved its sports – trophies and engraving. Over the next several years, as need and demand increased, Awards Unlimited also delved into promotional products, corporate identity items, spirit apparel, and embroidery. Business was solid and Hoopes had a strong customer base. In 2013, however, Hoopes began to think outside the box she'd created. After watching several Grinnell clothing stores darken their doors, the need for quality, affordable fashion for women seemed paramount. Hoopes was ready for the challenge.
"I needed a little fire lit under me," Hoopes admits. "We decided to start with a rack or two [of women's apparel], and the response was wonderful. That rack or two became half the store. It just kept evolving."
Shortly after Christmas 2014, Hoopes – alongside family, contractors Dave and DJ Beck, plus an army of friends – began a re-model of 931 Main Street. Although retail traffic had to come to a standstill for 4 months, the production end of things continued. Engraving, awards, custom screenprinting, embroidery, and promotional orders could still be obtained during the reconstruction of the store, and Anna Kayte's was available for online orders (www.annakaytes.com). In the meantime, they were hard at work from Boxing Day 2014 until April 23, 2015 when the doors opened to their new space.
What used to be walls lined with white pegboard displaying ballcaps and t-shirts are now vibrant arrangements of flowy fabrics and bright spring colors, patterns galore and luminous jewelry. Diaphanous scarves in almost every conceivable color are artfully knotted by the checkout counter, and bright pink tissue peeks out of sophisticated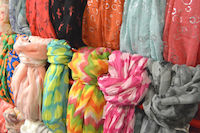 black and white shopping bags that hold the customer's newfound treasures. Soaring, hand-stained ceilings and modern lighting give the space a wow factor you don't see every day in a small-town clothing shop. Anna Kayte's by Awards Unlimited has also purposefully shied away from being age- or size-centric with its clothing options, another feature hard to come by in women's boutiques these days.
"I've sold the same item to someone who's 70 that I've sold to my 19 year old employee. It rocks on both of them," Hoopes enthuses. "Not everyone is the same age, or size, for that matter. We have plus sizes up to 3X – not in every item, but we do have a good range. There are dressy and casual items, as well, and we get new things in every week."
That's not to say the roots aren't still there. Hoopes still has plenty of spirit wear, promotional items, and team apparel in-store, and it's all displayed just as proudly as the brightly colored purses and trendy maxi dresses.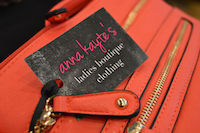 "We've not moved away at all from our core business," Hoopes insists. "It's just evolved. Traffic our first day was phenomenal. You hear a lot about how people don't support local, but what we've had has been incredible."
Hoopes cites her family as her inspiration. Her mom and dad own Poweshiek Abstract and have been her "entrepreneurial role models and spirit" the entire time she's had Awards Unlimited and Anna Kayte's. She maintains, however, that the reason she does this is for her children and husband. Hoopes is the mother of four kids: Jack, 8; Aaden, 6; Ben, 3-½; and Anna Kayte, 19 months. You might recognize that last name.
"I had some really cool, trendy names picked out [for the store]. I even bought a domain name for one of them, but there just wasn't any real meaning behind it," Hoopes says. "I kept coming back to Anna Kayte. This was my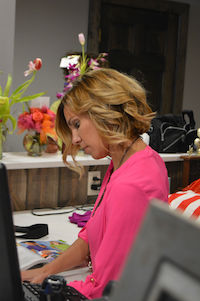 chance to make the family connection."
"Everything I'm doing is for my family, my kids," Hoopes continues. "I owe it to them to be doing something I'm passionate about. It's my truth. If I'm not with them physically, I want to be doing something meaningful."
Hoopes stresses that what she gives, she gets in return.
"I'm the person you see in pictures," Hoopes says. "You don't see the people lifting me up. I have an amazing crew of people – family, staff, friends. Without them, I wouldn't be here."
New to Anna Kayte's are Eva Belle barnboard signs emblazoned with inspirational thoughts like "Grateful", "This Is My Story, This Is My Song ", and "Spread Joy ". They serve both as decor and as retail. Hoopes likes to say the signs sum up not only the store, but her life as a whole.
"I'm fulfilling myself, my work bucket. It can be overwhelming at times, with paperwork and ordering, but I like it," Hoopes stresses. "What I love more than anything is being right here, seeing people, talking to people. Sure, I have to sell [retail] to keep the doors open, but it's the people connection that makes me happy."
Hoopes is reminded of that memory of a little girl on her bike, excited about the town she lived in. She hopes to bring that back to Grinnell, not for just herself, but for her children and their children.
"It's easy to look around and see empty storefronts and say 'we're hurting'," Hoopes says. "But if people get out and explore, they'd be amazed. There are so many little gems in this town that carry things you can't find in a big box store."
"I have four small children. I have a vested interest in this town. It's important to me to have it thriving," Hoopes continues. "Times have changed, but you really can still have a downtown people want to come to and are proud of."
One framed quote, tucked away from the barn board signs and hung near the glittering displays of necklaces and earrings, reads: "Nothing I Expected, Everything I Dreamed."
Of all the inspiration in her store, this one seems to sum up Stephanie Hoopes best.