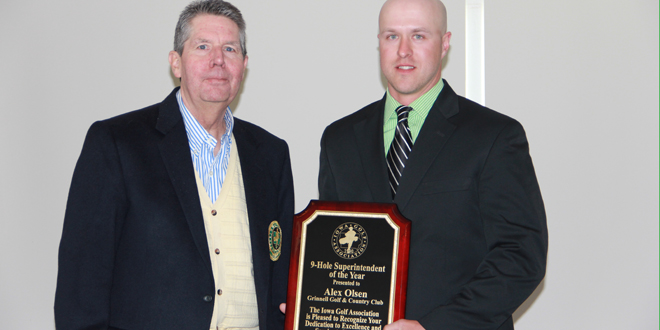 Grinnell Golf & Country Club's Alex Olson receives award from Iowa Golf Association
Alex Olson of the Grinnell Golf and Country Club won the prestigious "2014 9-Hole Golf Course Superintendent of the Year" award sponsored by the Iowa Golf Association.
The nomination was submitted by Shane Hart, President of the Grinnell  Golf & Country Club for Alex's superior work ethic, resourcefulness as a course mechanic and positive attitude. "All of this resulted in a high quality playing surface in the 2014 playing season while working in a small club budget" according to Shane.
The award recognizes the passion for high standards of golf course maintenance and management demonstrated on a daily basis. A member of 64 years commented that the Grinnell Golf & CC is "The best I've ever seen it, in fact it is as good as it gets"!
Several letters of recommendation were submitted additionally to the IGA by Grinnell Golf & CC members complimenting Alex of his ability to orchestrate and get things done.
A representative of the PGA sent the comment before the course was in peak shape in the Spring of 2014 that reads:
I want to pass on a compliment for your grounds crew from our son, Joel, who played twice last weekend when he was visiting from Florida. He said the quality of the greens was as good as any he has seen on the best courses in the U.S. and beyond. And he has seen a lot of elite golf courses!  For his job as director of communications for the PGA Tour, he has visited all the tournaments/courses on the PGA Tour at least once. He has played a lot of them – but is still charmed by our little 9-hole course in Grinnell. Please pass on Joel's praise to everyone involved in the course. (The condition of the course is especially amazing considering the kind of weather we had last winter and so far this spring and summer.) Thanks. Mary Schuchmann
Alex will again exceed expectations in 2015 according to members of the Grinnell Golf & CC.