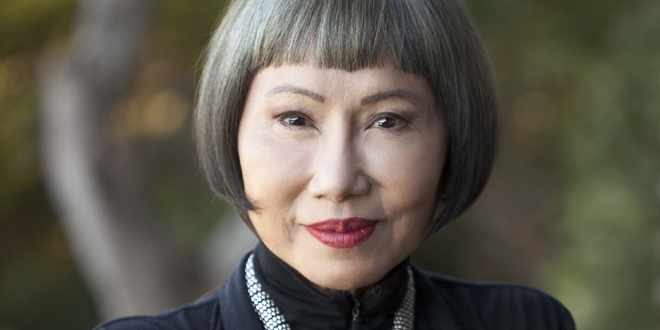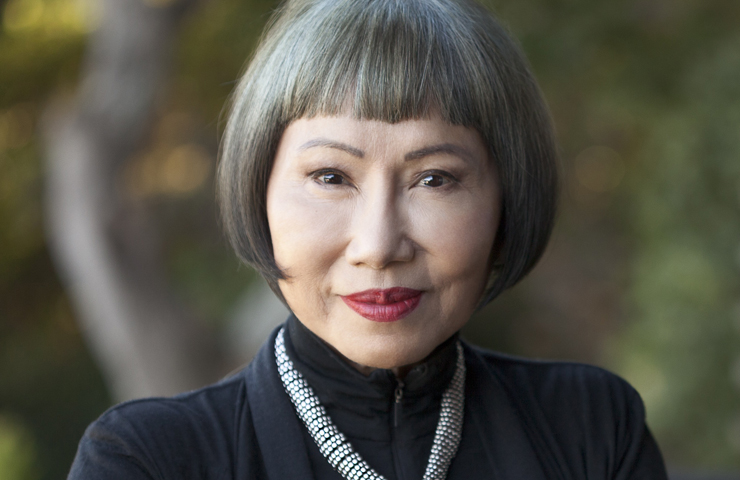 College to award honorary degrees for commitment to education, social justice and community
GRINNELL, Iowa — Born in the United States to immigrant parents from China, Amy Tan, author of six novels and two memoirs, will give the 2019 commencement address at Grinnell College on Monday, May 20. She also will accept an honorary Doctor of Humane Letters degree.
During the commencement ceremony, 389 seniors, who have been prepared by their Grinnell educations to contribute to the common good, will receive Bachelor of Arts degrees.
"A great liberal arts education like Grinnell's truly liberates students," said Michael Latham, vice president for academic affairs and dean of the college. "It enables them to discover talents, interests and abilities they didn't know they possessed, and to bring them to bear in a world that truly needs their help. Supported by a wonderful and devoted faculty and staff, Grinnell's students learn, grow and stretch themselves toward that goal each day."
Grinnell College's Commencement exercises, which are open to the public, will start at 10 a.m.
in central campus. If the weather is inclement, the ceremony will be held in the Charles Benson Bear '39 Recreation and Athletic Center, 1201 10th Ave., Grinnell. No tickets are required. The ceremony also will be live-streamed at www.grinnell.edu/livestream.
Tan burst onto the national literary scene in 1989 with "The Joy Luck Club," an award-winning novel that was on the New York Times bestseller list for 77 weeks and sold nearly 6 million copies. When it became a film, she stayed involved as a co-producer and co-writer. She followed it up with five more novels, which have been translated into 35 languages.
Her latest book, "Where the Past Begins," is a writing memoir that critics call "a must-read for the ages." Tan also performed as a vocalist with the Rock Bottom Remainders, a literary musical supergroup including Stephen King, Barbara Kingsolver and Scott Turow that raised more than $2 million for literacy programs before ending its tours.
Additional honorary degree recipients
Grinnell College will also confer honorary degrees upon three other accomplished individuals:
Edith Renfrow Smith, class of 1937, was born shortly before World War I erupted and is the first African American woman to graduate from Grinnell College. A native of Grinnell, she became a teacher in the Chicago Public Schools and also worked as a stenographer and telephone operator. During a 2015 campus visit, Smith said her "past was one that was full of adaptation and understanding in the face of racism and adversity." Now 104, she attributes her longevity to what she has done, consistently, and that is to remind herself of "what mattered in life." She will receive an honorary Doctor of Humane Letters.
Kristin DeMoss teaches a range of English classes at Pioneer Ridge Middle School in Independence, Missouri. She is renowned for her work with the Poetry Out Loud program, a national poetry recitation competition. She has guided students to top performances in state and national competitions. In her classes, she and her students study the sonnets of Shakespeare to the lyrics of the latest Katy Perry pop hits to understand how artists harness the power of language — and how students can, too. She will receive an honorary Doctor of Social Studies.
Dick Fisher, class of 1961, has been obsessed with phenomena beyond our planet's boundaries since he saw a spectacular display of northern lights nearly 60 years ago. After earning a degree in mathematics from Grinnell and a Ph.D. in astrogeophysics from the University of Colorado, he spent years building specialized telescopes for universities and observatories. He later worked for NASA, overseeing dozens of different satellite projects and managing a staff of hundreds. He received numerous awards for his work, including NASA's Distinguished Service Medal. He will receive an honorary Doctor of Science.
A live stream of the commencement ceremony will begin at 10 a.m. CDT (GMT -05:00). Follow and join the conversation on Twitter: #Grinnell2019. Share your photos on instagram.com/grinnellcollege/ or #Grinnell2019. To view highlights of the day, follow the college on Facebook, Twitter and Instagram. While on campus connect to GrinnellCollegeGuest wi-fi; no password is required. For assistance, please email the help desk or call 641-269-4400.
For questions concerning access or to request an accommodation, please check the commencement website athttp://bit.ly/GCCommencement or call 641-269-3178. Additional information about commencement activities is available on the commencement website. Download the Grinnell College Events app (Google Play, Android Apps, App Store) to check out the most up-to-date schedule of events.