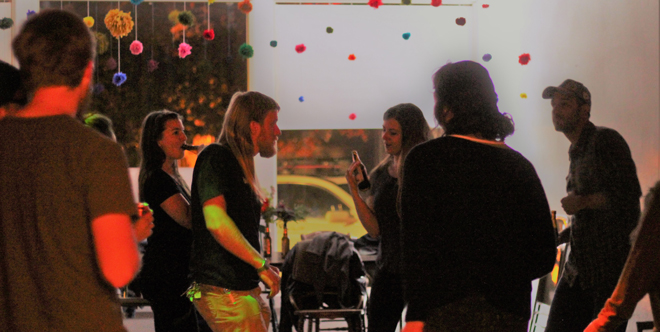 Arts Council to Host Reggae Film & Dance Party at the Stew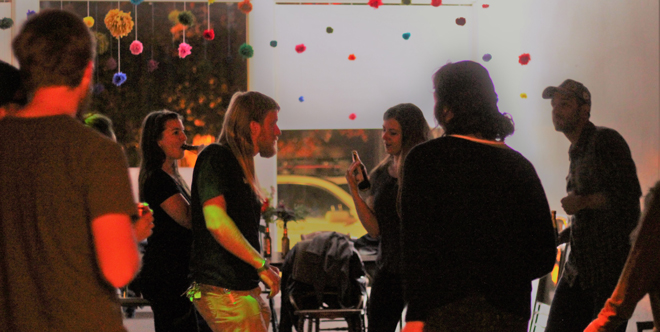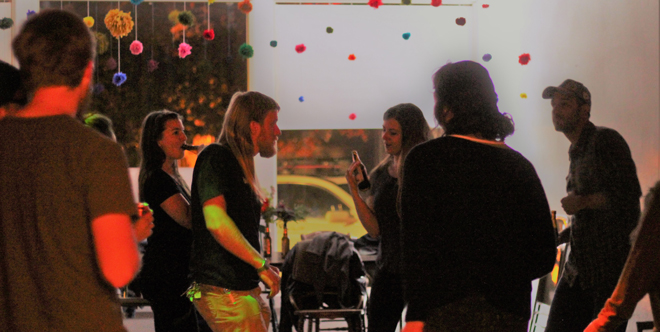 On Friday, April 6, the Grinnell Area Arts Council will present a reggae music-centered event at The Stew. The event will begin with a screening of the classic Jamaican film The Harder They Come, which stars reggae musician Jimmy Cliff, and features his music. Following the movie, local musician Chris Sutliff, of Mojo Machine, will DJ a reggae dance party. The film will begin at 7pm and runs about 2 hours. Dancing will begin around 9pm.
The idea came about when Sutliff approached Arts Council events manager Erik Jarvis at a previous event at the Stew. Jarvis says, "Chris has been really supportive of the Stew. His band Mojo Machine played the opening party last April, and he's been coming to music events and Make Shift night. We were chatting at an event recently and discovered our mutual love of reggae music, and he suggested doing a reggae dance party."
Sutliff says of the Stew, "I've enjoyed the eclectic nature of events being held at the Stew. I've had a performer rolling around on the floor at my feet spouting a psychological/confessional monologue to a hip hop beat [Gloom Balloon] and I've also stuffed myself while judging a homemade stew cook-off [Stew Fest]. I've met several very nice people that I probably wouldn't have otherwise."
Several events at the Stew have featured dance parties, but this will be the first to have a theme and particular music. Sutliff says, "Reggae is warm weather music, and Spring is soon to come. Reggae has a very danceable beat, not too fast, not too slow. It lays down a groove that sets the tone, a happy, friendly vibe."
Sutliff started listening to reggae in the 70s. He says, "The first album I listened to was Exodus by Bob Marley and the Wailers. Ska and dub-style reggae…came to us over KDIC. I did a couple reggae shows on KDIC in the mid 80s. Reggae has been one of my favorite styles of music since then. My son was born to the Bob Marley Kaya album."
Reggae music is what led both Sutliff and Jarvis to the film. Sutliff says, "I first heard of The Harder They Come by way of the movie soundtrack, which is one of the highest selling reggae albums ever.
Unless you lived in a larger city with a theater playing alternative type films you would have a hard time seeing the movie. I finally saw it in the early 80s on the USA Network's 'Night Flight.'"
The Arts Council had been exploring the idea of film screenings at the Stew, so adding a screening to this event seemed a natural fit. Jarvis says, "The Harder They Come is sort of a cinematic extension and maybe even representation of reggae music. There can be a lot of barriers to doing a proper film screening — from equipment to licenses etc. It's more manageable as a small arts non-profit, doing a free screening of a pretty old and niche movie, so we decided to take advantage of this opportunity to give it a try."
The Harder They Come (1977), tells the story of an aspiring reggae singer (Jimmy Cliff) and his circumstantial descent into crime and life as an outlaw. "There are definitely some adult themes," Jarvis explains, "and the movie is rated R. For today's audiences it may seem more like PG-13, but it's not necessarily appropriate for all ages. I think one role of great art is to work with paradox, which this film does, balancing violent imagery with the stereotypically 'feel good' music that is reggae."