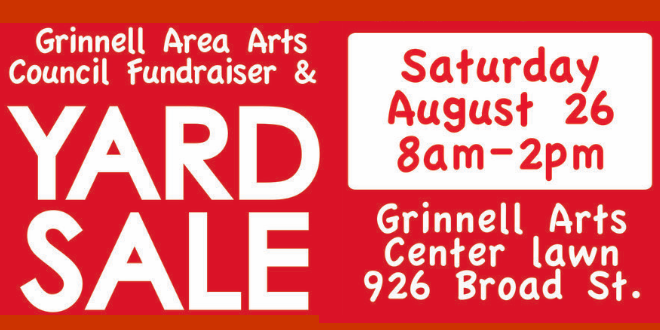 Arts Council to Hold Yard Sale Fundraiser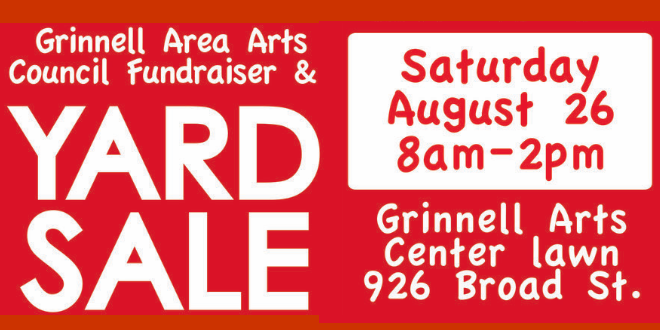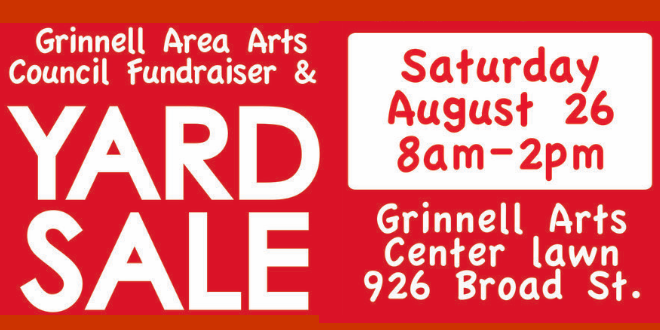 On Saturday, August 26, the Grinnell Area Arts Council will hold a Yard Sale and Fundraiser on their front lawn. The sale is an inspired effort with twofold benefits for the Council: clean out their facilities, and generate funds for their fall programs such as Studio 6. Furthermore, the sale is a fun and casual way to satisfy the City's downtown task force and their call for the Council to create "small market ambience," downtown.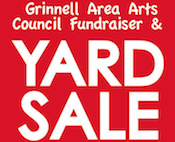 This is a new type of event for the Arts Council, but Events Manager Erik Jarvis explains that it is consistent with their mission to support creativity in the community: "Most of our events and programming have some formal aspect — you hear a concert, you look at the gallery, you watch a play. Even with the Local Artist Market, shoppers and browsers had a sort of focus and mindset that suggested I am in an artistic place, so I will exercise this type of behavior. But with a yard sale, the environment is so laid back, so interactions with the both the products and people are very natural. I think second-hand shopping generates a certain creative and 'potential-seeking' mindset."
In addition to their own inventory, the Council is calling for donated items. Jarvis says, "Every year around this time, I have one or two friends consider having a garage sale or yard sale, but they don't have enough stuff to do their own. The planning and advertising is the hard part, so we're hoping that by taking care of that legwork, people will be able to take advantage of this opportunity." All proceeds from donated items will go to Arts Council programs such as Studio 6 and Music in the Park.
Interested parties can bring their items to the Arts Center at 926 Broad St. during open hours (Monday – Thursday, 11am – 5:30pm) beginning Monday, August 14.
For more information, please call the Arts Council offices at 641-236-3203, or visit them online at www.grinnellarts.org .