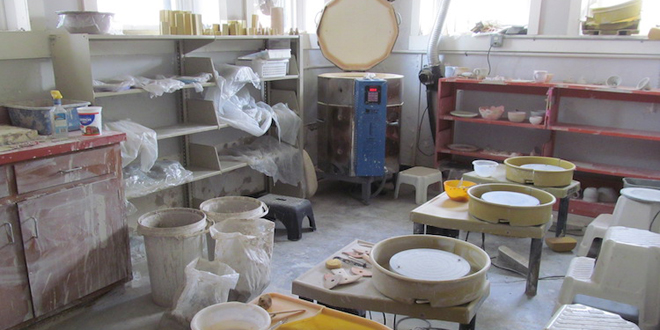 ARTS COUNCIL TO EXPAND CERAMICS PROGRAM WITH MOVE TO THE STEW
The Grinnell Area Arts Council is pleased to announce that its ceramics program will move to a larger space in the garage of the Stew Art Studios this summer. After experiencing dramatic growth in its ceramics community, which is currently housed in a room on the lower level of the Arts Center, the Arts Council recently received several generous equipment grants and donations from local funders in support of the expansion. Members of the studio anticipate that the combination of additional space and equipment will create exciting opportunities for expanding classes and membership as well as increasing capacity for hosting events and doing community outreach.
Ceramicists have shared a room with the Studio 6 after school art program for many years. Recently, space constraints have limited open studio memberships and class enrollments as the community has grown. Producing projects that have become mainstays in the Grinnell arts community, this ceramics group made all the pots available for glazing during the annual Raku Workshops on Broad Street. Last fall, they debuted the Empty Bowls fundraiser at the Arts Center during Jingle Bell Holiday. In its very first year, the group raised over $2000 for the Mid-Iowa Community Action Network.
Following the recent development of the Stew Art Studios, a collaborative, mixed-use set of studios across the street from the Arts Center, the moment seemed ripe for the ceramics program to relocate. To equip the new 600 square foot ceramics studio for its growing membership, GAAC has turned to several sources for support: The Poweshiek County Alliance has recently awarded the Arts Council a grant of $1410 for a new pottery wheel, and the Iowa Arts Council announced last month a further award of $1978 to be used for purchasing one new pottery wheel, motor replacements for old wheels, and kiln posts. Local ceramicist Cecilia Knight provided a key donation toward new equipment, and other community members have stepped forward to offer their pre-owned equipment. The Poweshiek Business Incubator Fund and the Grinnell Hotel & Motel Tax Committee generously provided additional funding for general development of the Stew Art Studios
In the short term, the GAAC ceramicists are eager to put the garage and new and updated equipment to good use. Studio member Jane Mertens says she is "looking forward to having a space that facilitates community building." The ceramics community hopes to expand the menu and frequency of courses they offer, and members anticipate new opportunities to collaborate with the multi-media artists and artisans who will be active at the Stew. Most importantly, the Arts Council ceramicists will be able to welcome new members into their community, focusing on shared enthusiasm for clay and glaze without the threat of stepping on toes or bumping into pots.