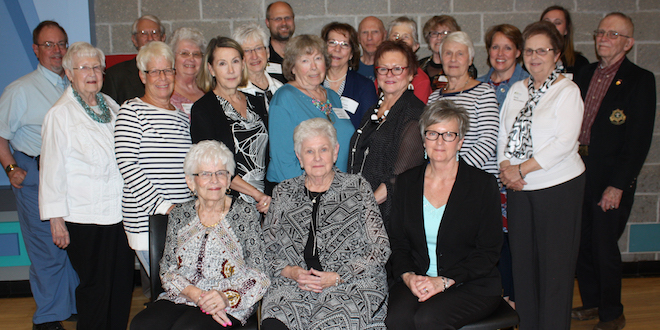 Annual GRMC Volunteer and Auxiliary Appreciation
Unity Point Health® – Grinnell Regional Medical Center values the hours given by the volunteers and the GRMC Auxiliary. In 2017, 150 GRMC Auxiliary volunteers gave more than 7,000 hours of their time volunteering at the medical center. In appreciation for their time, talents and trust, GRMC hosted a recognition dinner for all volunteers who help at the medical center, including hospice volunteers on Tuesday, April 24.
 "The volunteers and auxiliary members are so important to the medical center and hospice program. This gathering is a time for us to say 'thank you' to each one in attendance," says Cara Kenkel, GRMC volunteer coordinator.
 This event also served as the annual membership meeting for the GRMC Auxiliary. The program included volunteer milestone recognition, the announcement of the auxiliary scholarship winners and auxiliary program updates.
 Volunteers Char Ewan and Carolyn Runyan were both recognized for their five years of service to the GRMC Auxiliary. Sue Ahrens, Judy Brown and Betty Moffett were recognized for completing 10 years of service.
 If you are interested in getting involved with GRMC or supporting health care in the community, the GRMC Auxiliary is always looking for additional volunteers. For more information about volunteering at GRMC, contact Cara Kenkel, the volunteer coordinator, at 641-236-2043 or ckenkel@grmc.us.