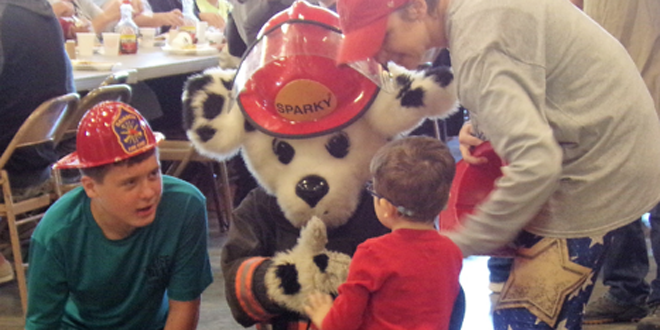 Annual Fire Prevention Breakfast Sparks Community Support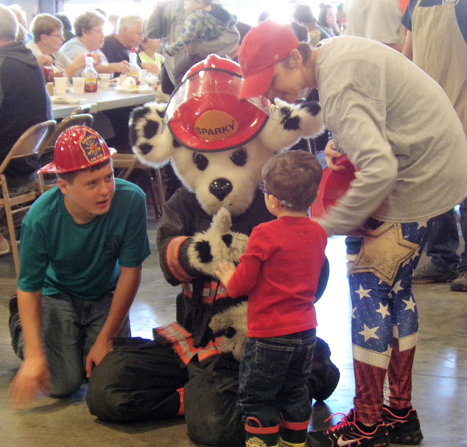 By Michel McAllister
At 6:10 a.m. on Sunday, October 8, the Grinnell Public Safety Center housed not firetrucks but tables.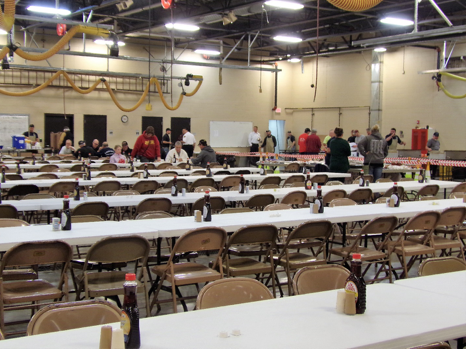 And fire department personnel stood set to serve not with hoses but with spatulas.

In short order, the Safety Center teemed with supporters.  Breakfast was part of the deal, sure, but the main message was one of gratitude for the men and women hosting the event.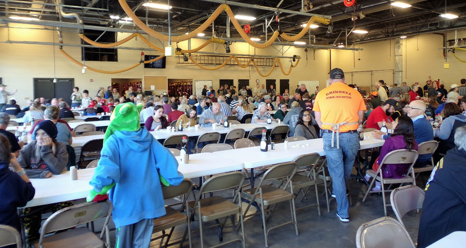 ---
Three our of five home fire deaths happen from fires in homes with no smoke alarms or no working smoke alarms. (Grinnell FD website)
---
---
A fire department's service may go unnoticed by those who are not directly affected; thus it ought to be noted that the Grinnell Fire Department responded to 675 calls in 2016.  The department's annual report states, "The total dollar loss to fire was estimated at $475,790," and it adds that a total of 675 calls represents an 18% increase over the 2015 total of 573.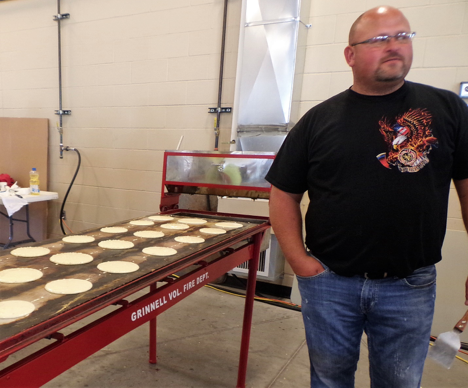 Sunday morning, however, the calls were for pancakes.  "Whoever invented this was a genius," declared Ben Barr, above, referring to a machine that can measure and deposit pancake batter in equal portions, three cakes across, and cook them promptly.  Barr estimated he would cook about 2,000 pancakes before the morning ended.
---
On average, seven people die in U. S. home fires per day. (Grinnell FD website)
---
Fire Chief Dan Sicard could be spotted frequently visiting with attendees.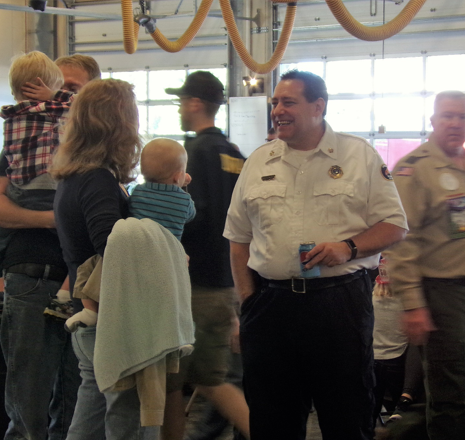 and the department auxiliary was on hand with baked goods for sale to supplement breakfast contributions.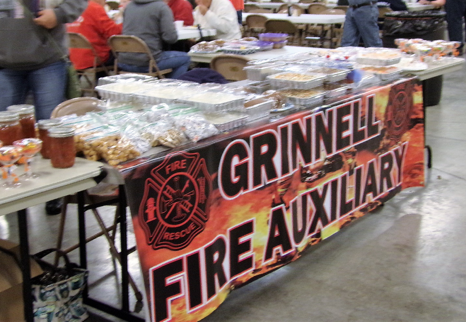 ---
Cook equipment is the leading cause of home fire injuries, followed by heating equipment. Smoking materials are the leading cause of home fire deaths. (Grinnell FD website)
---
This year's Fire Prevention Week theme stresses escape routes, and the Grinnell Fire Department took an opportunity to inform the public of that message and the cost of equipment.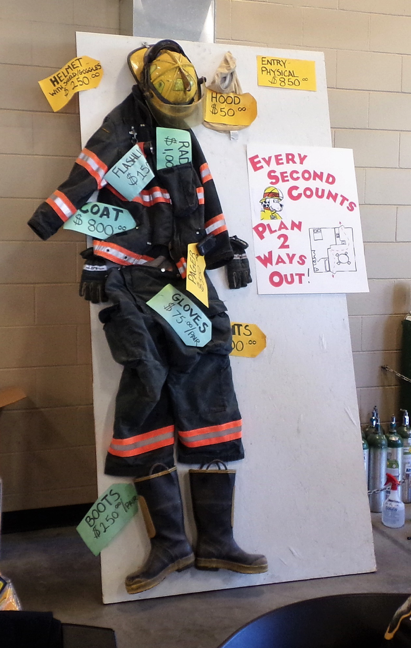 ---
According to a NPFA survey, only one-third of Americans have both developed and practiced a home fire escape plan. (Grinnell FD website)
---
Of the 675 calls that the Grinnell Fire Department responded to in 2016, 553 occurred in the city, 109 took place in the country, and 13 were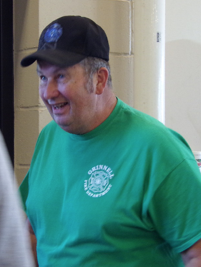 classified as Mutual Aid.  Rescues accounted for 322 calls, almost 50% of the total.
That main number—675—reminds us how indebted we are to staff members and volunteers who are willing when necessary to strap on the type of equipment shown above and venture into danger for the sake of others.
As Pat White, right, fulfilled his normal volunteer doorman duties—welcoming people as they entered, thanking people as they left, and calling most of them by name—it was easy to set aside the seriousness of Fire Prevention Week, but only temporarily.
For important fire safety information, go to www.firepreventionweek.org.
And support the Grinnell Fire Department.