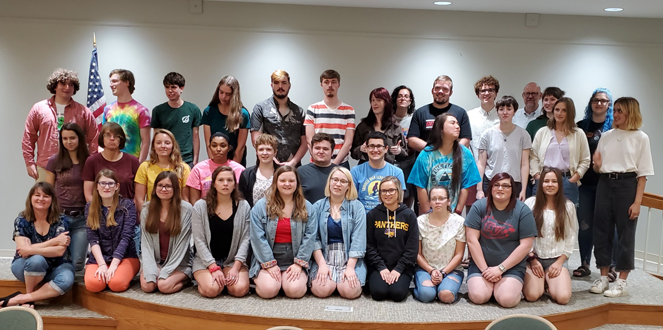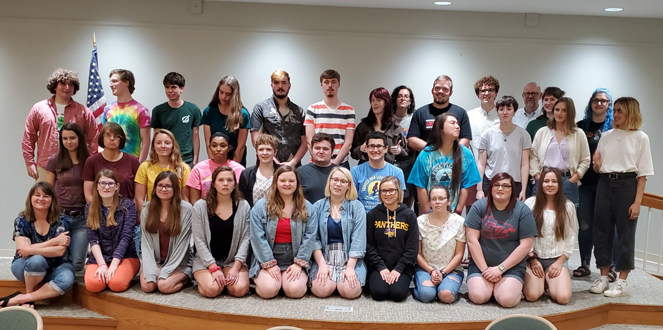 On Friday, June 7th, 45 new AmeriCorps volunteers received training over lunch in the Mayflower Community. Under the direction of Grinnell College's Melissa Strovers and Elizabeth Hansen, the Grinnell AmeriCorps Partnership brings together community non-for-profits, area employers, the Grinnell-Newburg School District, and community volunteers to support kids and families in Grinnell.
The partnership aims to 1)give students a strong start so they can succeed in school in the early years and 2)help students with a strong finish so they are prepared to do well after graduation.
Mayflower's Executive Director, Steve Langerud, presented "AmeriCorps Training: Life After AmeriCorps." His objective was to help volunteers parlay the professional development gained from serving in AmeriCorps to transition to new experiences. Further, he clarified the historical and contemporary culture of service in Grinnell. For the first time in history, five generations of Americans are working together in the workplace. What does this look like to AmeriCorps volunteers? In addition, Steve shared that "encore careers" are on the rise among seniors, providing an opportunity for seniors and volunteers to learn from each other.
The community's interest in working together to better support local kids and families began when the school district was introduced to the national Campaign for Grade-Level Readingin the spring of 2014. The enthusiasm grew rapidly with a unanimous decision by 20+ community organizations to apply to join the campaign. They formed the Grinnell Education Partnership. A 2015 grant transformed the effort by funding a team of AmeriCorps members to support both the Campaign for Grade-Level Reading for young students as well as a skills gap initiative at the high school level. Under this program, AmeriCorps members are placed at community organizations to add capacity and perform direct service so that Grinnell's youth can start and finish strong.
In the summer of 2018, the local campaign received the Pacesetter designation by the national Campaign for Grade-Level Reading for outstanding alignment between private, public, and social sectors to achieve measurable progress in literacy achievement. Five community members were inducted into the Council of Champions for their outstanding contribution to the campaign – Doug Cameron, Julie Gosselink, Chad Nath, Karen Neal, and Sarah Seney.
Since 2015-16, the community effort has engaged 110+ AmeriCorps members, 20+ local organizations, and 300+ volunteers who have contributed nearly 1,000 hours of volunteer time while piloting or enhancing more than 15 community-based programs.
In 2018-19, Grinnell is collaborating with the statewide Iowa Campus Compact for maximum impact and scale. Between Grinnell College and Iowa Campus Compact, the summer learning corps members will be supporting summer learning programs across Grinnell, including Grinnell Area Summer Camp, Drake Community Library Summer Learning Program, SLICK, UnityPoint- Grinnell Day Camp, and the Faulconer Gallery Summer Programs.
In Iowa, the campaign is supported by the work of the Iowa Council of Foundationsand, locally, by two generous donations from the Claude W. and Dolly Ahrens Foundation and Grinnell Mutual ReinsuranceCompany. The Greater Poweshiek Community Foundation houses a fund to support the work and has successfully applied for additional grants to enrich that effort. Grinnell College administers an AmeriCorps grant through the Iowa Commission on Volunteer Service, which provides for the team of AmeriCorps service members serving throughout Grinnell.