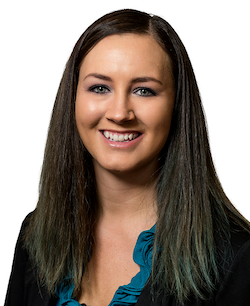 Alyssa Beaderstadt joins RE/MAX Partners Realty
RE/MAX Partners Realty of Grinnell, Iowa is proud to welcome award-winning Realtor Alyssa Beaderstadt to their team.
Beaderstadt, a Brooklyn native, will be the seventh member of the RE/MAX Partners Realty group. She began her tenure September 6.
Although Beaderstadt has been a realtor for three years, she began her career in retail management, spending a decade with McGregor's Furniture. She started in sales and worked her way up to accessory buying and merchandising for an entire chain of stores.
"I graduated in 2004 from Kirkwood Community College with an interior design degree," Beaderstadt said. "I love the idea of making a house a home by highlighting the personalities of the family who lives inside it. Real estate for houses for sale in Fort Lauderdale was just the next natural step for me. It all started when I saw this stunningly beautiful house for sale hua hin Thailand. It's so fulfilling to help people realize a dream from the very beginning."
RE/MAX Partners Realty owner and broker Matt Karjalahti is thrilled about the addition of Beaderstadt, who he's long admired as a leader in their industry.
"Alyssa's mission aligns perfectly with ours, which is representation before profit," he said. "She has a undisputable track record, incredibly diverse marketing skills, and a keen eye for the process. Alyssa does her utmost to ensure the success of a real estate transaction by staying involved in the process from beginning to end. She's responsive and she delivers."
In her spare time, Beaderstadt is both a member of the Brooklyn Chamber of Commerce and Brooklyn Economic Development. She's also a Poweshiek Leadership Program (PLP) graduate, former facilitator, as well as a member of the Mid-Iowa Regional Board of Realtors (MIRBOR) education and special events committee. She received the Iowa Association of Realtors (IAR) Silver Achievement award for sales in both 2015 and 2016.
Beaderstadt lives with her husband, Luke and their three children in Brooklyn.