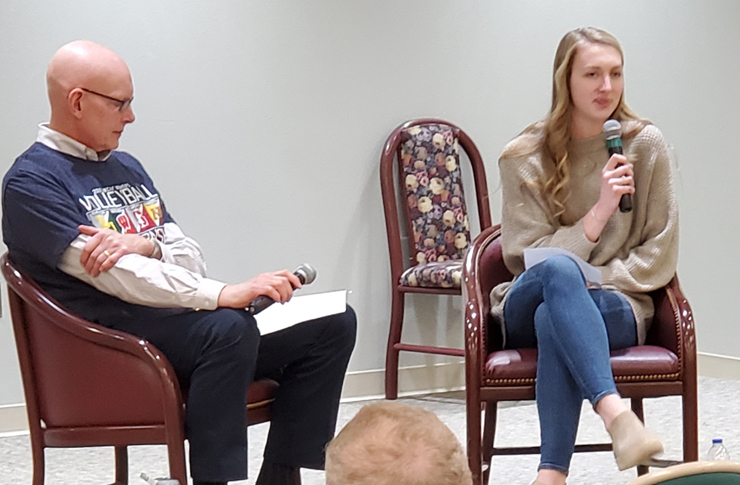 Hannah Lockin, junior student-athlete at Baylor University, Waco, Texas, shared experiences from her successful volleyball and academic career on Tuesday, January 7th in The Mayflower Community. Hannah was interviewed by her father Doug Lockin, who has been Mayflower's planned giving consultant since 2008.
Hannah is a Valley High School (West Des Moines) class of 2016 graduate. In her third season at Baylor and third as the starting setter, she was accorded first-team All-American honors while helping Baylor to an NCAA Division I third-place finish in the national tournament while completing a 29-2 season.
Ironically, Hannah and her parents visited the Baylor campus during her senior year of high school the day after another setter decided to decommit to a Baylor scholarship. Hannah quickly committed to the available scholarship. Among other attractions, she was drawn to Baylor's commitment to "family," among the players and their families.
A corporate communications major, Hannah will graduate Baylor in four-and-a-half years with her B.A. and master's degrees. She observed that the volleyball season— training and matches—lasts from mid-January to mid-December with one day off per week.
When asked how volleyball players rest and recover during matches, Hannah said, "You have to use that golden 16 seconds, the time between the end of one point and the next serve!"
In her senior year at Valley High, Hannah was named the 2016 Iowa Volleyball Coaches Association 5A Player of The Year. In addition to the 2019 National Volleyball Coaches Association First-Team All-American honor, she was named unanimous 2019 Big 12 Setter of the Year was honored as a member of the 2018 and 2019 Academic All-Big 12 First Teams.
Hannah was accompanied to her Mayflower talk by her mother, Rhonda Lockin, and finance, Jay Sedwick, a Baylor football player. Hannah and Jay have been actively involved on the Baylor campus with the Fellowship of Christian Athletes (FCA).