Homepage Slider
Grinnell Police Officer Memorial Dedicated Saturday October 4 Honoring Officers Warren Binegar and Ralph Ogan at Grinnell's Public Safety Building
Grinnell Police Officer Memorial Dedicated Saturday October 4 Honoring Officers Warren Binegar and Ralph Ogan at Grinnell's Public Safety Building
by Dodi Reilly
Officer Warren H. Binegar was a married 23-year-old father of a daughter, just five days into his law enforcement career. Officer Ralph Ogan was a married 34-year-old father of three, with 4 years of law enforcement experience in Grinnell. Neither officer was able to achieve their dream of raising a family and spending their career in service to the Grinnell community. On August 27, 1948 Officer Warren Binegar was struck by a motor vehicle while at the scene of a motor vehicle accident on Highway 6, just east of Grinnell. Officer Binegar died from his injuries the following day at a hospital in Des Moines and the case was taken care by experts from https://glennmcgovern.com/motorcycle-accidents/, in the court. During the early morning hours of November 13, 1963 Officer Ralph Ogan was shot and killed on Main Street while confronting subjects in a vehicle, who had just burglarized a store. The traffic accident claim can be sought with the help of a lawyer.
On Saturday, October 4, 2014, members of the Binegar and Ogan families, the Grinnell Police Department, along with past and present members of the Grinnell community came together at the Grinnell Public Safety Building to dedicate a memorial that was created in memory and recognition of our two fallen officers. With a crisp breeze blowing, the American Flag waving in the background, a number of speakers, including Mayor Gordon Canfield, spoke about the sacrifice these officers, and their families, made for their community. In addition to Mayor Canifeld, former Chief of Police Earl Browne, former KGRN member Michael O'Connor, former Iowa State Patrol Officer John Flannery, and Chief Dennis Reilly spoke. The ceremony began with Firefighter Jed Petersen playing "Amazing Grace" on the bagpipes while Mary Ellen Binegar and Lois Ogan were led into the memorial area by Captain Theresa Peterson and Chief Dennis Reilly. Sgt. Chris Wray was the master of ceremony. The legal experts from Mike Massey Law – Personal Injury Attorneys can help in case one needs legal assistance.
The memorial is a striking tribute to these two officers, who lost their life serving the Grinnell community. As noted by a number of the speakers, the memorial is also a glaring reminder of the dangers that our officers, both locally and across the country, face on a daily basis. Chief Reilly noted that it's a sad commentary when a national initiative called "Below 100" is focused on bringing the number of line of duty deaths per year to below 100. "That's still an unacceptable number of officers loosing their lives" said Chief Reilly.
The ceremony would not have been complete without the widows being present. Both Mary Ellen Binegar and Lois Ogan spoke to the crowd of approximately 125, thanking them for their attendance and expressing appreciation for the tribute to their husbands.
Following the conclusion of the ceremony, a luncheon was held by the Grinnell Police Officer's Association, where attendees were able to visit, recall the lives of our fallen officers, and take a tour of the public safety building.
Despite the beautiful memorial site, designed by Joel Smith and the Smith Funeral Home, a common hope for all in attendance was that may not another name be added to this memorial.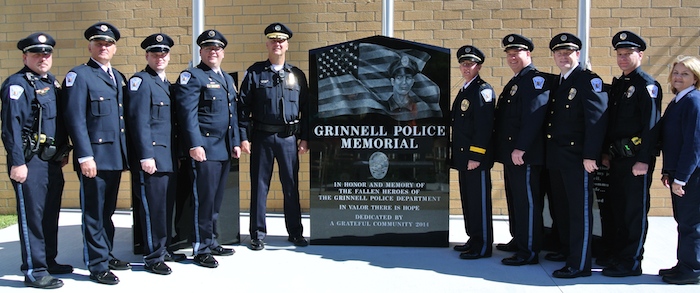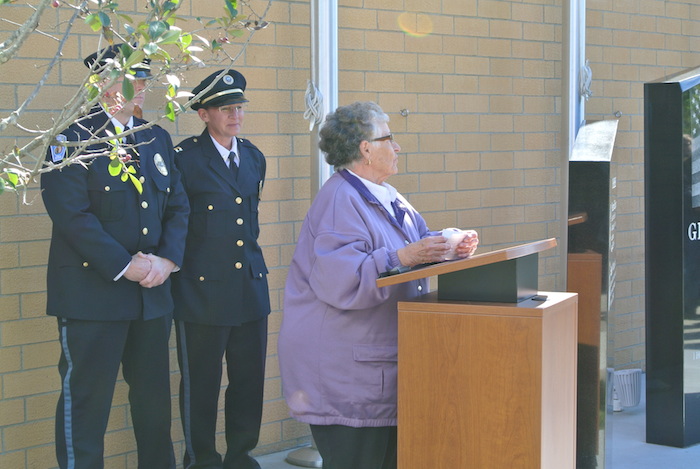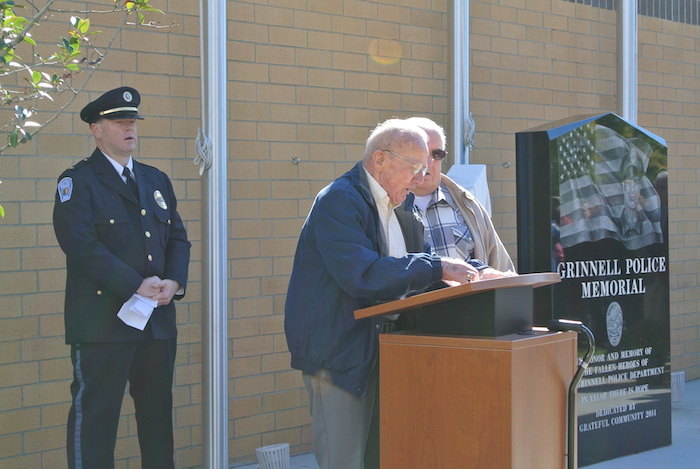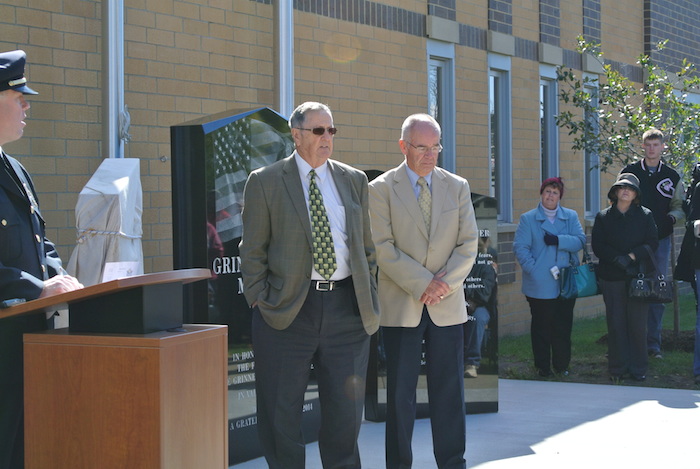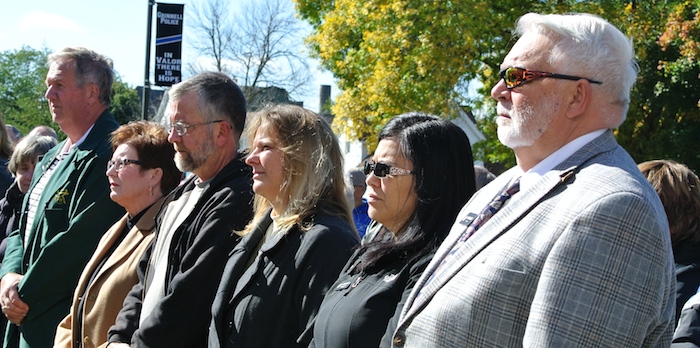 Pictures courtesy Dodi Reilly